I lovingly dedicate this entry to my Texas gal pals – Lori, Alet, Veron, Michele and Camille – who so (un?)willingly allow themselves and their children to be victims of my baking/cooking. ;)  Hee hee.
I've only made cocoa crinkles once and it's been more than a year since that fateful August day.  I thought I should unload some of my stash of sugar, cocoa powder and other baking ingredients that I hoarded from Walmart (talk about panic buying!).  And because it was December, I decided it was about time I made Cocoa Crinkles again, which somehow rise in popularity during the holiday season, in the Philippine front, at least.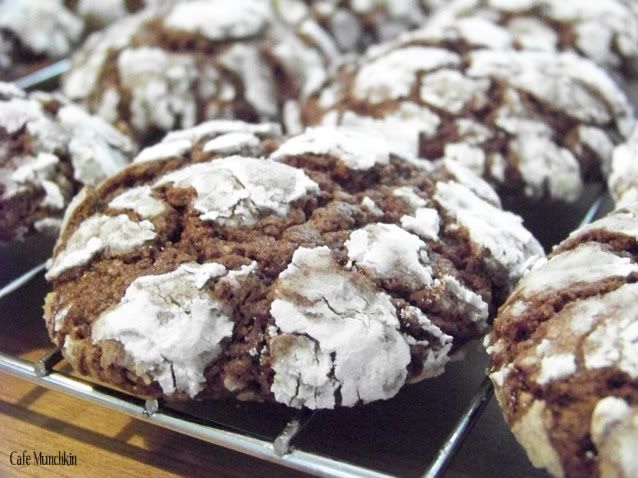 I originally meant to bring these to the Christmas Eve party we attended.  I prepared the batter and all but it ended up sitting in the fridge for 2, maybe 3, days. :D  One cooking magazine I subscribe to did mention that cocoa crinkle batter can be done ahead. And the recipe I used did say to refrigerate the batter for at least 6 hours, "at least" being the operative words. Hee hee.  Besides,  prepared cookie batter is being sold in supermarkets. ;)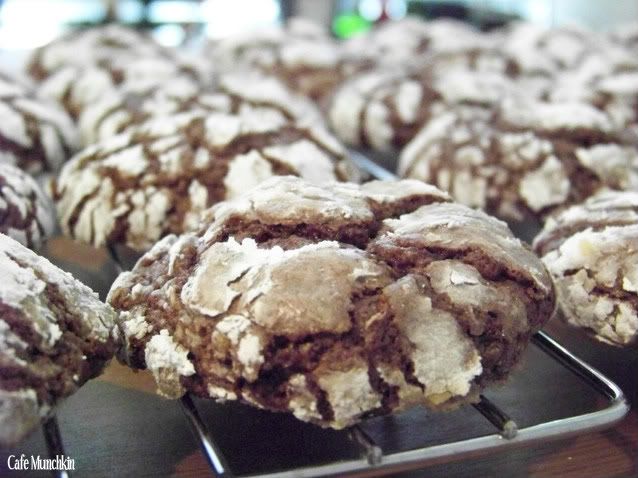 Because I didn't want 4 dozen cookies lying around the house, I baked the cookies on a day we were to meet with our friends!  I shared  the cookies and the calories!  Hee hee. :D
The recipients did seem to genuinely like the cookies, the kids specially.  Either that or they were just being polite and didn't want to hurt my feelings. :D  The fact that the cookies had just the right amount of sweetness appealed to everyone.
I turned to my trusty Hershey's Classic Recipes cook book for the recipe.
INGREDIENTS:
2 cups granulated sugar
3/4 cup vegetable oil
3/4 cup cocoa
4 eggs
2 teaspoons vanilla extract
2 1/3 cups all-purpose flour
2 teaspoons baking powder
1/2 teaspoon ssalt
powdered sugar
Directions:
1.  Stir together granulated sugar and oil in large mixer bowl; add cocoa, blending well.  Beat in eggs and vanilla.  Stir together flour, baking powder and salt in separate bowl; add to cocoa mixture, blending well.  Cover' refrigerate at least 6 hours.
2.  Heat oven to 350F.  Grease cookie sheet.
3.  Shape dough into 1-inch balls (I used a 1tbsp measuring spoon.); roll in powdered sugar.  Place 2 inches apart on prepared cookie sheet.  Bake 12-14 minutes or until almost no indentation remains when touched.  Removed from cookie sheet to wire rack.  Cool completely.
Makes about 4 dozen cookies.  My final yield was 52 pieces. :)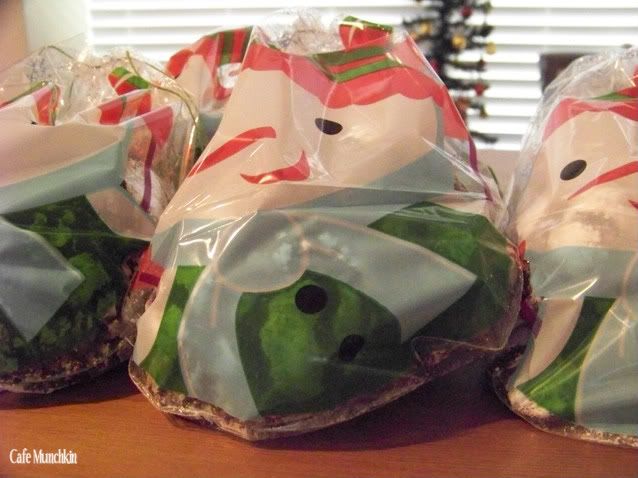 These make for nice give-aways, whatever the occassion.  Just transfer them to a nice goody bag or box and you're all set.