I've already posted a Sweet and Sour Fish and a Sweet and Sour Shrimp entry before.  I used the exact same recipe for both.  Yesterday, I cooked sweet and sour fish for lunch and if I may say so myself, it looked so much better than my first sweet and sour fish. Here, take a look at yesterday's superstar at the dining table…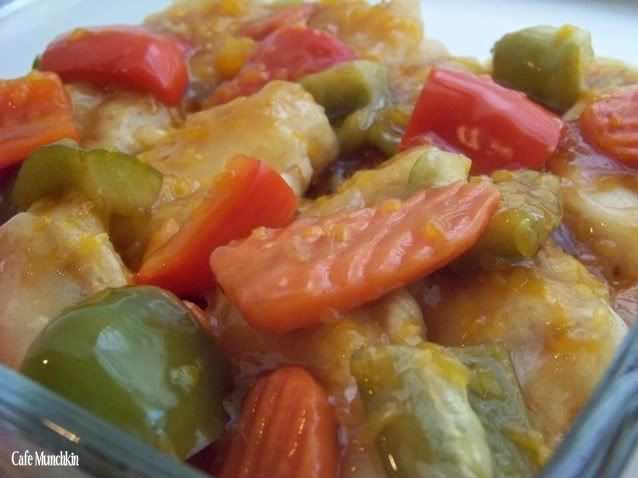 I again used the same recipe except for one little substitution.  Instead of pineapple chunks, I used canned mandarin oranges.  Being huge fans of sweet and sour dishes, lunch was a big hit for Hubby and my little princess.
I used catfish fillets, which I cut into quarters.  Frying was tedious as usual, but they came out nicely…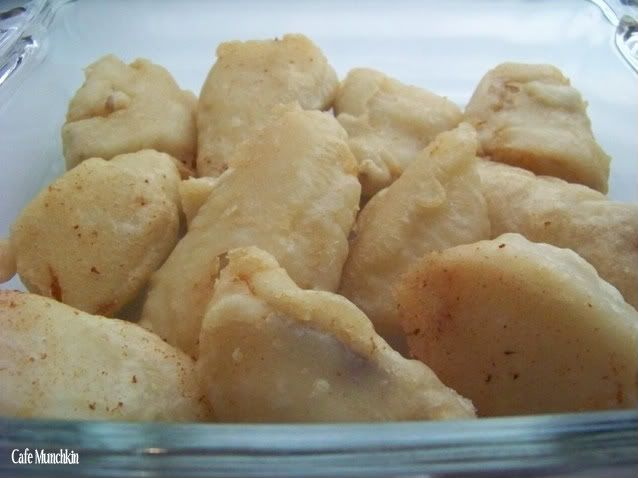 So you won't have to hop to my previous entries for the recipe, I'm sharing it with you yet again. :)  That ought to save you some time .  Hee hee.
Sweet and Sour Sauce
2 carrots, thinly sliced diagonally
1/2 c water
1/2 c packed brown sugar
1/3 c vinegar
2 tbsp cornstarch
2 tbsp soy sauce
about 13 1/2 oz mandarin oranges (1 can is 11 oz.)
1 green bell pepper, chopped
1 red bell pepper, chopped
Fish Batter
3/4 c water
2/3 c flour
1 1/4 tsp salt
1/2 tsp baking powder
*Don't forget the fish fillets!  I used about 1 to 1.5 lbs.
Directions
* Heat carrots and water to boiling.  Cover and cook until crisp tender (about 8-10 minutes).
* In a saucepan, mix brown sugar, vinegar, cornstarch and soy sauce.
* Stir in carrots (with liquid), pineapple (with liquid), and the green and red bell peppers.
* Heat to boiling, stirring constantly.  Boil and stir for 1 minute then keep warm.
* Dip fish fillets into batter with tongs then fry a few pieces at a time until golden brown.  Drain on paper towels.
* Arrange the fillets on a platter.
* Pour the sauce over the fish.  Serve with hot rice.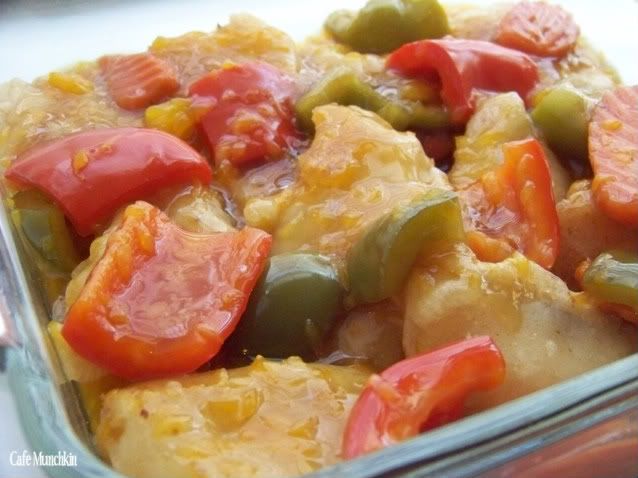 Tomorrow is the start of yet a new day for me.  My running shoes are ready.  Let's see where they take me.  Much as I want to avoid the kitchen though, that's just next to impossible.  I just won't eat what I cook…not too much, at least?  Haha!  One thing's for sure, no weight loss or Spawn supplements for me. :P
I have another Weekend Snapshot entry:  Pretty in Pink at the Park
Have a great week ahead, y'all!