I have two favorite "hot drinks": hot chocolate/cocoa and freshly brewed coffee.
A sentimental favorite, when it comes to hot cocoa, is the Cocoa Tablea brand from the Philippines.  These are chocolate tablets, which are melted with milk and a little sugar (if desired) on the stove top.  It is rich and perfect with churros.  I think it's safe to say that Tablea is most popular during the Christmas season. :)  Unfortunately, the Asian supermarket where we shop doesn't carry that product.  Huhu.

Hot Chocolate from The Stove (Mammoth, CA)

Hot Chocolate from Magnolia Cafe (Austin, TX)
I used to be ok with instant coffee.  That was before we moved to TX.  One of the first kitchen appliances we bought was a dirt cheap coffee maker from Walmart.  Since my first cup of freshly brewed coffee, there was no going back to instant. :)  Come to think of it, I never had instant coffee here in the US.  But I'll be more than willing to embrace instant coffee again when I come home for a vacation!
Coffee from popular coffee houses is an occasional splurge.  Starbucks coffee a couple of times a week is quite costly.  Instead, we buy Starbucks, Seattle's Best or Cafe Ole (a Texas brand) ground coffee, which costs between $6.00 and $8.00 and just brew home.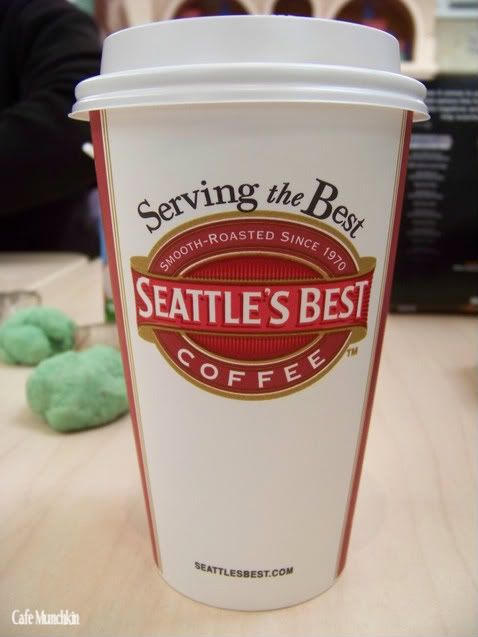 My coffee house favorite is Cafe Mocha.  Last December, Hubby and I were able to try 2 of Starbuck's holiday flavors: Peppermint Mocha and Eggnog Latte.  I loved the Peppermint Mocha.  The Eggnog Latte, on the other hand, is an entirely different story.  I haven't tasted eggnog before so I ordered the coffee drink out of curiosity.  And my first though after that first sip was, "What was I thinking?!"  No more eggnogs for me, in whatever shape or form. :)
That's about it for my hot drinks entry.  Have a wonderful weekend, y'all!  It's a long weekend for us, Monday being Martin Luther King Jr. Day.  Yahoo! :)