It's been a while since I posted a recipe.  I think now is as good a time as any to post one.
I love cheesecake.   Making my own cheesecake from scratch (I don't have anything against the no-bake ones, just so we're clear!) gives me a sense of pride.  My first cheesecake adventure was Pumpkin Cheesecake.  The next one was rather ambitious, Layered Mocha Cheesecake, something I've made twice or thrice but which I have yet to perfect where appearance is concerned.
Hubby has been requesting that I make "regular" cheesecake, meaning one that is preferably white and without traces of chocolate whatsoever.  I granted his wish on New Year's Eve.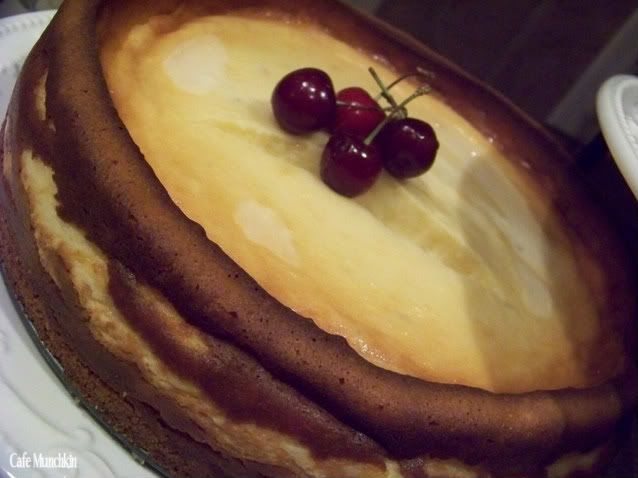 Before you react violently, I'd like to say that I am quite sure it wasn't supposed to look like this because the New York cheesecakes I've had at restaurants doesn't look anywhere near the one that came out of my oven.  I should have probably trimmed the sides and maybe the top of the cheesecake, too.  I got the recipe here, and looking at some of the photos posted on the site, I felt better when I saw that mine looked similar to what other bakers made.  How the other finished products came out silky white is still a mystery to me.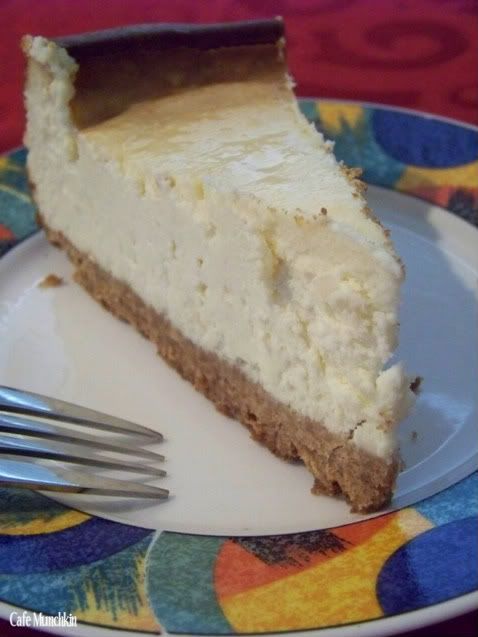 It looks more cheesecake-esque after it's been sliced, leading me to think that maybe, I should have really trimmed the sides.  Ugh. Oh well.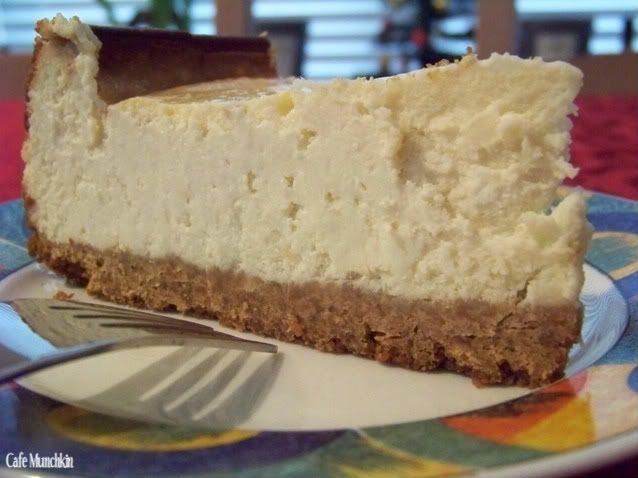 Personally, I kinda liked the rustic look of my cheesecake.  Hee hee.  And in case it makes any difference,  Hubby thought it was good, I thought he was going to finish it all by himself.    Well, he did share it with us, so no weight loss pills necessary for him . :D
INGREDIENTS
For the crust:
15 graham crackers, crushed
2 tablespoons butter, melted
For the filling:
4 (8 ounce) packages cream cheese
1 1/2 cups white sugar
3/4 cup milk
4 eggs
1 cup sour cream
1 tablespoon vanilla extract
1/4 cup all-purpose flour
DIRECTIONS:
1.  Preheat oven to 350 degrees F (175 degrees C). Grease a 9 inch springform pan.
2.  In a medium bowl, mix graham cracker crumbs with melted butter. Press onto bottom of springform pan.
3.  In a large bowl, mix cream cheese with sugar until smooth. Blend in milk, and then mix in the eggs one at a time, mixing just enough to incorporate. Mix in sour cream, vanilla and flour until smooth. Pour filling into prepared crust.
4.  Bake in preheated oven for 1 hour. Turn the oven off, and let cake cool in oven with the door closed for 5 to 6 hours; this prevents cracking. Chill in refrigerator until serving.
Please note that I added more butter to my crust.  Two tablespoons seemed to be not enough.

Cheesecake is very tricky to make.  Believe me when I say that this New York cheesecake and I will have a rematch.  The next one will look so much better…hopefully.  I'm thinking I should put the springform pan in a water bath next time and not wait for the top to turn brown. ;)