As promised, I'm posting the fool proof buttercream icing recipe I recently discovered, and which I have now been using shamelessly to ice and decorate cakes and cupcakes such as these…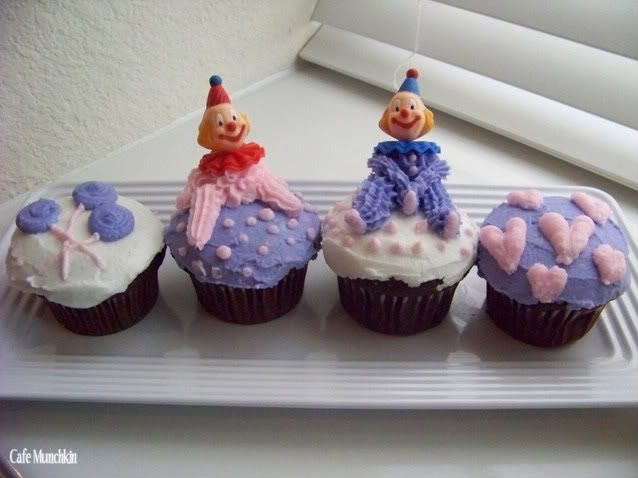 INGREDIENTS (STIFF CONSISTENCY)
1 cup solid white vegetable shortening
1 teaspoon Wilton Flavor (Vanilla, Almond or Butter or a combination of the 3)
2 tablespoons milk or water (I use water because milk will make your icing more perishable.)
1 lb. pure cane confectioners' sugar (approximately 4 cups)
1 tablespoons Wilton Meringue Powder
a pinch of salt (optional – but I very strongly suggest you add this pinch of salt to ease the sweetness of the icing a wee bit)
PROCEDURE
1.  Cream shortening, flavor and water.
2.  Add dry ingredients and mix on medium speed until all ingredients have been thoroughly mixed together.
3.  Blend an additional minute or so, until creamy.
The trick to adjusting the consistency of your icing is simply to add water to thin it out or confectioners' sugar to stiffen.
STIFF CONSISTENCY
Again, the recipe above is for stiff consistency and yields 3 cups. Stiff consistency is used in making flower decorations. If your icing cracks when you pipe it out of the bag, that means your icing may just be a little too stiff.  Simply add water a little at a time.
MEDIUM CONSISTENCY
To make medium consistency icing, add a teaspoon of water to each cup of stiff consistency icing or 1 tablespoon of water for the full recipe (3 cups).  Mix until well blended.
Medium consistency icing is used to create stars, borders, flowers with petals that lie flat and for piping figures, like the clowns on my cupcakes. :)
THIN CONSISTENCY
To make thin consistency icing, add two teaspoons of water for each cup of stiff consistency icing or two tablespoons for the full recipe.  Mix well until blended.
This is the consistency you want to use to ice your cakes.   This is also ideal for making leaves and stems and for writing.  You might want to add 1/2 teaspoon piping gel per cup of thin consistency icing for the leaves, stems and writing.  Try to see for yourself, the difference between  thin consistency with piping gel and without.
My hand mixer has been working double time, thanks to my cake decorating initiatives. Hee hee. Maybe I should have bought the Kitchen Aid stand mixer last Cyber Monday instead of the steam vacuum.  Oh well, I'll give buying one some thought again when my hand mixer goes kaputt on me, hopefully, not anytime soon. *cross fingers*