*This is entry #43 for Weekend Snapshot.*
Chinese New Year is on January 26th, just a couple of hours away on our part of the world.  Back in the Philippines, we make it a point to join the Chinese New Year festivities even if we are not Chinese.  Once or twice, we even paid good money so we could take part in the "prosperity banquet" and other activities meant to attract good fortune at the Mandarin Oriental.   Two years ago, we even feng shui-fied our home!
This year, we thought we should celebrate by having Chinese food for lunch.  I was actually looking for a place that had a Chinese New Year banquet special of sorts but wasn't very successful.  I probably just didn't look hard enough.  And since feng shui is all about signs and symbols, I thought one of the better signs of plenty is, what else but  a Chinese buffet! :)  We had a couple friend of ours and their two kids join us for lunch.  It's best to pig out in the company of good friends, you know!
We chose Fujian Grand China Buffet for our Chinese New Year lunch rendezvous.  Why?  Because I am a very gullible person. TV commercials for this buffet place has gotten me curious big time.  Hubby and I know very well that Chinese food is best enjoyed at little places that are run by a family, where there isn't too much tinkering with the dishes to suit the American taste.  That's why we don't eat at so-called fusion restaurants very often.  But we are suckered (please excuse the term) into eating at buffet places every now and then.  Go figure!
For my first plate, I headed to the sushi counter.  That's always my first stop.
The sushi was edible, that much I can tell you. Buffets don't have the best sushi but I still get my fill if only to satisfy my sushi cravings.
My second plate…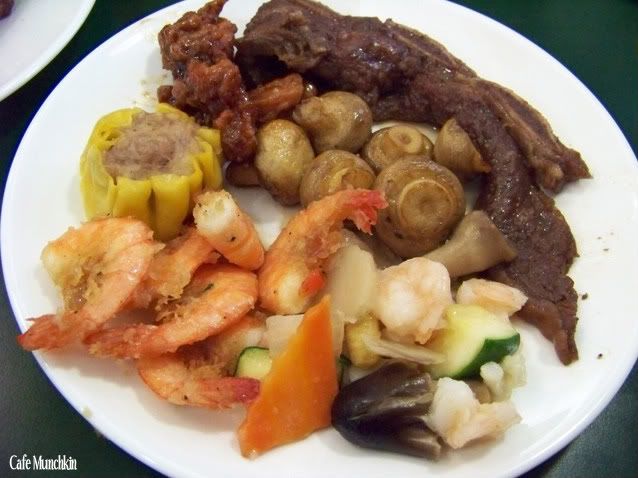 I had Stir Fried Shrimps, Barbecue Spareribs, Mushrooms in Oyster Sauce, Siomai, Seafood with Vegetables and Mongolian Beef. I had but a few bites of the spareribs.  Hubby liked the siomai but I thought I made better siomai.  Haha! :)  The rest were, buffet-ok.
My third plate which I had next to my second plate because I couldn't find a bowl to put my rice in…
That's chicken terriyaki on a stick, fried chicken wings, and ground meat with crab stick wrapped in eggroll wrapper (I don't know the exact name).  Nothing special really.
Should I even tell you about my dessert?  I know I should eat fruits but I didn't. :)  I had mini cakes and pastries…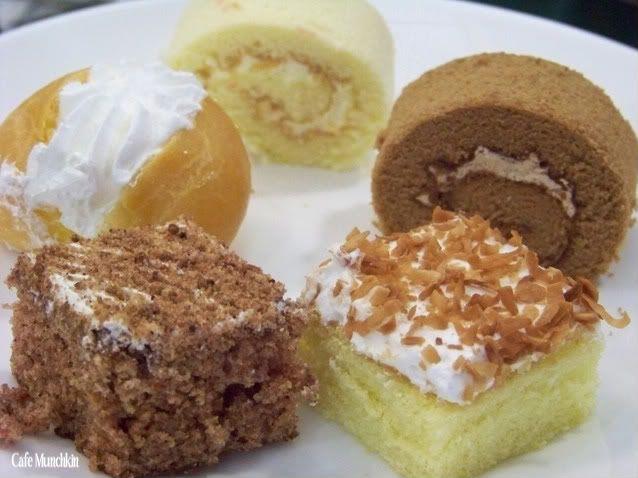 The best tasting from this lot are the cake rolls.  They're not moist but they taste better than the other three that I got.  I just ate the whipped cream from the cream puff.
Here's Hubby's first plate…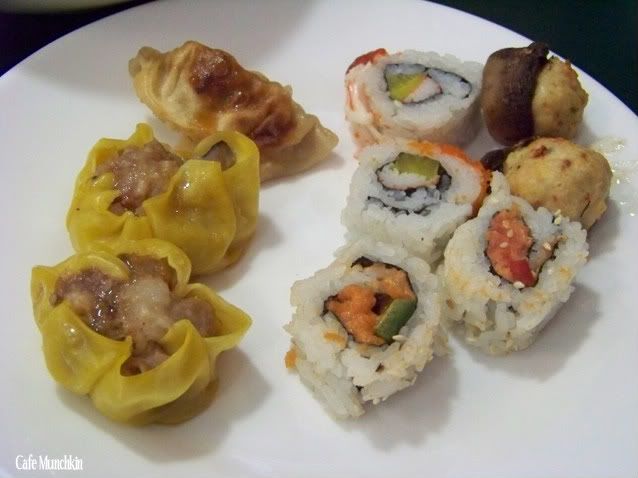 He had a Mongolian bowl, too…noodles for long life. :)
At $10.99 per adult on weekends, you get a huge variety of dishes.  This is the 4th Chinese buffet place we've tried so far and this, by far, is the biggest!  There were about 10 buffet counters, if I'm not mistaken.  They had 3 kinds of soup, noodles, fried rice, beef, chicken and seafood dishes cooked in a variety of ways (yet tasting quite similar to each other!), salads, fruits, mini cakes and pastries, sushi, a Mongolian counter.  There's even pizza and pasta…don't even ask me why.
You'll have to fall in line twice.  First, to pay and second to get seated.  There are plenty of seats so the wait isn't that long.  The place was packed earlier.  Dishes at the buffet counters were replenished right away.  The servers were efficient and quick to clear the table.
The food is mediocre, edible at best.  Will I come back?  Yes, specially if we'll be in good company again and because that's just how I am…crazy.
Fujian Grand China Buffet
8709 North Interstate 35
Austin, TX 78753
(512) 977-8822
My other Weekend Snapshot entry: Tantalizing Tulips
Have a great week ahead, y'all!