Who hasn't heard of Spam?! It is such a household name that some people actually make the mistake of referring to canned ham as Spam or sometimes by another brand…Ma-ling. Hee hee.
Spam can be a lifesaver specially when one is too lazy to cook a decent viand. So it's not the best option for viand, what with it being salty and all.  Still, it's better than eating rice with plain salt.  ;)  Since Spam goes very well with rice, it makes a lot of sense to me why in Hawaii, Spam and rice wrapped in nori is a popular snack or luncheon treat. Spam musubi is what it's called.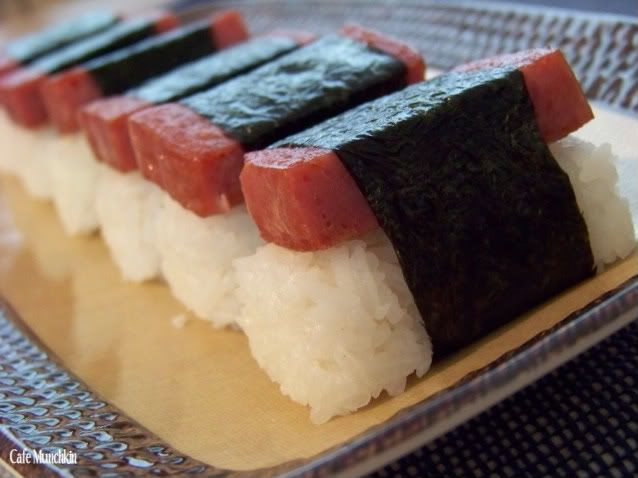 Here's the full Wikipedia definition:
Spam musubi is a very popular snack and luncheon food in Hawaii made in the tradition of Japanese onigiri, also known as a musubi. A Spam musubi is composed of a block of salted (not vinegared; that would be sushi) rice with a slice of Spam (cooked or uncooked) on top, and typically nori (dried seaweed) surrounding it to keep it in shape.
I was introduced to Spam musubi when a couple friend of ours made and brought some with them when we visited a pumpkin patch in November of last year.  What they brought was "sandwich style", that is, spam sandwiched between two thin layers of rice and wrapped in nori.  The pictures on this entry are of the "traditional-style" spam musubi.
INGREDIENTS:
Spam
rice
nori strips
EQUIPMENT
sushi mold or ice cube tray
PROCEDURE
1. It's up to you whether you want to use cooked or uncooked spam.  Slice them into pieces that are the same size as the mold you are using.
2.  Moisten the sides and bottom of your sushi mold or ice cube tray to prevent the rice from sticking.  Then invert it and tap a little so your little blocks of rice will come out.
3.  Lay a piece of spam onto the block of rice.
4.  Wrap a strip of nori around the spam and block of rice.  The ends should meet at the bottom.  Moisten with a little water to seal the ends.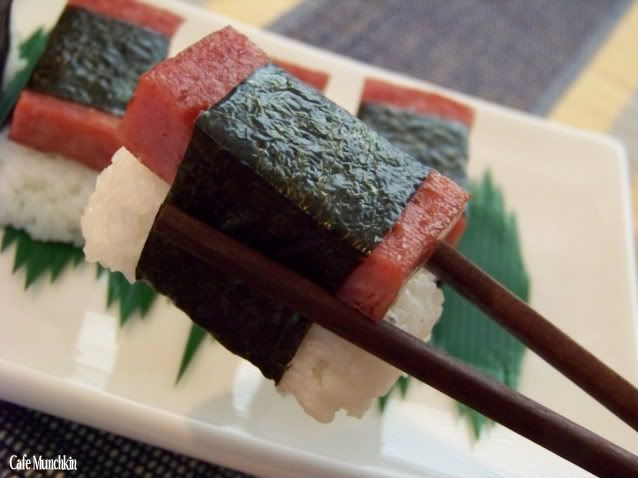 Piece of cake, isn't it? Optional Spam musubi ingredients are teriyaki sauce  tamagoyaki (Japanese omelette), shoyu (soy sauce), as well as furikake (seasoning).
When I get around to making a sandwich-style Spam musubi, I'll be sure to post it as well. :)