"Steamed" is the theme for this week's Lasang Pinoy, Sundays. I have two steamers, both of which I use fairly often.

I use the bamboo steamer, solely for dim-sum: siopao, siomai, dumplings, and cuapao.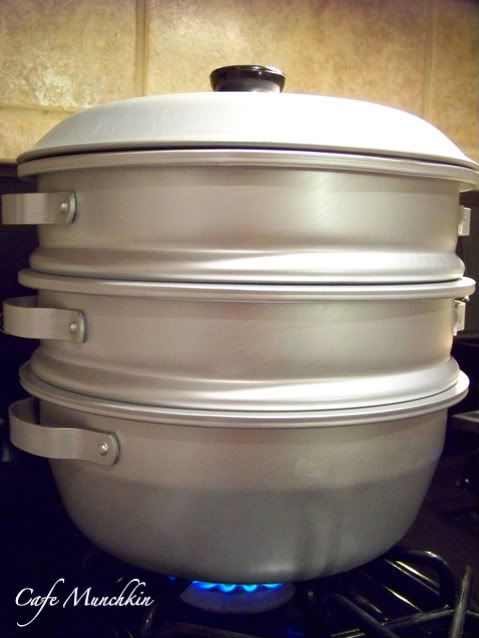 This good-sized aluminum steamer, I use for fish and one of my all-time favorite Filipino desserts, Leche Flan.
Generally, steaming is the healthier cooking technique.  It's even healthier than boiling, because boiling strips food of more nutrients than steaming does.  Then again, if what you're steaming is a dessert, the primary ingredients of which are eggs (mostly egg yolks at that), then that's a whole different story. Haha!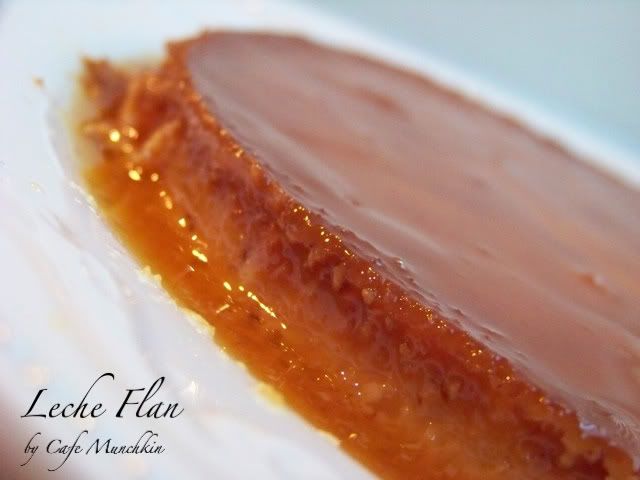 I have what you might call a "love-hate" relationship with Leche Flan as far as cooking it is concerned.  Leche Flan is fairly easy to make, that is, once you've gotten past the tricky part of caramelizing the sugar. ;)  Everything else will be a walk in the park after you've got your caramel sitting contentedly on your pans.
When I made leche flan on for our New Year's Eve party, I wasted 4 pounds (yes, 4 effin' pounds!) of sugar before I finally settled for a pathetically pale caramel. Ugh.  Anyway, the caramel gods must have heard the silent prayer I uttered last night.  I got it right the first time…a cup of sugar is all it took.  Nanay, my maternal grandma, would have been proud of me.  Yey me! Hahaha! :)
Here's the recipe to a leche flan, which, I promise you, will taste good, even if you mess up everything else…caramel, texture and all.  I got this from my mom's sister – my California-based "aunty-ninang" (aunt-slash-godmother) – and it's a recipe I've been using since we moved to TX.
INGREDIENTS (for one 8″ or 9″ round pan – Note: Just double the recipe like I always do, because really, 1 pan isn't enough!)
3 egg yolks
2 whole eggs
1 can condensed milk
half a condensed milk can of water
a few drops of vanilla (optional – I rarely use any because my Lola doesn't use vanilla anyway).
lemon rind (optional –  I have yet to put lemon rind on my leche flan…again, because Nanay doesn't.  Hee hee)
1 cup of sugar and 1/2 cup of water for the caramel
PROCEDURE
1.  Caramelize the sugar on a heavy-bottomed stainless steel pan.  Let this video be your guide.  Once you've got the sugar caramelized to a nice golden amber, coat the bottom of your pan and maybe a little of the sides as well, with the caramel.
2.  In a bowl, whisk the eggs.  Then add the rest of the ingredients.
3.  Whisk some more until the ingredients are well blended.  Avoid bubbles!
4.  Strain the mixture then transfer to a pan.
5.  Cover the pan with aluminum foil and place it on the steamer.
6.  Steam for 45-60 minutes, testing for doneness with a toothpick.  Alternatively, you can cook your leche flan in the oven.  Place the pan on a water bath and bake at 350F.  Test for doneness at 45 minutes.  This may take a wee bit longer.
7.  When it's done, let cool then chill in the refrigerator.
I got hold of another leche flan recipe from another California-based aunty-ninang (aunt-godmother).  I hope to test it next time I have a leche flan craving.
Have a great weekend, y'all!  Mabuhay! :)