*This is entry# 35 for Lasang Pinoy, Sundays*
This week's theme for Lasang Pinoy, Sundays is "Layer It Up" or "Layered".   I'm glad I have a fresh entry to post and not a rehash. :D
For the whole month of January, Red Robin had a Kids Eat Free promotion going.  And for two consecutive Saturday evenings, we had dinner with our friends, 23-person strong the first Saturday (January 24) and 15-person strong the next (January 31).  That's savings of over $55 the first night and over $35 the second time.
Red Robin is famous for it's gourmet burgers.  Unlike the first Saturday we went to RR, when a number of us ordered non-burger entrees, the second time was different. 7 out of 8 of us adults had burgers.   RR is a family restaurant, by the way, which translates to noise…lots of it!  I haven't been to Red Robin on a weekday but on weekends, the place is definitely packed.  Wait time is 45 minutes.  Not really a short wait.  It was a specially busy night on January 31st that our server even forgot to ask how we wanted our burgers cooked.  We realized how important that question was after we took our first bite.
So, where's the "layered" food?  I'll get to that right about now. Here are the burgers with layer upon layer of filling.
I ordered the Whiskey River Barbecue Burger, it is "basted with RR's signature Whiskey River BBQ Sauce and lasso'd together with Cheddar cheese, crispy onion straws, lettuce, tomatoes & mayo".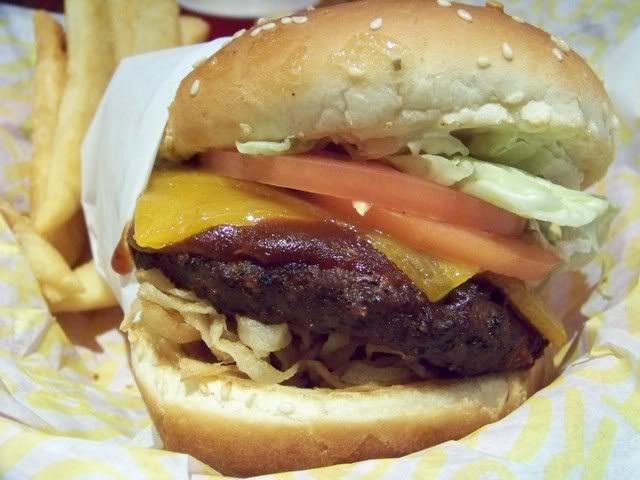 Whiskey River Barbecue Burger
I liked the buger, which was juicy and perfectly cooked even if I didn't specifically say how I wanted it cooked.  I was disappointed with the supposedly "crispy onion straws".  They weren't crispy at all and they kinda got in the way when I took a bite.  They looked very different from the photo on the menu.
My pepperoni and burger lovin' husband ordered the Sicilian Burger.  This is supposed to be a new addition to the RR menu.  It's a "pile of pepperoni slices, Provolone cheese and balsamic-marinated tomatoes with red onions, Romaine lettuce, an olive-herb mayonnaise and served on an herbed focaccia bun."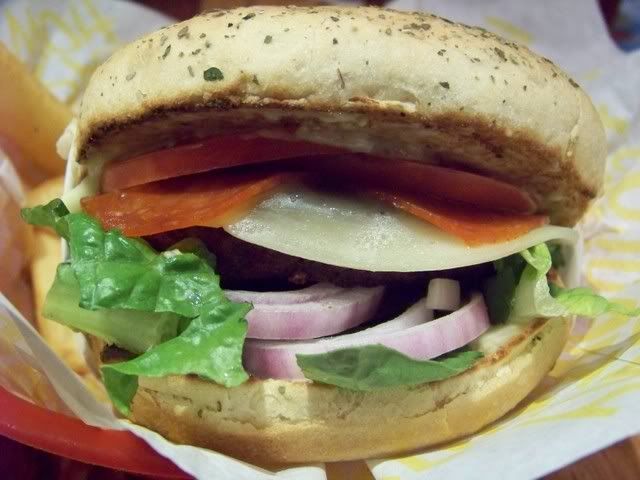 Sicilian Burger
Hubby was all praises for this burger, which didn't really come as a surprise.  He only had to take out the red onions.  We both aren't big fans of fresh onions. :D
One of my girl friends, A, ordered the Sauteed 'Shroom Burger.  It is (supposed to be) "loaded with fresh, plump, sautéed mushrooms, a hint of garlic Parmesan butter and topped with melted Swiss".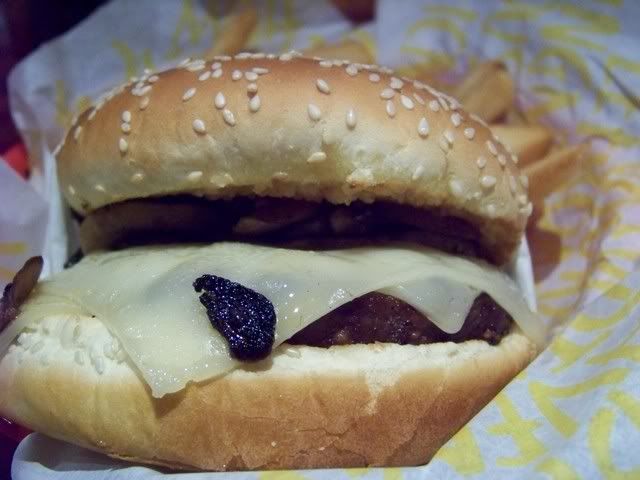 Sauteed 'Shroom Burger
From among the burgers that were ordered that night, this was the burger with the least layer of fillings.  My friend found it to be a little dry.  Not until she got to the middle of her burger did she find that hint of juiciness.  She realized she needed her tomatoes and lettuce on her burger.  Haha!
Another friend, E, ordered the Royal Red Robin Burger.  RR refers to it as the aristocrat of all burgers because they "crown it with a fresh fried egg". It is also "topped with three strips of hickory-smoked bacon, American cheese, crisp lettuce, tomatoes and mayo".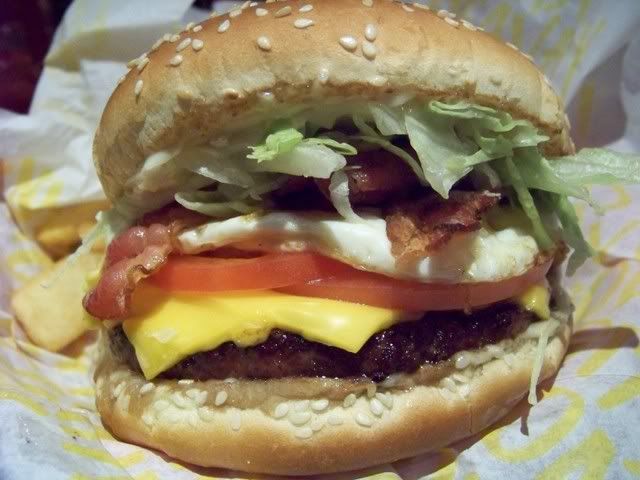 Royal Red Robin Burger
"E" seemed to like this burger, so much so that he gave his wife, A (Ms. Sauteed Shroom Burger) a deadly stare when she suggested they exchange burgers.  Haha!  The pinkish patty saved the day for our friend.  Wifey didn't like the undercooked burger.
My other girl friend, M, ordered the Banzai Burger.  It is "marinated in teriyaki and topped with grilled pineapple, Cheddar cheese, lettuce, tomatoes and mayo."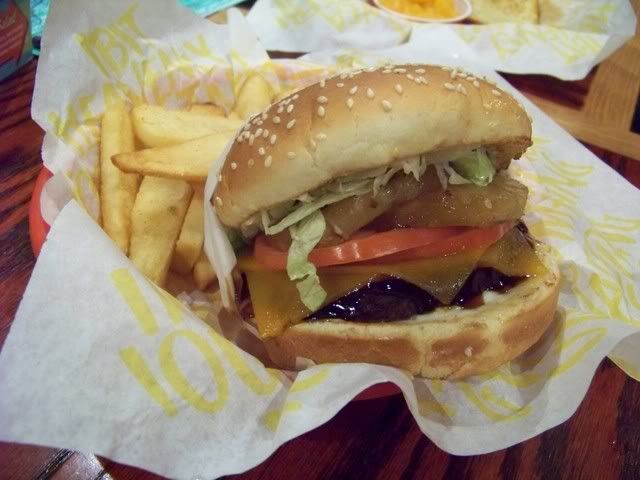 Banzai Burger
Sorry, no verdict for this burger.  M was seated at the opposite end of the table so I didn't get to interview her.  Haha!
If I may veer away from the "layered" theme now.  One friend ordered the Ensenada Chicken Platter, "two tender, juicy chicken breasts basted with a zesty Mexican blend of seasonings, charbroiled and bursting with Baja-style flavor. Served with a side salad and two dipping sauces."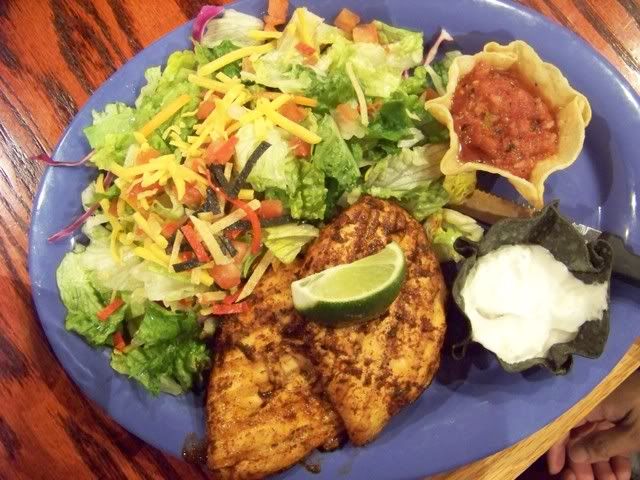 Ensenada Chicken Platter
No verdict on this entree as well.  However, I'd like to say that from among the food on our table, this is the only one that resembled the photo on the menu the closest. :)
Abby's (free) meal was a Corn Dog and Salad combo. :)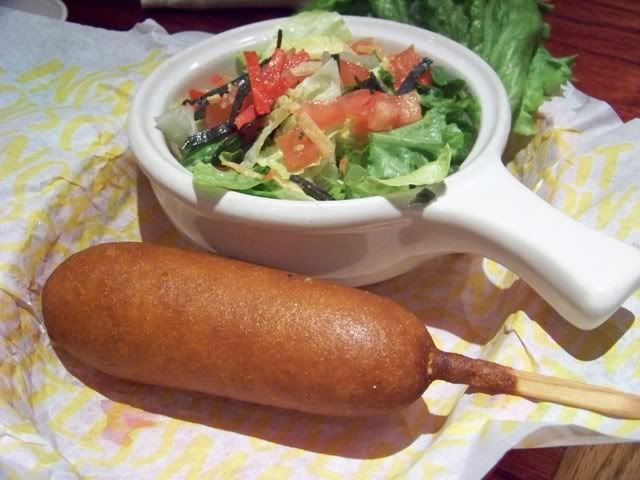 Corn Dog and Salad from the Kids Menu
Abby finished her corn dog and ate a portion of her salad.  I tasted the salad and it was crispy good.
All burgers are served with bottomless steak fries.  If you missed RR's "kids eat free" promo for the month of January, don't throw a tantrum (nor your Rackmount monitor! hee hee!).  Kids can still eat for free on Tuesdays. ;)
Red Robin Gourmet Burgers
Anderson Arbor
13315 N US HWY 183
Austin, TX 78750-7164
Tel: 512-249-8902
Sun-Thu: 11am-10pm, Fri-Sat: 11am-11pm