Two of my friends have a February birthday, one right after the other.   My male friend, E, celebrated his birthday yesterday, while my girl friend, L, is celebrating her birthday today.  Birthday shout out to E and L!
Birthdays are a good excuse to have a cake, don't you think?  So I did the most logical thing, as far as I am concerned.  I baked two cakes!   For this entry, I'm featuring E's birthday cake – Honey Cake with Honey Cream Cheese Frosting, a Martha Stewart recipe, just so you know. Ha!
You probably think Honey Cake is a very unusual choice for a cake.  You see, E and his wife aren't crazy about chocolate and desserts that are overly sweet, so I didn't impose my chocolate preference on them.  I did a little research and for the first time since I received a copy of the very intimidating "The Martha Stewart Living Cookbook" as a Christmas present two years ago, I consulted what could very well be considered a cooking bible. :)  With only 3/4 cup sugar and 1/2 cup honey as sweeteners, I thought Honey Cake would be perfect!  With fingers crossed, I went ahead and tried this recipe.
INGREDIENTS: (Honey Cake)

1 cup (2 sticks) unsalted butter, room temperature, plus more for pan
2 cups sifted all-purpose flour, plus more for pan
1/4 teaspoon kosher salt
1/4 teaspoon ground nutmeg
5 large eggs, room temperature
1 1/2 teaspoons pure vanilla extract
3/4 cup sugar
1/2 cup honey
Honey Cream Cheese Frosting (Recipe after the Honey Cake)
PROCEDURE
1.  Preheat the oven to 325F with a rack in the center.  Butter an 8-inch baking pan and line with parchment paper.  Butter and flour the paper, tapping out the excess flour.  Set aside.  In a medium bowl, whisk together the flour, salt, and nutmeg, and set aside.  In a small bowl, whisk together the eggs and vanilla, and set aside.
2.  Cream the butter with a mixer on medium high (use paddle attachment if you have a stand mixer, which I don't!) until light and fluffy, scraping down sides of bowl as necessary, about 3 minutes.  Add sugar and honey; beat the mixture until light and fluffy, about 3 minutes.
3.  Add the egg mixture a few tablespoons at a time, beating well for 2 to 3 minutes after each addition.  Raise speed to high, and beat, scraping down the sides of the bowl as necessary, until very thick and light in color, 4 to 5 minutes.
4.  Add the flour mixture in 3 batches, beating just to combine after each addition.  Pour the batter into the prepared pan.
5.  Bake until a cake tester inserted in the center comes out clean, 40 to 50 minutes (I used an 8″ round pan and the cake took 50 minutes to bake.).  Transfer to a wire rack for 5 minutes.  Turn the cake out of the pan, and place on the wire rack, top-side up, to cool completely.  Remove the parchment paper.
6.  Transfer the cake to a serving platter.  using an offset spatula, spread the frosting evenly over the top of the cake.  Serve.
INGREDIENTS: (Honey Cream Cheese Frosting)
1 8-oz package cream cheese, room temperature
1/4 cup honey
PROCEDURE:
In a bowl, beat cream cheese on medium speed until light and fluffy, about 2 minutes.  Add honey; beat until smooth, about 1 minute.  use immediately or refrigerate, covered until needed.
Yield:  1 1/4 cups, enough for one single-layer cake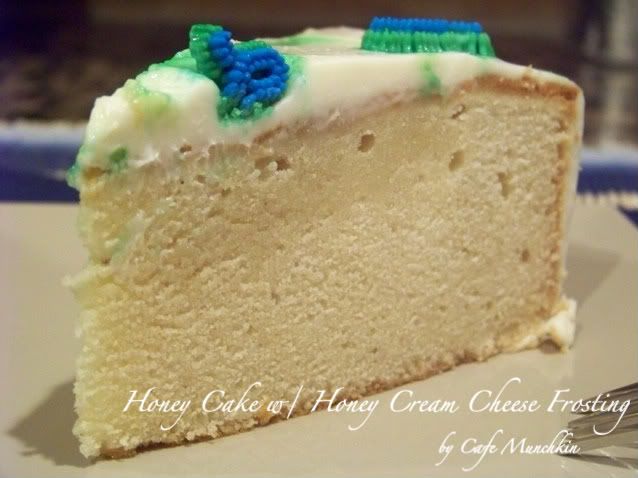 The cake is moist and very dense.  I think it would make for a good base for fondant.  It is just the right level of "unsweetness", any less sweet and it would have tasted like scone, a moist scone. :)  This is perfect with tea or coffee.  I especially loved the honey cream cheese frosting.  What I regret not doing is making more cream cheese frosting, which I could have used to at least decorate the base and top of the cake with border.
The cake got the nod of the birthday celebrant and his family.  That or they are just being nice to me.  Haha!  This is the first cake I made from scratch, that came out really well.  For that, I am glad. *does a dance of joy*