The theme for this week's Lasang Pinoy, Sundays (La.Pi.S.) is "I Love/Heart Food".  Well, I do love food, obviously.  My dilemma was which one to post.  Since it's Valentine's weekend anyway, I decided to post an entry on a treat that I love to bake…Blonde Brownies or Blondies.  I made two batches of these to give away to my daughter's teachers and my on-line buddies. :)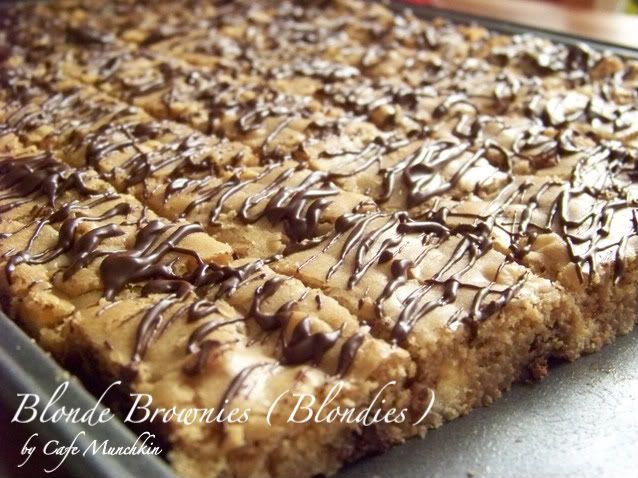 I fell in love with these blondies the first time I made them, that was in November 2007 (blog entry here).  It's a classic case of love at first bite or love at first bake.  Unlike some recipes, which don't quite work well the very first try, this always comes out perfect.
Here's the recipe:
INGREDIENTS
2 cups packed light brown sugar
1 cup (2 sticks) butter or margarine, melted
2 eggs
2 teaspoons vanilla extract
2 cups all-purpose flour
1 teaspoon salt
2/3 cup (of each) semi-sweet chocolate chips, peanut butter chips, white (chocolate chips)
chocolate chip drizzle (recipe follows)
PROCEDURE
1.  Heat oven to 350 degress F.  Grease 15 1/2 x 10 1/2 x 1 inch jelly-roll pan.
2.  Stir together brown sugar and butter in large bowl; beat in eggs and vanilla until smooth.  Add flour and salt, beating just until blended; stir in chocolate, peanut butter and white chips.  Spread batter into prepared pan.
3.  Bake 25 to 30 minutes or until wooden pick inserted in center comes out clean.  cool completely in pan or wire rack.  Cut into bars.  With tines of fork, drizzle chocolate chip drizzle randomly over bars.
*Makes 72 bars*
Chocolate Chip Drizzle – In a  small microwave-safe bowl, place 1/4 cup semi-sweet chocolate chips and 1/4 teaspoon shortening (do not use butter, margarine, spread or oil).  Microwave at high (100%) 30 seconds to 1 minute; stir until chips are melted and mixture is smooth.
You can substitute the chips called for in the recipe with your favorite chips.  I for one, have never used peanut butter chips for this.  I use 1 cup semi-sweet chocolate chips and 1 cup white chips.  What I'd like to try is substitute the chips with bits of chocolates, the ones left over from the holidays like Halloween or Christmas.  Hee hee. :)
These are how the blondies look in their Valentine packaging: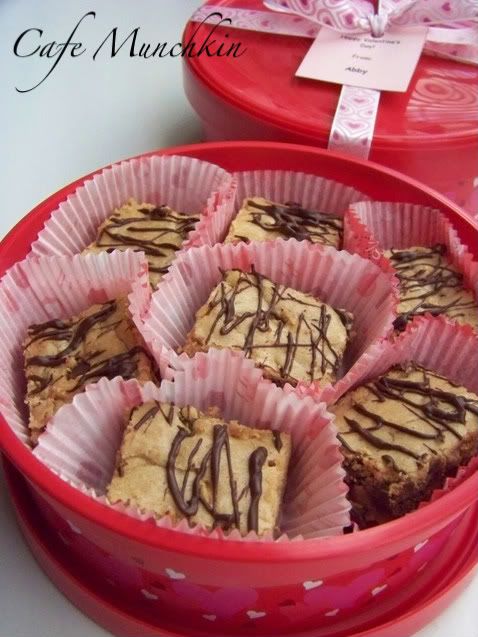 For my daughter's teachers ;) – a tub with 14 pieces of blondies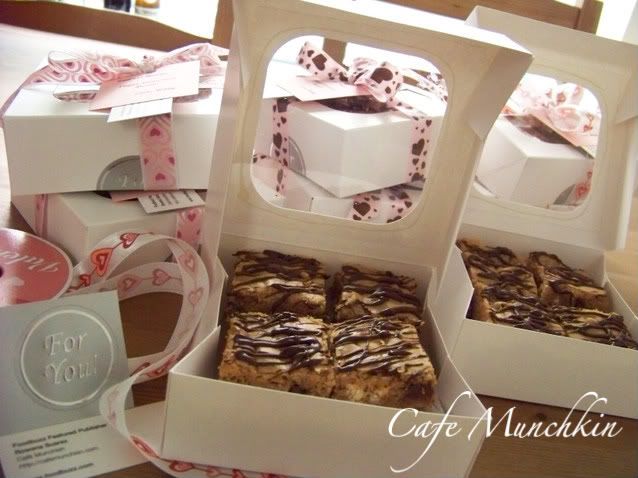 For my friends ;) – gift boxes cum shipping boxes with 8 pieces of blondies
Have a wonderful Valentine's Weekend, y'all!  Cheers and Mabuhay!