I baked two birthday cakes last weekend.  The first one was a Honey Cake with Cream Cheese Frosting, which I made Saturday night.  On Sunday night, I made a Luscious Chocolate Cake with "Perfectly Chocolate" Chocolate Frosting for my chocoholic friend and neighbor. ;)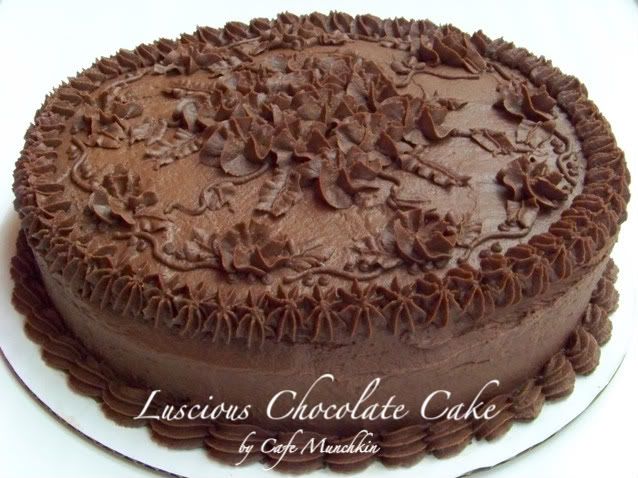 I consider this to be a rather ambitious project.  For one, I got the chocolate cake recipe from my copy of  The Martha Stewart Living Cookbook – The Original Classics.  This is only the 2nd recipe I've used from that thick book, which I've ignored for one whole year because it intimidated me so much.  The suggested frosting/topping for this cake was either a Whipped Ganache or a Ganache Glaze, which can also be found in the MS recipe book.    Instead of ganache, I decided to use the "Perfectly Chocolate" Chocolate Frosting from my Hershey's Classic Recipes book. :)
The cake was dense yet moist, and the frosting, rich and stiff enough to be used for cake decorating.  The birthday celebrant liked her cake and even requested that I make her another one for her next birthday.  She's a sweetheart of a friend, don't you agree?!  Hee hee.  This is supposed to be a 9-inch three layer cake, but the third pan I used turned out to be only 8′! My bad. :P  We kept that layer for ourselves so we were able to do a taste test before making the cake delivery. My two biggest fans, hubby and my daughter, loved the cake, too.  Hubby prefers this frosting over the chocolate buttercream frosting I used for the football cake, and I have to agree with him.
Here's the recipe…
INGREDIENTS (Luscious Chocolate Cake)
1 cup (2 sticks) plus 2 tablespoons unsalted butter, room temperature, plus more for pans and parchment
1/2 cup plus 1 tablespoon best quality cocoa powder, plus more for pans
1/4 cup plus 2 tablespoons boiling water
3/4 cup milk
2 1/4 cup sifted cake flour (not self-rising)
3/4 teaspoon baking soda
1/2 teaspoon kosher salt
1 3/4 cups sugar
2 teaspoons pure vanilla extract
3 large eggs, lightly beaten
Perfectly Chocolate Chocolate Frosting
PROCEDURE
1.  Preheat the oven to 350F with two racks centered.   Butter three 9 x 2-inch cake pans, and line with parchment paper; butter and dust the bottoms and sides of the pans with cocoa; tap out the excess.  Sift the cocoa into a medium bowl; stir in the boiling water until smooth; gradually whisk in the milk.  Set aside to cool.
2.  Sift the flour, baking soda, and salt into a bowl.  Set aside.  In the bowl of an electric mixer fitted with the paddle attachment, cream the butter on low until light and fluffy, about 3 minutes. Gradually beat in the sugar, scraping down sides twice.  Beat in the vanilla. (Note: I used a hand mixer.  A stand electric mixer IS still a dream. :D)
3.  Add the eggs, a third at a time, beating after each addition.  With the mixer on low speed, alternate adding the flour mixture and the reserved cocoa mixture a little at a time, starting and ending with the flour mixture.  Divide batter evenly among pans; spread with an offset spatula until level.
4.  Bake, rotating pans if necessary, until a cake tester inserted into the center of each cake comes out clean, 20-25 minutes.  Transfer the pans to a wire rack to cool, about 15 minutes.  remove cakes from the pans, remove the paper, and return to the rack to cool, top-side up.
5.  With a long serrated knife, trim the top of each cake layer until level.  Transfer one layer to a cardboard cake round.  Spread frosting on the cake; top with a second layer.  Repeat.  Spread the remaining frosting over the top and sides of the cake to seal in the crumbs and form a smooth surface.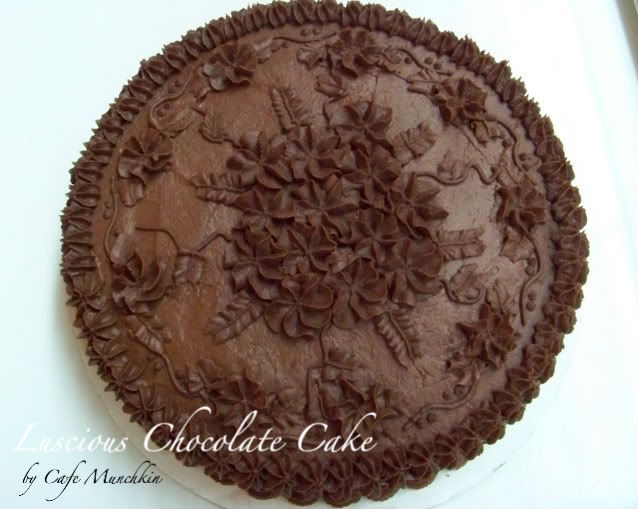 INGREDIENTS (Perfect Chocolate Chocolate Frosting)
1 stick (1/2 cup) butter or margarine
2/3 cup cocoa
3 cups powdered sugar
1/3 cup milk
1 teaspoon vanilla extract
PROCEDURE:
1.  Melt butter.  Stir in cocoa.  Alternately add powdered sugar and milk, beating to spreading consistency.
2.  Add small amount additional milk, if needed.  Stir in vanilla.
Makes about 2 cups frosting – enough for a 2-layer 9-inch cake.
I doubled the frosting recipe because I had three layers of cake (two for the birthday cake, and one for ourselves)  and I needed the extra  frosting for the decoration.
This is how the cake looks when sliced…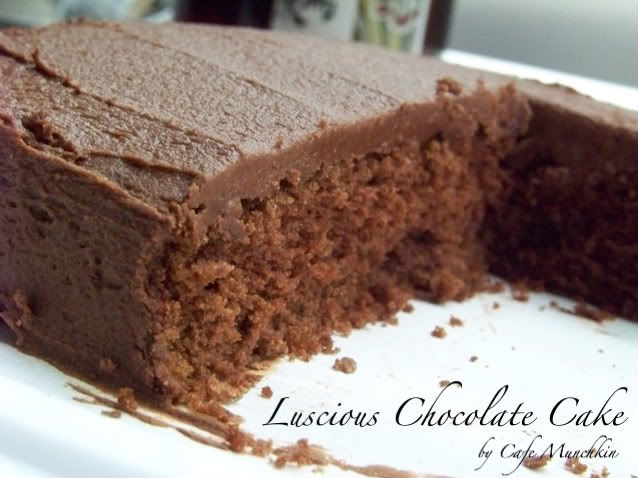 The photo above is of the cake layer we kept at home, which I didn't bother to decorate. :D
I've been looking for a chocolate cake recipe for the longest time and I have one in one of my recipe books all along.  I can stop searching for now. Whew.  Being the inexperienced cake baker that I am, I found making this cake to be a tad tedious.  I almost drove to the nearest grocery to grab a cake mix.  But nah, special people need extra special cakes. :)
Have a wonderful week ahead, y'all!  Cheers!