For the last two or three weekends, hubby, our little girl and I haven been going to the same place for lunch (a Japanese fast food, which I have yet to write about).  Last Sunday, we decided we wanted to try a new place – still Japanese, but one that we haven't ever tried yet.  So we ended up at a place, which we were told is only about 3-months old – Maki.

How do you roll?  Maki's big question.
If there's one word that almost always sends hubby and me running to the opposite direction when it comes to dining, it's "fusion".  Maybe we've just been burnt (figuratively speaking) too many times by so-called fusion places, I don't know.  That's also the reason why after entering Maki and realizing what kind of place it was, it took us a few minutes before we finally went up to the counter and order.  We thought, well, we love sushi and its "relatives" (maki in this case) anyway, so why not give this new place a chance.  And we're glad we did!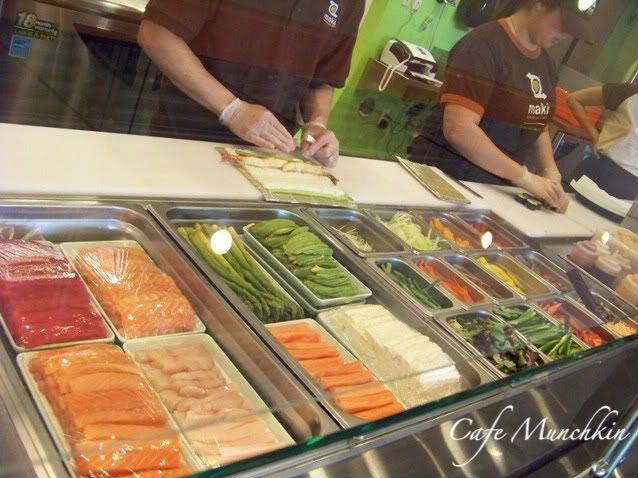 On one wall of the restaurant are boards which tell diners how the place works.  But if, for any reason you, missed those gigantic boards, don't fret, the people behind the counter will be more than glad to help you.  ;)
The Maki staff were all so pleasant and friendly.  One of the two people behind the counter, we later found out, is one of the owners.  He explained to us how to order.  The diner is pretty much in control of what he will eat.  The Makis are made fresh to order and right before your eyes, kinda like what they do at Quiznos or Subway or Chipotle.
Step 1: Choose your type of maki –  traditional (with nori wrapper) or modern (with soy wrapper).  Step 2:  Choose your "meat" – salmon raw, tuna raw, chicken, tempura, unagi, etc.  Step: 3:  Choose your veggies – Your first 3 veggie choices are free.  Additional veggies will cost $0,.50 cents per veggie.  Step: 4:  Choose your toppings.  You may of course, choose, not to put toppings on your maki.  Step 5:  Choose your sauce.
Because it's our first time, we thought we should give both traditional and modern makis a try.  Hubby called the shots for the traditional maki and I for the modern.
Hubby's pick:  salmon raw with cucumber, mango and avocado.  He didn't pick a topping and chose "creamy miso" for the sauce…
We realized when we started eating that putting together a maki can be a bit tricky.  The salmon raw, for example, got a little lost among the cucumber, mango and avocado.  Nevertheless, we still like our traditional maki. :D
My picks: shrimp tempura with asparagus, tofu skin and cream cheese.  I chose a topping of tempura crunch and wasabi mayo sauce…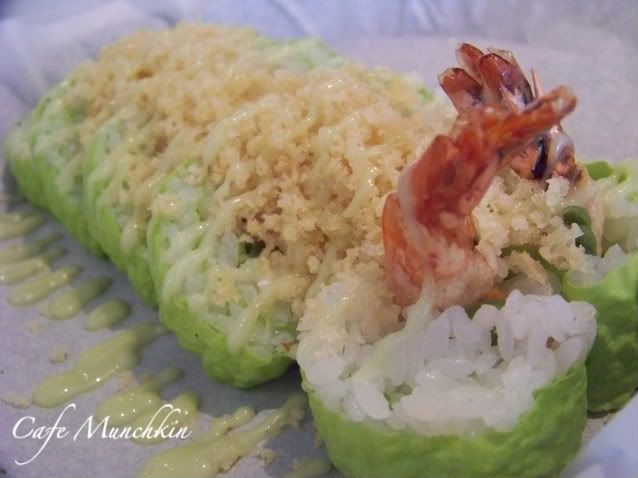 I loved my picks, save maybe for the soy wrapper.  What can I say, I'm a nori person after all! :)  I loved the crunchy tempura topping and the hint of wasabi in the sauce.  It had a little kick to it, just a teeny weeny kick that one might not even feel. The tofu skin, however, could be barely  tasted.
We ordered a third maki only after we realized that two 10-piece orders of maki won't be enough of us.  Abby, after all, can easily finish 5 pieces. ;)  Our third pick was another traditional maki.  It had unagi (fresh eel) with cucumber, cream cheese and mango.  We chose a tempura topping and a terriyaki sauce.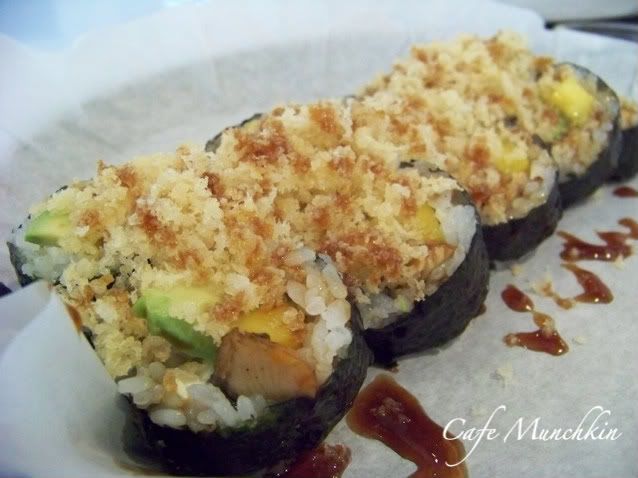 Of the three, this was the unanimous favorite.  The unagi and the sauce complemented each other really well.
One can also order appetizers and miso soup.  We ordered edamame for Abby, who is crazy about ti.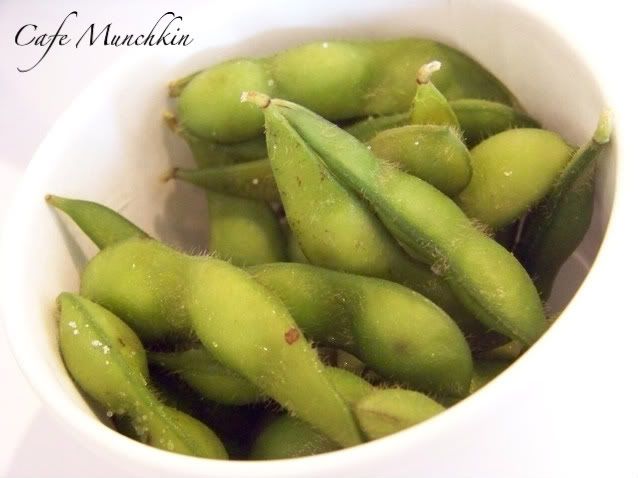 For dessert we had mochi ice cream, just so we can give it a try.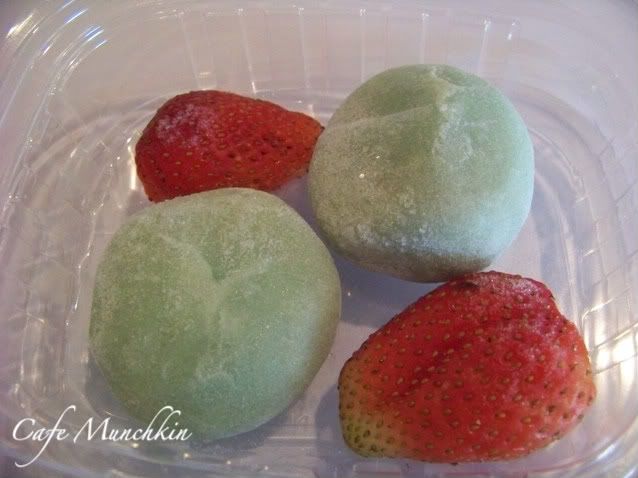 Inside the mochi is green tea ice cream.  I would have preferred just plain green tea ice crea, sans the mochi.  Because it's frozen, the mochi was tough to the bite.  The strawberries that went with the mochi balls were frozen, too.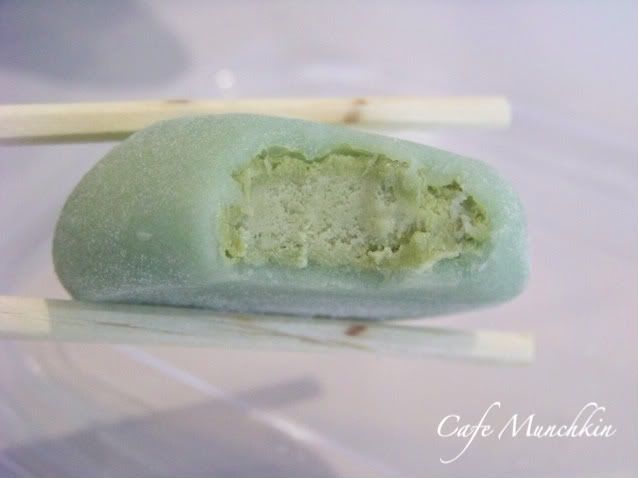 Maki has two machines which aid the staff in churning out makis quickly.  One machine evenly lays down the rice on a sushi mat.  Another machine is used to cut the rolls into 10 even slices.  Impressive! :)
The place won our hearts, er, appetites.  We really hope Maki stays for a very long time.  It caters to a specific market, that is, the sushi/maki lovers, which, judging from the Sunday afternoon crown (around 2pm) isn't too many.  A meal of three orders of maki plus drinks, edamame, dessert and tip set us back close to $30.00, which some, would probably think is better spent elsewhere.  The amount per order of maki will depend on your choices.  We'll definitely come back again to do some more mixing and matching!
Oh yes, when you do dine at Maki, don't forget to ask for a frequent diner's card, one that they mark for every maki your order.  After you get 9 stamps, your 10th maki will be on the house. ;)
Maki
Arbor Walk Shopping Center
10515 N. Mopac Expy, Suite A165
Austin, TX 78759
Mon – Sun  (11 am – 9 pm)
[512] 243.8298