Cafe Munchkin turned a year old on February 12th.  I didn't forget, I was just too busy that week, Valentine's week, that I had to hold off the celebration for another day…TODAY. :)  But before we get the party started, let me bore you with some details about this food blog.
Cafe Munchkin started off as Munchkin Cafe in October 2007 when my friend, Thess, convinced me to have a food blog and offered to host it as her subdomain.  A truly generous offer, I should say, and I gladly accepted.  Those days, however, I was more passionately blogging about my daughter and my family than about food, that between October and December 2007, I only came up with 15 entries.
That's no longer the case today.  Since February 2008, I have posted 375 (food related) entries and have approved 2158  comments.   I am now so much more attached, fond and overly passionate about this site.  It's readership is not as wide as other food blogs, but enough to elicit a silly little grin from me.  Here's Cafe Munchkin's vitals as monitored by Topblogs since March 25, 2008:
Total Unique Visitors:     38,473
Total Page Views:     69,285
It might interest you to know what my top three posts are:
Plastic Grocery Bag Origami (17,605 Views)
WS #34: Banana Pudding (3,965 Views)
WS #28: Tapioca Pearls with Coconut Cream (1,382 Views)
On its busiest day ever, Cafe Munchkin had 2994 hits.  Not bad I say!  That's a good enough excuse to celebrate.  Giveaways are in order!  So, here's the fun part.
FOR BLOGGERS
One lucky blogger will receive this package: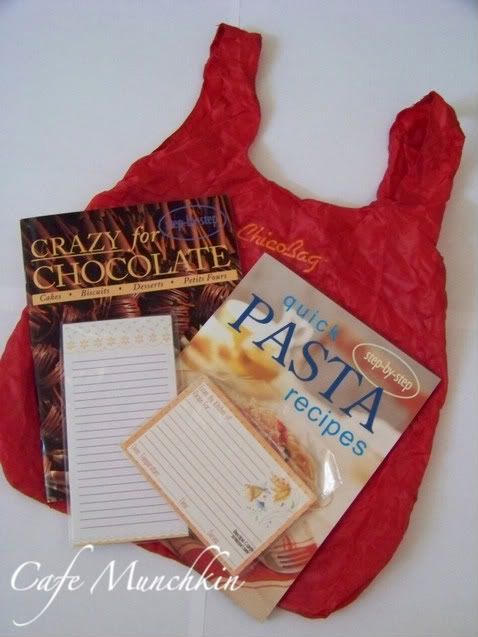 The package includes: (1) Chico reuseable shopping bag which can carry a load of upto 25 lbs.; (1) Step by Step Quick Pasta Recipes cookbook; (1) Step by Step Crazy for Chocolate cookbook; (20 pcs.) blank recipe cards; and (1) magnetic  list pad.
I love the recipe books and will be keeping copies for myself.  They have beautiful photographs of the finished products as well as a step-by-step photos of the procedures.  I have a preference for recipe books with photos. It helps to have an idea how a dish should should like. :D
The shopping bag, by the way, looks all wrinkly because it originally looked like this…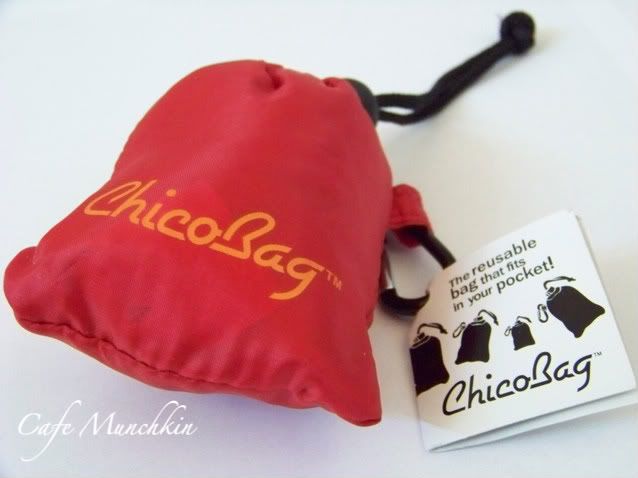 All you have to do  is post an entry on your blog about who or what you consider to be the greatest influence/s on your cooking, food preferences or views on food  (that is, if you yourself don't cook) and how that influence comes through.   Don't forget to link to this entry so I can get a pingback from you.  Then, come back to this post and leave a comment informing me that you have already posted an entry.  You have until 11:59pm (CST) of March 9th, that's two weeks from today, to post your entries.  Competition shouldn't be so stiff among you 5 blogger readers of mine.  Hee hee.
If this is too much work for you, you might want to join the contest as a non-blogger instead. :D
FOR NON-BLOGGERS
I didn't forget the five other readers of this site who are non-bloggers. :D  Two readers will receive one of two prizes…
Prize #1: (1) Quick Pasta Recipes cook book; (1) magnetic list pad; (20-pcs) recipe cards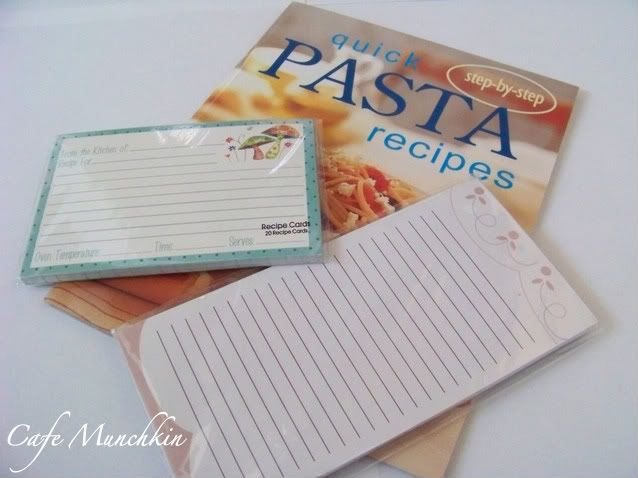 The inside pages of the recipe book look like this…
Prize #2: (1) Crazy for Chocolate recipe book; (1) magnetic list pad; (20 pcs) recipe cards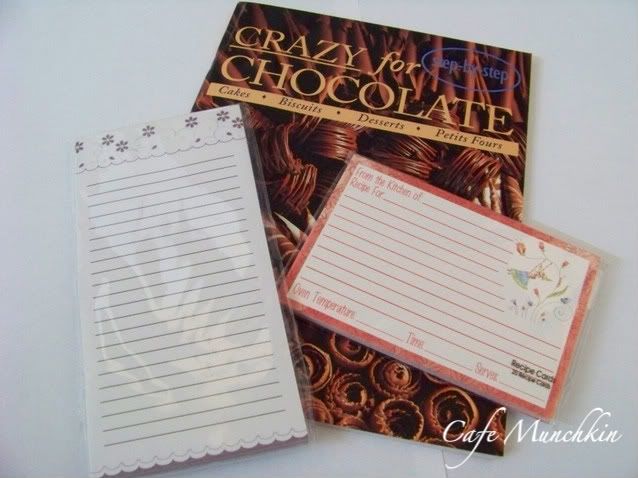 Here's how the pages of the book look like…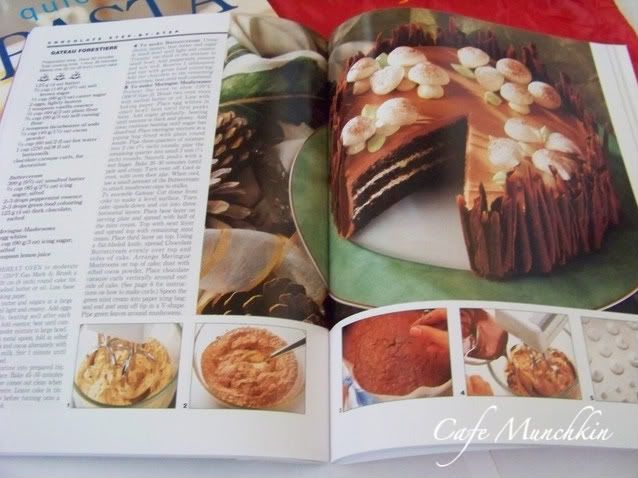 Like the bloggers, all you have to do is tell me about who or what you consider to be the greatest influence/s on your cooking, food preferences or your views on food in general and how that influence comes through by leaving a comment on this post.  Comments received on or before 11:59pm (CST) are eligible for the giveaways.
A randomizer will be used to pick the lucky winners.  :)  The winners will be announced on  March 11, 2009.
Have fun, good luck and cheers!