This is my take on this weeks Tri-Colore theme for Lasang Pinoy, Sundays (La.Pi.S.)…Strawberry Napoleones.  These are very easy to make.  I got the recipe from the November 2007 issue of my favorite food magazine from the Philippines, "Yummy".
For added visual impact and appeal, stack 'em up to make a Strawberry Napoleones tower…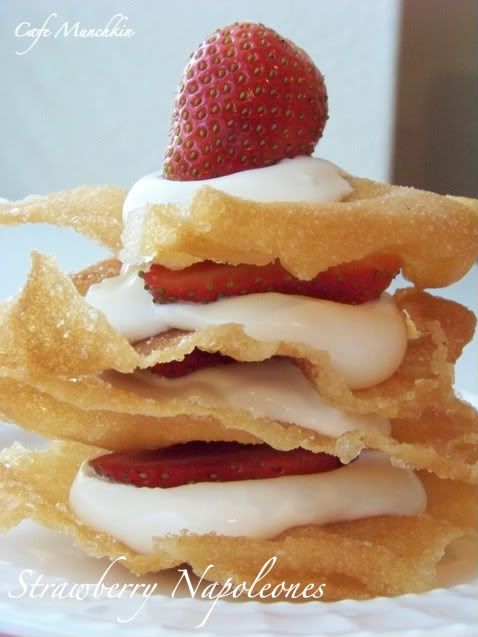 It's  all up to you if you want to stack them as high as cell towers.  Although, I personally think that might be a wee bit too high. :D
INGREDIENTS:
20 pcs wonton or molo wrappers
oil for deep frying
1/2 cup cream cheese
2 tablespoons sugar
1 cup whipped cream
1 teaspoon vanilla extract
sliced strawberries (or your fruit of choice) peeled and ready to eat
PROCEDURE:
Deep-fry the wonton wrappers until crisp.   Set aside.  In a bowl, mix together the cream cheese and sugar, fold in the whipped cream, then add the vanilla extract.  Chill.
To assemble, place a a dallop of the cream mixture on the plate and set a wonton wrapper on it.  On the wrapper, place more cream, fruit, and then more cream.  Sandwich with another fried wonton.  Continue layering as you wish.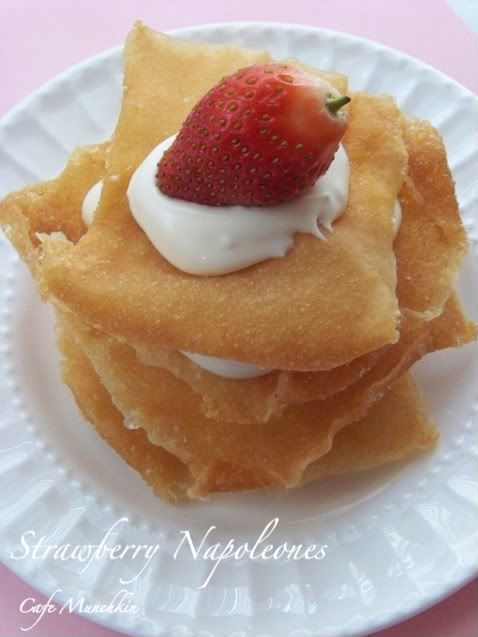 This was an instant hit with my daughter who loves Crab Rangoon.  It's safe to say that Stawberry Napoleones is Crab Rangoon's dessert counterpart.  It is best to assemble this just before serving or better yet, say at a party, you can have your guests participate by having them make or assemble their own. ;)
Have a great weekend, y'all!  Mabuhay!
ps:  By the way, in case you haven't yet, do check out Cafe Munchkin's birthday blowout. :)