* This is entry #39 for Lasang Pinoy, Sundays. *
This week's theme for Lasang Pinoy, Sundays is "Bread" (Bread-y or Not).  Late last night, I baked some goodies, specially for this theme…Chocolate Chip and Cream Cheese Coffee Cake, which I might as well just refer to as C6.  Haha! ;)  The All Recipes newsletter (What's Cooking? #424)that I received on Thursday, March 5th, couldn't have come at a more opportune time.  The featured recipes?  Quick breads!  And that, is how I ended up with this coffee cake. ;)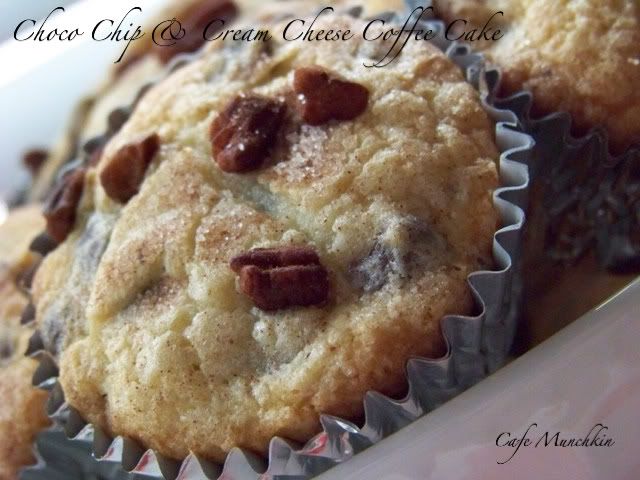 First, some definition of terms are in order.
Quick bread, according to the article "Baking Quick Breads" by Jennifer Anderson,  refers to any bread that uses chemical leaveners (baking powder and/or baking soda) as opposed to yeast, and requires no kneading or rising time. The definition includes pancakes, waffles, scones, biscuits, coffeecakes, muffins and loaves.
Coffee cake, according to Wiki, has two main definitions: (1) "a cake, often sponge cake, which is made with coffee or has a coffee flavor; (2) a cake served with coffee or eaten as a dessert. Under this definition, a coffee cake does not necessarily contain coffee. Coffee cakes are typically flavored with cinnamon, apple, nuts, and fruits. This coffee cake is of the latter.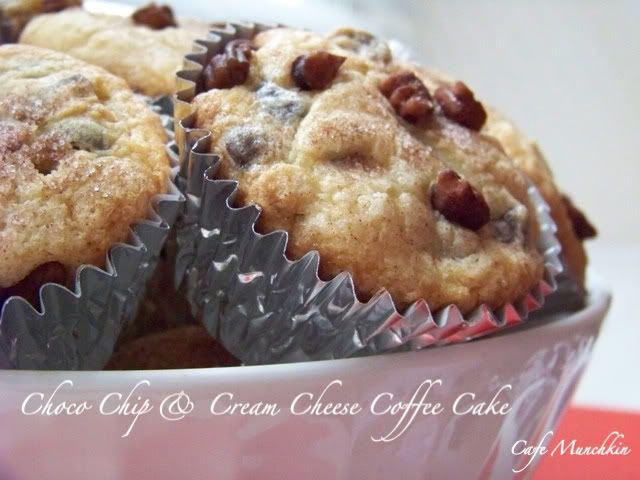 This Chocolate Chip Coffee Cake, (recipe  submitted by Michelle Krzmarzick to AllRecipes.com) certainly is a good find.  Here's the original recipe:
INGREDIENTS
1 cup butter or margarine, softened
1 (8 ounce) package cream cheese, softened
1 1/2 cups sugar, divided
2 eggs
1 teaspoon vanilla extract
2 cups all-purpose flour
1 teaspoon baking powder
1/2 teaspoon baking soda
1/4 teaspoon salt
1/4 cup milk
1 cup semisweet chocolate chips
1/4 cup chopped pecans
1 teaspoon ground cinnamon
DIRECTIONS
1. In a mixing bowl, cream the butter, cream cheese and 1-1/4 cups of sugar. Beat in eggs and vanilla. Combine the flour, baking powder, baking soda and salt; add to creamed mixture alternately with milk. Stir in chocolate chips. Pour into a greased 9-in. springform pan. Combine the pecans, cinnamon and remaining sugar; sprinkle over batter.
2. Bake at 350 degrees F for 50-55 minutes or until a toothpick inserted near the center comes out clean. Cool for 15 minutes. Carefully run a knife around edge of pan to loosen. Remove sides of pan. Cool completely before cutting.
It was the first time I tried the recipe and I'm so glad it turned out to be love at first bite for me and my taste testers (Hubby and my little girl).  I wasn't so sure how it was going to come out because there were minor changes that I made, most, except for one, were intentional.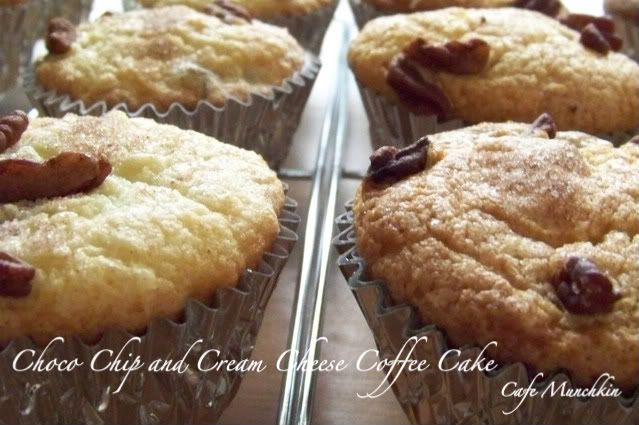 Instead of a 9-in springform pan, I went for 2 12-cup muffin pans, both of which I popped in the oven at the same time.  If you will just take a look at the photo on top, the muffins on the left are of a lighter shade than the ones on the right.  The lighter shade ones were cooked in 20 minutes, but the ones in the other tray weren't ready yet, so, I baked them for another 5 minutes.  Still, they weren't ready.  I set the timer for another 5 minutes and busied myself with something else. When the time sounded, I saw that the muffins now have a brown crusted top.  No harm done though!  Except for the crusty top, which some actually prefer, the muffins tasted the same.  They were dense yet moist and actually just melts in your mouth.

Second, I added an extra half cup of chocolate chips to the recipe.  I thought, well, one can't have too much chocolate chips!  And I'm right, of course!  :D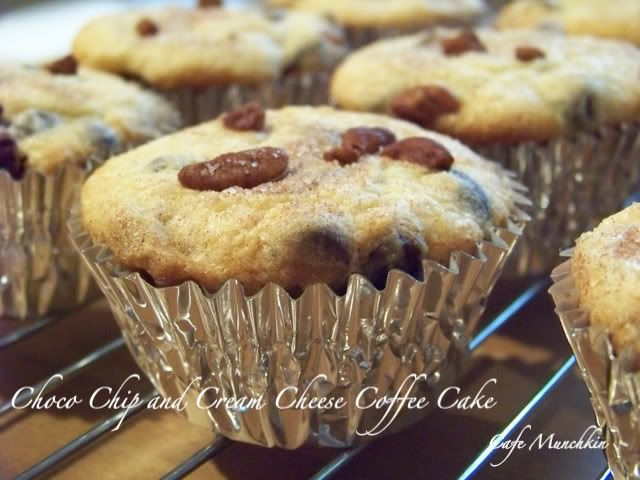 Third, the accidental change I was referring to, I dumped the 1 1/2 cups of sugar in the recipe instead of only 1 1/4.  I had no choice but to use another quarter cup of sugar to mix with the cinnamon and pecans.  If you want a result that is less sweet, then follow the recipe exactly.  I may stick to the 1 1/2 cups plus 1/4 cup for the sprinkles. :)  I'll also do a more generous sprinkling of pecans next time.
oOo
4 more days before winners for the Cafe Munchkin Birthday Blowout are drawn! :D
Cheers!