* This is a long, slide-heavy post.  You have been forewarned! *
On February 28 and March 1,  I attended the 5th Annual That Takes the Cake Sugar Art Show and Cake Competition, held at the Crockett Center, Austin, TX.  It was an interestingly exciting weekend for me.  I came as a foodie correspondent on behalf of Foodbuzz, the first-ever community site devoted exclusively to food and dining content.  Foodbuzz expected four things of me: attend the event, have a great time, take lots of pictures and of course, write about the event.  Doing the first three was easy peasy.  I had a greater than great time and took over a thousand photos.  Now, here I am, trying to address the 4th part of my assignment.  Bear with me as I attempt to come up with a cohesive post.
oOo
That Takes the Cake is organized by Capital Confectioners, a greater Austin Cake Club and Non-Profit organization, formed to provide people who are interested in sugar arts the opportunity to share and network with others who have similar interests.  Sugar  artists and cake decorators of all skill levels are welcome to join this yearly event.  The two-day event includes judged competitions, on-site Food Network Challenge type mini competitions, hands-on classes, vendors offering hard to find decorating tools and supplies, a dinner gala and showcase demonstrations conducted by some of the most celebrated chefs in the world of sugar arts and cake decorating.  This year's theme is "Music".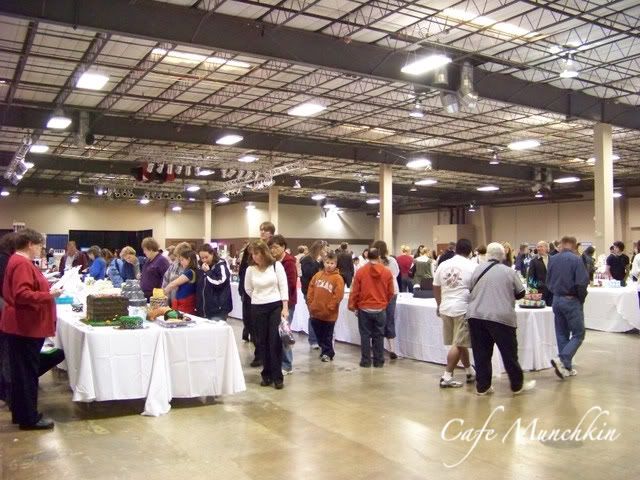 Day 1
Divisional Style Competitions

As I entered the venue, my press pass conveniently dangling on a string around my neck,  I was welcomed by a sea of cakes.  My kind of welcome, I tell you!  I was in cake heaven!  When it comes to all things edible, nothing makes my heart race the way sweets do…in whatever shape, color or form.   I didn't waste any time taking photos, and I mean of every single cake!  Local bands provided live music, which  helped add a skip to each step that every visitor took, lest we forget, Austin is the Music Capital of the USA. ;)
The cake decorating competition had 9 divisions: Children (6 and under), Junior (7-12), Teens, Culinary Student, Adult Beginner, Adult Intermediate, Adult Advanced, Professional and Master. Participants, except for the children and juniors, competed in the style/s of their choice: Special Occasion/Novelty One Tier, Sculpted Cakes, Special Occasion / Novelty Tiered Cakes, Buttercream Only Cakes, Wedding Tiered Cakes, Special Techniques Not on a Cake and Confections Not on a Cakes.
Here are representative samples from each division:
This year, a new competition style made it's debut at the show, the Special Showcake Competition.  What's a "showcake" anyway?  I picked up a few things from the event website:  "A Showcake is the centerpiece of a special event. Showcakes are showstoppers that leave people wondering if it is really cake and how it was made.  A Showcake might be for a 1st, 16th or 80th birthday, a retirement, a baby shower, a corporate event, a wedding or anniversary or any special event" If you watch the Food Network Challenges and Ace of Cakes, then you have most definitely already seen a showcake!  Showcakes differ from all other types of cakes in that they have a very specific theme that is carefully incorporated into all aspects of the cake and the cake display.
Here's a slideshow of all the Showcake entries:
Don't you wonder how these tall cakes are able to stay up?  Believe it or not but of these cakes have a pvc pipe in them, connected securely to a strong board with a floor flange.  Really!  Chef Bromwen Weber even did a short demo on it during her Sunday morning demo. I won't be surprised if there are industrial clamps somewhere in those cakes as well. Haha! :)
Tasting Competitions
There were tasting competitions as well where the two main categories were Cakes and Cookies or Candies.  The cake tasting competition, where cakes were judged on taste including flavor, crumb, texture and density and appearance, is divided into three sub-categories: Jazzed Up Cake Mixes Cakes, International Favorites and Cakes Inspired by Music.
On-Site Mini Competitions
Throughout the first day, on-site mini competitions ala Food Network Challenges were held.
The first mini competition is referred to as "1-Tip" where competitors had 30 minutes to decorate a cake using only one specific icer tip, Tip #67, a tip most commonly used for making leaves.
"Mystery Cake" was the second on-site mini competition.  Participants were given one hour to decorate a cake for a rock star.  I don't think that was such a mystery to the participants because in the first place, the even's  theme is music.
The third competition was for 3-D sculpted cakes.  Again, being true to the event theme, the participants made  musical instruments out of cake.  That only goes to show that you can have your cake…and make music with it, too, in your tummy, at least!
Of all the  on-site competitions, it was the fourth and last one that I watched from start to finish, the 90-minute long Wedding Cake competition.  Here, 5 competing pairs decorated a 3-tiered wedding cake.  I myself was surprised at how time just sped by during this competition.  There were no big surprises, except that each team was supposed to incorporate some flowers, provided by CalJava International, into the overall design of their cakes.  There were no hair-pulling between  team members, no crying, no overly stressful tabloid worthy moment of excitement. Haha!
Mini Classes
On both days of the show, mini classes that lasted between one and three hours were conducted by chefs who are known in their respective fields. These "how to" classes included Royal Icing Henna Designs for Cakes, Whimsy Cakes, Flowers and Bows, Fancy Borders with Basic Tips, Dustin 101, Small Chocolate Show Pieces, just to name a few.
Unfortunately, I was not able to attend any of these classes as my hands were already too full. I hope to be able to squeeze in a number of mini classes the next time around.
Dinner Gala
This, for me, was the highlight of the 2-day event.  Three of the biggest names in cake decorating and sugar arts collaborated to make a show-stopping showcake, pun intended.  The celebrity chef triumvirate was was made up of Chefs Bronwen Weber, Nicholas Lodge and Jacquy Pfeiffer.  Not only did I get to watch them work up close, I have a souvenir photo with each of them.  Going home armed with valuable tips from these three was just an added bonus.  Haha! :)
The two male chefs started working as early as 6pm, even if the demo-proper wasn't 'til 7pm.  Chef Nicholas worked on the decorative musical elements using patchwork technique.  On the other hand, Chef Jacquy had his hands full making the cake topper, a breathtaking pair of ducks adorned with flowers and a beautiful bow all of which were made with sugar, on-site! Chef Bronwen worked on putting their "canvass" together, which is, the 3-tier cake.  She covered the cake with fondant and used the top tier to do a tie-dyed effect air-brush demonstration.
We all know about working lunches, this was a working dinner, only, the three masters were the ones doing all the work while the audience enjoyed a filling barbecue buffet by Rudy's washed down by margaritas, wine or beer.  It's the best learning environment, if I should say so myself!   The chefs took turns giving tips and walking the audience through every step of their demonstration.  Other than exquisite skills in sugar arts and cake decorating, the three chefs all possess a good sense of humor as well!  Should they decide to hang their chef's uniforms and give up their day jobs (which I hope not!), they all have a second career waiting for them…in comedy.
oOo
Day 2
The second day of the show was still packed with activities.  Mini-classes continued to be held from 10am to 5pm.  Kids had something for them at the show, too!  For a dollar, they were able to decorate a cookie or cupcake.  It was nice seeing the kids holding a piping bag and sprinkling their goodies with colorful sprinkles.   The winners were announced around noon and I was happy to see that  all the children who participated in the cake decorating contest received a medal.
Four Showcase demonstrations were held on Sunday, all of which were conducted by celebrity chefs. I got to watch all four showcase demonstrations.  Thank you, lucky stars!
Chef Bronwen Weber transformed ordinary looking sheet cakes into a tutle and a seahorse.  In about two hours, she was able to air brush and finish the cakes, leaving her with plenty of time to talk to her fans and have photo ops with them.
Chef Roland Winbeckler, demonstrated his incredible skills in 3-D Figure Piping and Buttercream Flowers.  I love buttercream and watching Chef Roland, made me love buttercream even more!    Only then did I realize the versatility of buttercream.  The crowd oohd and aaahd  when they saw the finished products of Chef Roland's demonstration.  He carved 2 3-D sculptures from buttercream!
In the afternoon of the second day, Chef Elisa Strauss of Confetti Cakes demonstrated how a 3-D "Present Cake" is done.  It's funny how the chefs make cake decorating look so easy.  Chef Elisa also  also tipped the audience of an upcoming series on the Food Network Channel (teasers for which are now being shown on the FN website) where she and Chef Bronwen will once again participate in the Food Network Challenge.  I am so looking forward to it already!
Chef Debbie Brown is an accomplished cake decorator and author who flew in all the way from the UK to take part in this two-day event.   For the Showcause Demonstration, Chef Debbie walked the audience through the process of making a wedding cake topper…a mouse couple and a mouse bridesmaid.  :)  She made sculpting 3-D figures from gumpaste seem so easy.
oOo
If you missed this year's show, make sure you don't miss next year's, which will be held on February 27 and 28, 2010 (venue to be announced).  Next year's theme is "A Cake Odyssey – Celebrating All Things Sci-Fi".  So think Star Wars!  Think Star Trek! :)
I'll be posting more pictures from the show  in the next few days.
Whew!  If  you got all the way to this part of my entry, then you must really be a sugar arts and cake decorating fan yourself!  Congratulations! :)
With that, I wish you all a great weekend!  Cheers!