Cream cheese was my most used ingredient between Feb 27 and March 7.  I used it to make Strawberry Napoleones (February 27th) and Chocolate Chip Cream Cheese Coffee Cake (March 6th).  Hubby and I also snacked on crackers and cream cheese while watching tv one night.  And because March 6th was meatless Friday, I made Tuna and Cream Cheese Maki for lunch.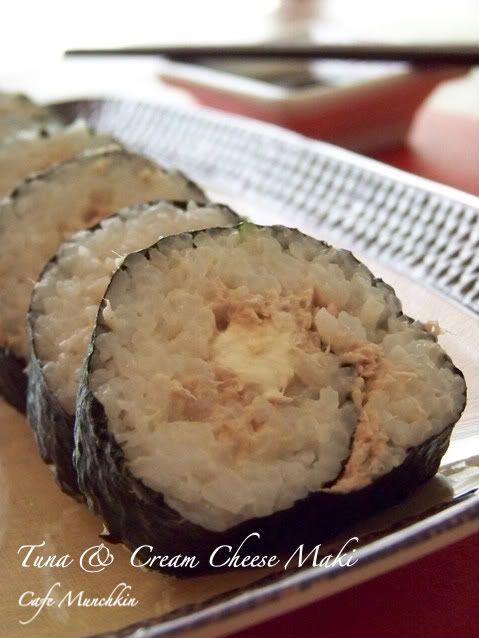 This was a hit with both Hubby and my daughter, which didn't come as a surprise.  We just happen to love rice and nori and practically whatever filling they might come with…tuna or salmon, avocado, mango, cucumber, imitation crab,  tamago, unagi, etc.
I'm happy to be able to roll my own maki.  That translates to huge savings!  A tray of skinny makis costs upwards of $5.00 at the supermarket. It's more costly at a restaurant!  If we had lunch at a maki joint, we could have easily spent $30.00!  I'm definitely happy. :D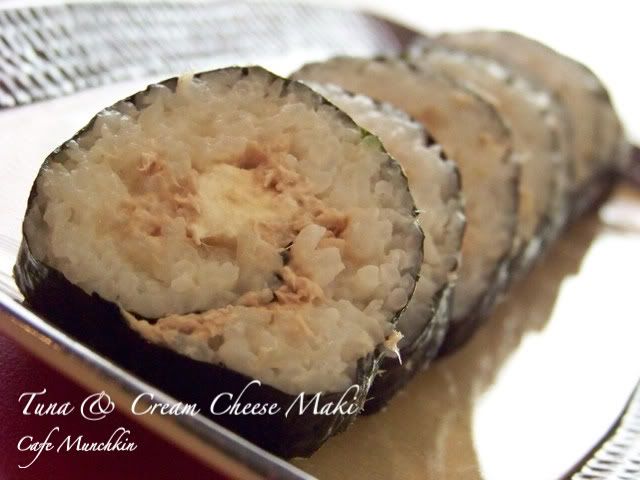 My daughter's school lunch that Friday was tuna sandwich.  I was left with a good amount of tuna spread in the fridge.   That's what I used to make the maki.  I just paired it with cream cheese, which I have lots of!  I was able to make 20 fat pieces of maki.  That amount is not enough for us maki lovers, so I made an extra 10 pcs with just cream cheese. :D
I've now ran out of nori wrappers.  I.have.to.buy.more!
Have a great week ahead, y'all!  Cheers!