I can't even begin to tell you how excited I am to share this recipe.  I bought a dim sum recipe book a few weeks ago and I was finally able to try one of the recipes, the simplest of them all in my opinion, late this afternoon.  If you're observing meatless Fridays and running out of ideas on what to cook on Fridays, you just might find this useful. :D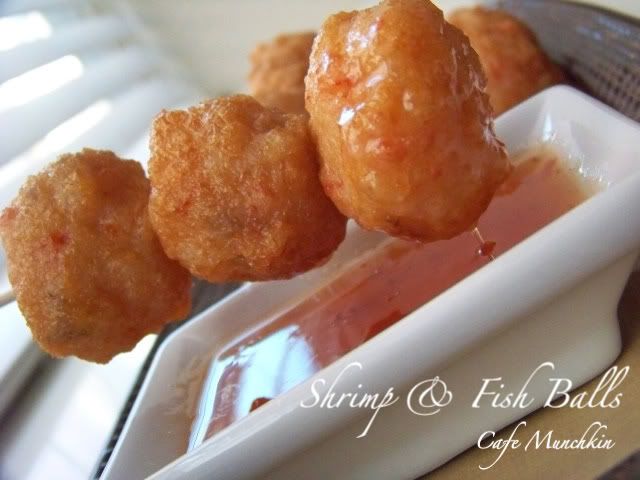 Shrimp and Fish Balls.  This, I tell you, is high-end street food.  And because it's from a Chinese recipe book, it tastes so authentically Chinese!  Promise!  Here's the recipe…
INGREDIENTS (Makes approximately 40 balls)
1 lb shrimp (shelled and deveneined)
1/2 lb boneless fish fillet
1 egg white
4 tablespoons cornstarch
1 teaspoon salt
1/4 teaspoon grated fresh ginger
1/4 teaspoon minced garlic
1 teaspoon sugar
2 tablespoons rice wine
oil for deep frying
DIRECTIONS: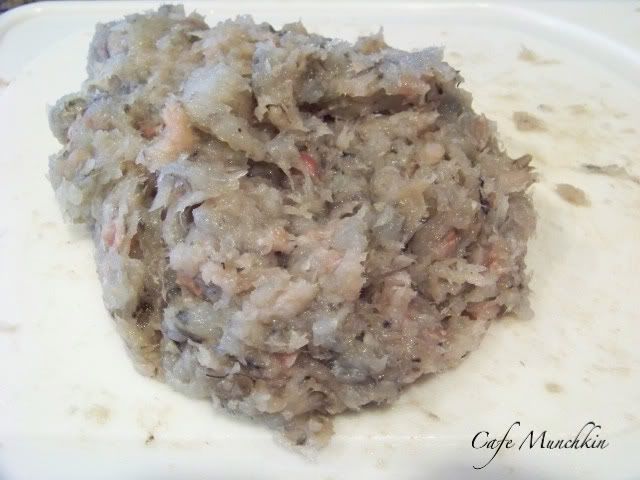 1.  Finely mince shrimp and fish.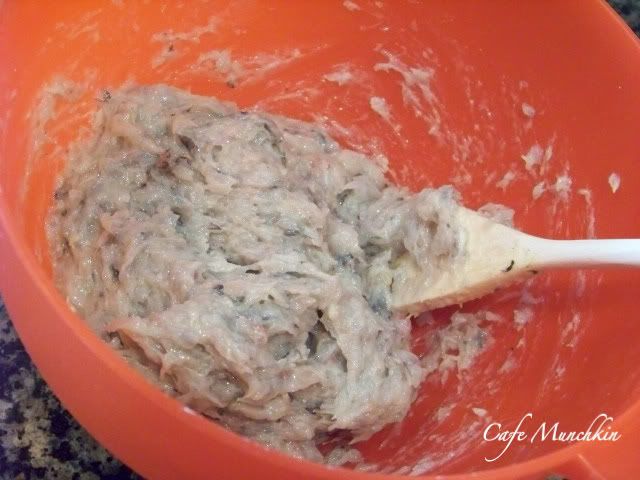 2.  Combine thoroughly with remaining ingredients.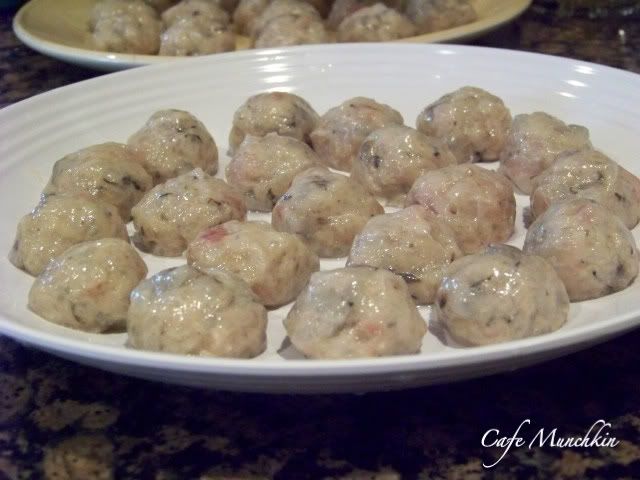 3.  Shape into 1 1/2″ (4cm) balls.  Wet fingers to keep meat from sticking.  (Note:  I used a 1/2 tablespoon measuring spoon to help me make sure I've got balls of pretty much the same size.)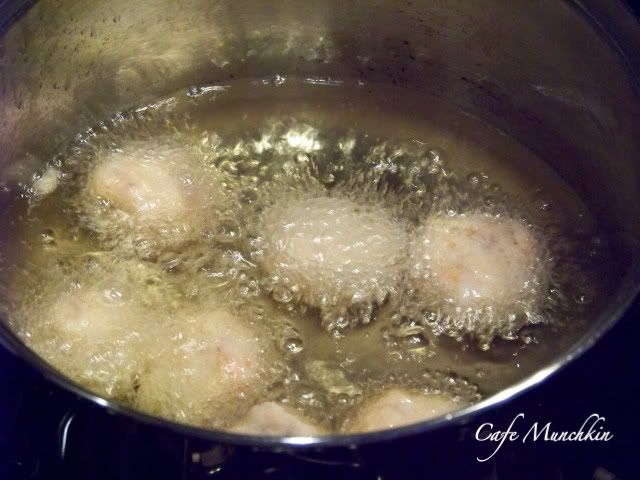 4.  Deep fry in 350F (175C) oil for 2 to 3 minutes.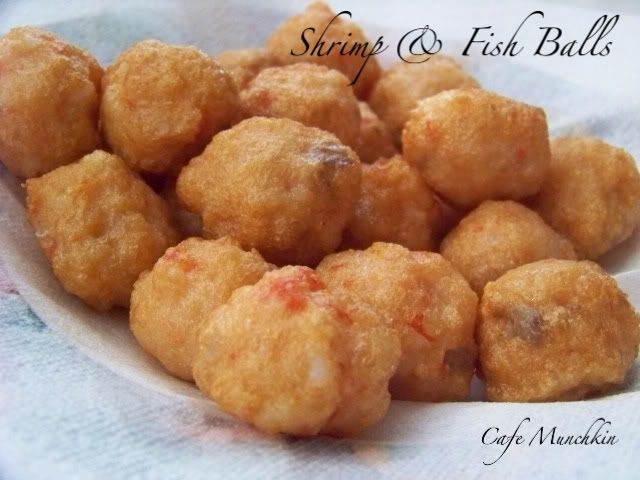 5.  Remove and drain.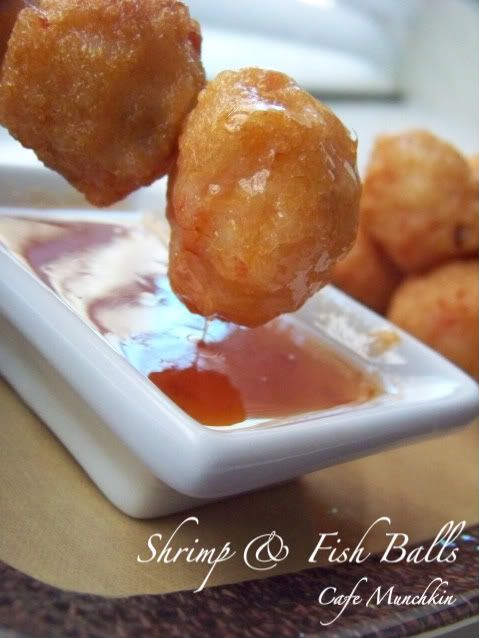 6.  Serve with preferred dipping sauce.
I made a total of 37 balls and cooked 20 of them.  My little foodie of a daughter ate more than I did.  To say that she loved these balls is an understatement.  Haha!
You can play with these shrimp balls in so many ways.  One is to serve them as appetizers with your favorite dipping sauce.  We used sweet chilli sauce, by the way.    Another is to turn them into Sweet and Sour Shrimp and Fish Balls.  I have a sweet and sour recipe here.   You can also use these balls in your (noodle) soup or even in your congee!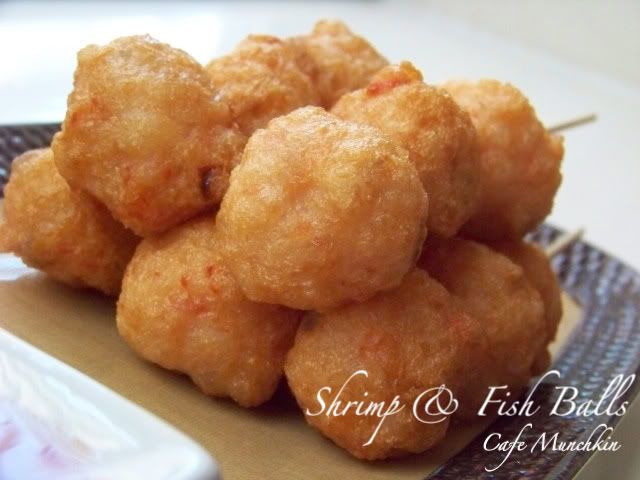 Making your own Shrimp Balls is a bit tedious, I have to admit, what with the mincing and forming into balls involved.  But, compared to commercial shrimp balls, these ones retain their size after you fish them out of the oil.  And of course, you're sure that the balls you're eating are free of preservatives. ;)  It's all worth the trouble!  Promise!
I have to buy more shrimps and fish fillets.  I need to stock up on these balls.  I might substitute the shrimps and fish with chicken or squid.  Weeee!  Sorry, I can't hide my excitement. :D