From March 2nd to 6th, Scooter's Coffeehouse on W. Parmer Lane had a grand re-opening promotion.  For 5 days, 12-ounce hot drinks and 20-ounce iced drinks were given away for free, morning, noon and night.  Scooter's good looking, not to mention super nice and friendly, baristas (that goes for both guys and gals!) even encouraged patrons to come back over and over again to take advantage of the freebies.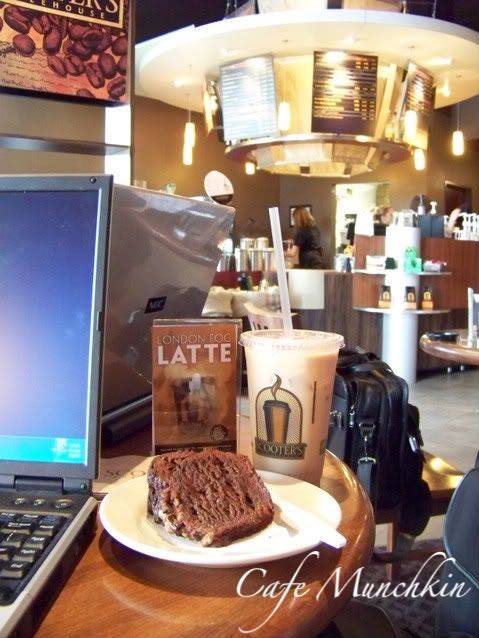 And that's what we coffee lovers did exactly, take full advantage of the promotion. ;)  Twice a day for five days, Hubby and I got our caffeine fix from Scooter's.  Our little girl had her share of caffeine free cold drinks in the afternoon as well.  We got hot drinks in the morning and iced drinks in the afternoon.
I was able to try the hot and cold versions of four espresso drinks: Mocha, White Chocolate Mocha, Caramelicious, and Candy Bar Latte.  From the "other drinks" selection, I had a taste of Iced Chai Tea Latte.  Much as I want to try more, I stuck to what turned out to be my favorites.
The drinks that set Scooter's apart from other coffee houses were Caramelicious and Candy Bar Latte.  Mocha and White Chocoalte Mocha have sort of become standard drinks among coffee houses.  Unlike Hubby who loves a more pure coffee taste, I tend to prefer the sweeter, fancier-flavored coffee.  Both the Caramelicious and Candy Bar Latte  are sweet with an espresso kick that wasn't as strong as the others.  I like how the Candy Bar Latte mimics the flavor of popular candy bars like Milky Way, the Heath Bar, Almond Joy, and Snickers, to name a few.  I'm a chocoholic so this particular espresso flavor just sings to me. ;)  I liked the Chai Tea Latte as well but even I found it a little too sweet.
Armed with our laptops (free wifi!), Hubby and I had breakfast at Scooter's one morning, purposely to sample their coffee accompaniments.  We ordered chocolate coffee cake and chocolate muffin.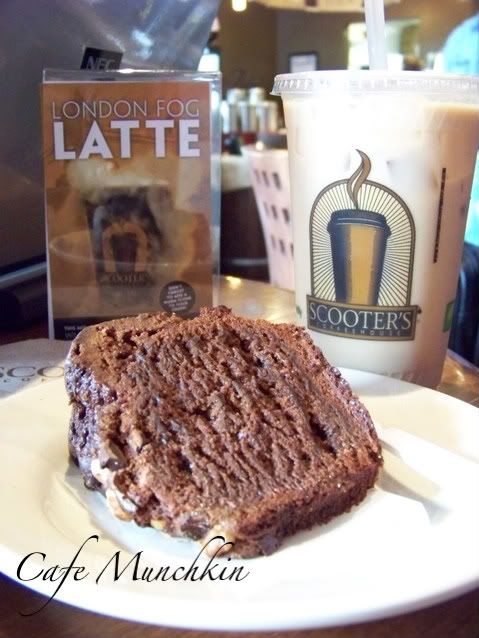 Chocolate Coffee Cake
We liked the coffee cake although it didn't really blow us away.  It was moist with a fudgy edge to it.  I still say you should give it a try.

Chocolate Muffin
The muffin was huge, all right, but it wasn't all that special really.  The outer edges were a little dry but the middle part was moist and better tasting.  Still, it was a muffin that can easily be had elsewhere.
One thing's for sure though, Scooter's does speak the language of specialty coffee.  And they are unboubtedly fluent.  After five days of Scooter's immersion, Hubby and I have become huge fans.
Scooter's Coffeehouse
9225 W Parmer Ln
Austin, TX 78717
(512) 258-3290