It's meatless Friday again.  For lunch, I made the simplest meatless dish, Pasta Alfredo.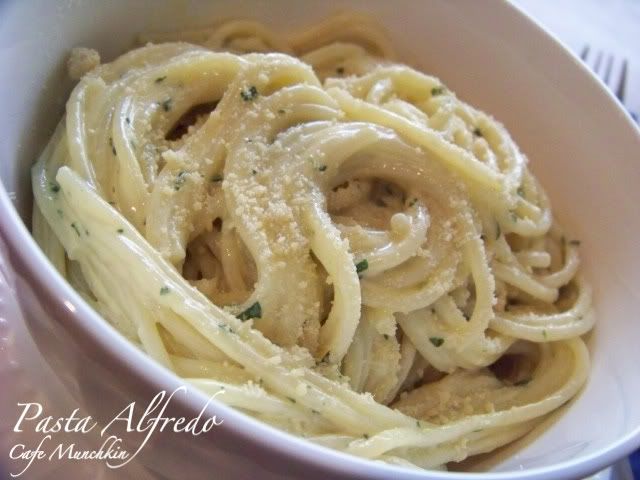 This maybe meatless, but it's not exactly for weight watchers.  You'll see why in the list of ingredients. :D
INREDIENTS:
1 lb pasta (I used Thin Spaghetti)
3 1/2 oz (100g or 7 Tbsp) butter
1 1/2 cups freshly grated Parmesan cheese
1 1/4 cups cream
1/4  cup chopped fresh parsley
DIRECTIONS:
*  Add pasta to a large pan of rapidly boiling water and cook until just tender (al dente).  Drain in a colander and return to the pan.
* Make the sauce while the pasta is cooking.
1.  Heat butter in a medium pan over low heat.  Add the Parmesan and cream.  Bring to the boil and stir continuously.
2.  Add the parsley.  Season to taste with salt and freshly ground black pepper and stir to combine.
3.  Add the sauce to the pasta and toss well.  Serve at once.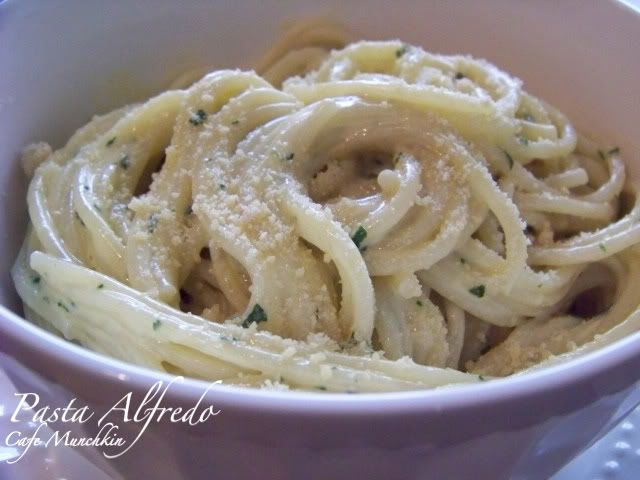 It's rich and creamy.  Hubby thought I hit another home run and even said it tasted better than Fazoli's Alfredo sauce.  What?  Not better than Olive Garden's?  Hee hee.  The little foodie in the house loved it, too.
By all means, toss slices of your favorite cooked meat and/or veggies with the pasta, specially if you're not observing meatless Fridays anyway. ;)
Have a great weekend, y'all!