I mentioned in my Shrimp & Fish Balls entry that there's so many ways that simple dish can be played with.  It can be an appetizer or main course depending on how you serve it.  I thought Sweet and Sour is a good option.  I also toyed with the idea of substituting the shrimps and fish with chicken (or squid) the next time around.
We were all very pleased with the Shrimp Balls that in just 8 days, I was back in the kitchen making balls again.  This time, I used ground chicken instead of shrimp and fish…
I made the chicken balls exactly the same size as the shrimp balls.  I noticed, however, that unlike the shrimp balls, the chicken balls didn't quite retain it's puffed appearance after they were fished out of the pan.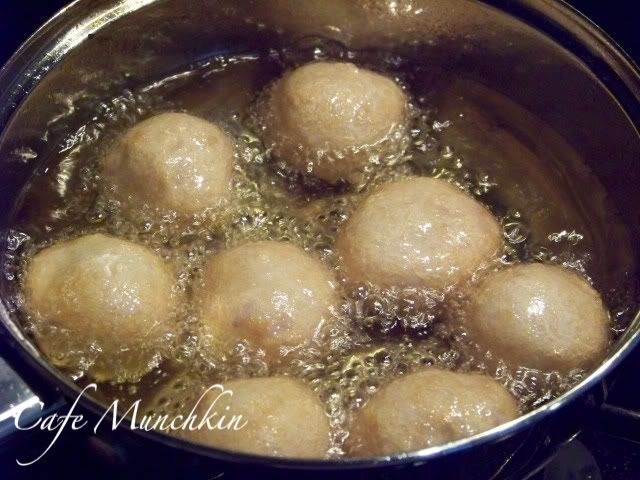 Next time, instead of making half-a-tablespoon-sized balls, I'll go for the full tablespoon size.  Nevertheless, chicken proved to be a worthy substitute to shrimp, so those with shrimp/seafood allergies can very well enjoy this treat as well.  Unlike the shrimp balls which I served on skewers with sweet chili sauce on the side for dipping, I made sweet & sour sauce instead and poured it on top of the chicken balls…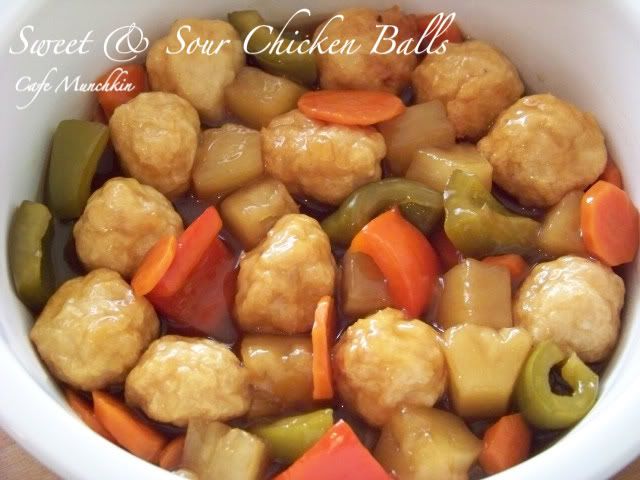 Sweet and Sour dishes have always been a family favorite for as long as I can remember.  I cooked this for lunch and just when everything's been laid on the dining table, Hubby received a phone call confirming a teleconference which was to go on right that very second.  It was late and hubby was so hungry already.  I thought I'd turn his lunch into Sweet and Sour Rice Topping instead…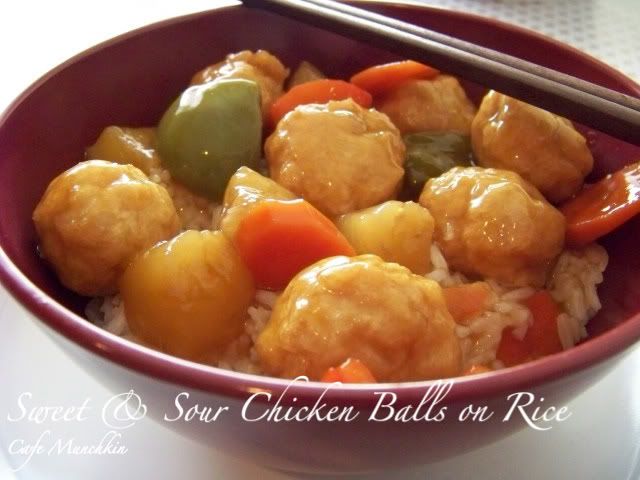 Ever heard of a working lunch teleconference?  Hahaha!  When the Li'l Munchkin saw what I made for her dad, she just had to have the same thing as well!  And here's her little bowl o' rice topped with Sweet and Sour Chicken Balls…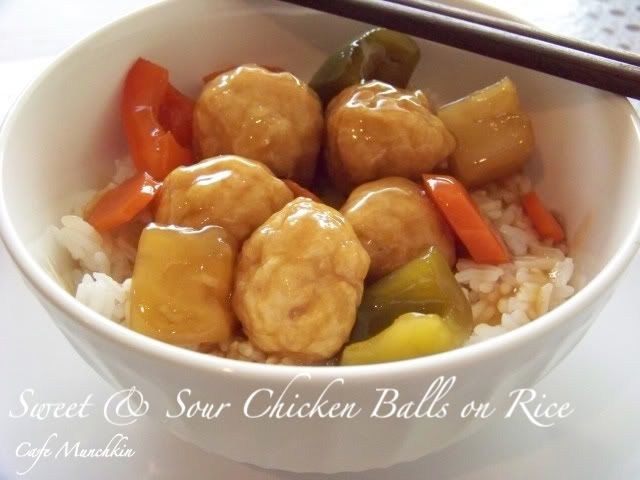 I should have made another bowl for myself so we would have had a Daddy Bowl, Mommy Bowl and Little Bowl.  Hee hee. :P
You'll find the recipe for the Chicken Balls HERE.  The Sweet and Sour recipe can be found HERE.