It's Friday, thank goodness!  You know what that means, a meatless recipe is coming up.  Just two more meatless Fridays, that's today and next. We can do this!  Actually, I haven't really been eating meat for the duration of Lent, except for a teeny weeny taste while I'm cooking.  So come Easter, I am going to feast!
Today's meatless recipe is Shrimp Dumplings.  Yes, yes, dumplings again. :D  I was very excited to try this, yesterday.  This is a lot simpler than the Turkey Dumplings I posted a week ago, in that you only need two key ingredients, shrimps and bamboo shoots.  The rest, you probably already have in your pantry, except maybe for the sesame seed oil.  I loooove sesame oil!  I love its aroma and I think  it's wonderful how just a small amount seems to instantly transform a dish to Chinese authenticity. :D  Rice wine does that, too, but it just doesn't smell as appealing.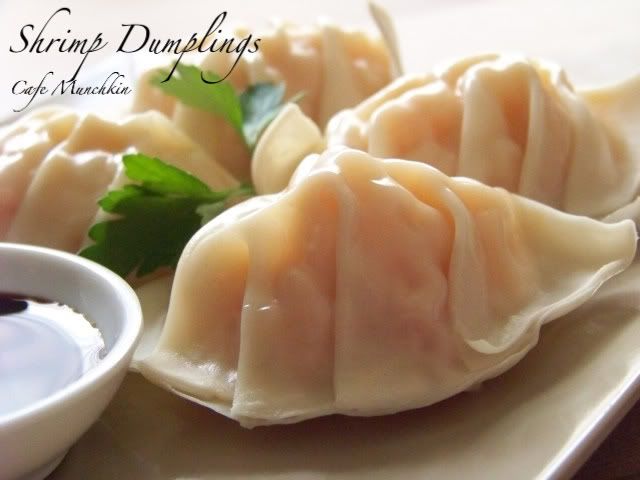 INGREDIENTS
3/4 to 1 lb (340 g) shrimp – shelled, deveined and chopped
1/4 c bamboo shoots, chopped
1 teaspoon salt
1 teaspoon sesame seed oil
1/2 teaspoon sugar
1 egg white
2 Tablespoons cornstarch
25 pcs. dumpling wrapper (Shanghai style)
DIRECTIONS
1.  Combine filling ingredients in a mixing bowl and refrigerate for 1 hour.
2.  To fill the wrappers, take a dumpling wrapper and pleat half of the circle to form a pouch.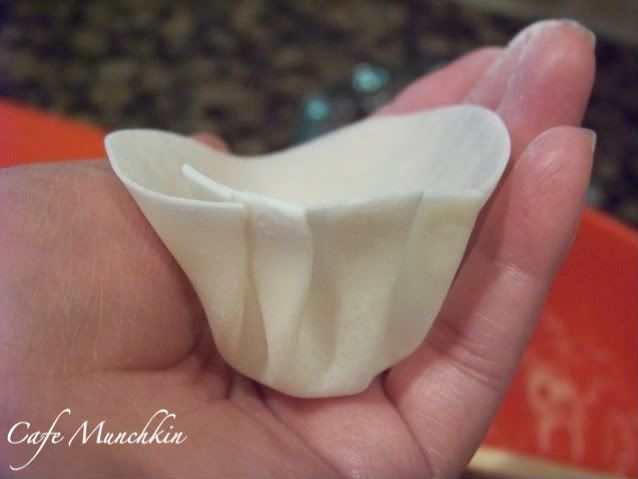 3.  Put in 2 teaspoons filling.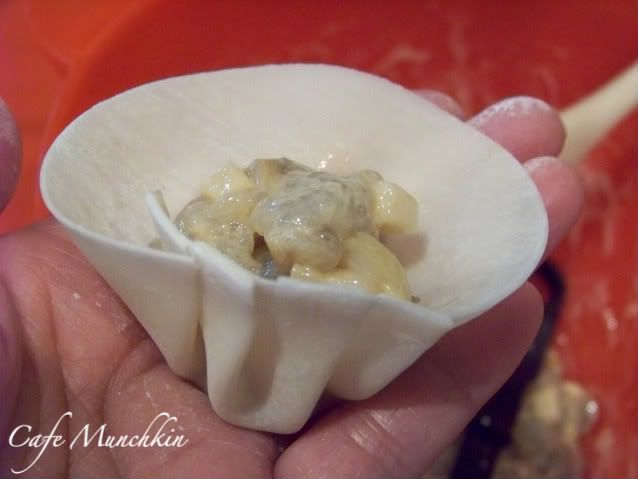 4.  Moisten the edges with water then pinch together to seal.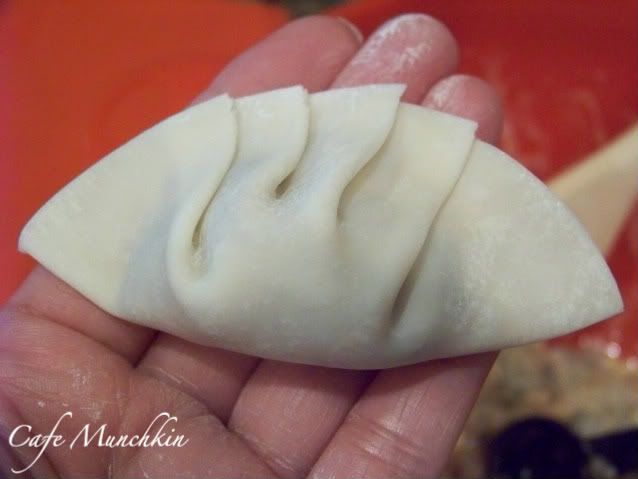 5.  Gently curve the two ends of the dumpling to form a crescent.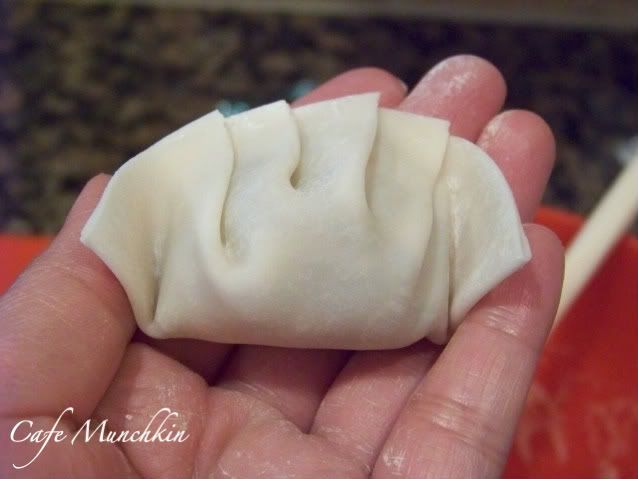 6.  Continue filling the rest of the wrappers.  If you find making a pouch too tedious, you may opt for the less complicated alternative.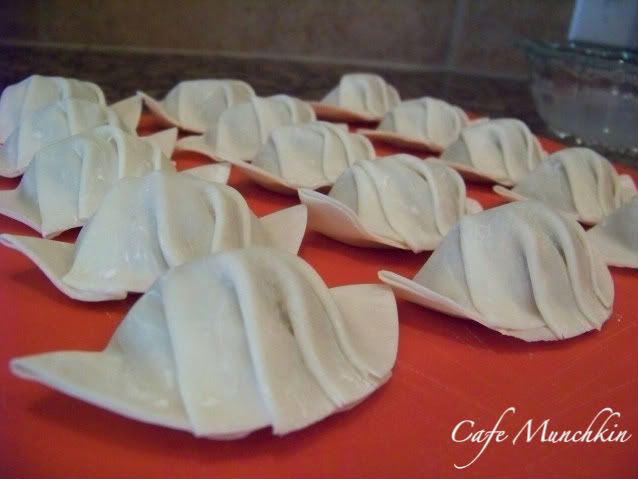 My dumplings refused to keep their crescent shape. :D
7.  Arrange on an oiled steaming plate or a steamer lined with bokchoy leaves and steam for 15-20 minutes.  Then serve with your favorite dipping sauce.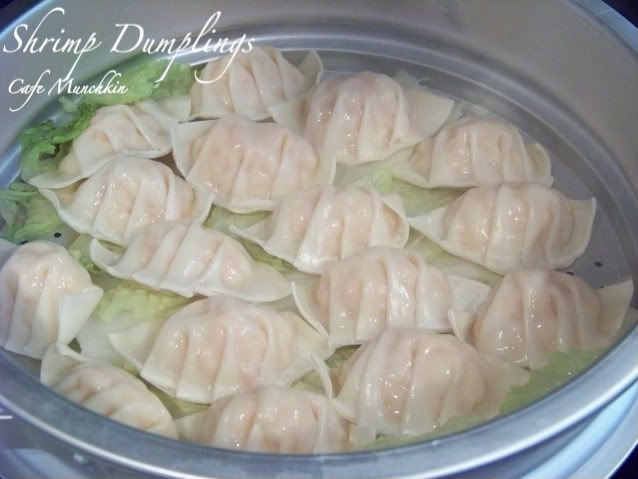 This is another authentic recipe straight from my dim sum recipe book.  My only disappointment was the wrappers.  I was hoping they would become translucent like the ones in Chinese restaurants.  But they didn't.  In fact, even after more than 20 minutes of steaming, a portion of the wrappers were still a little tough.  I may have no choice but to make my own dumpling wrappers next time. *cross fingers*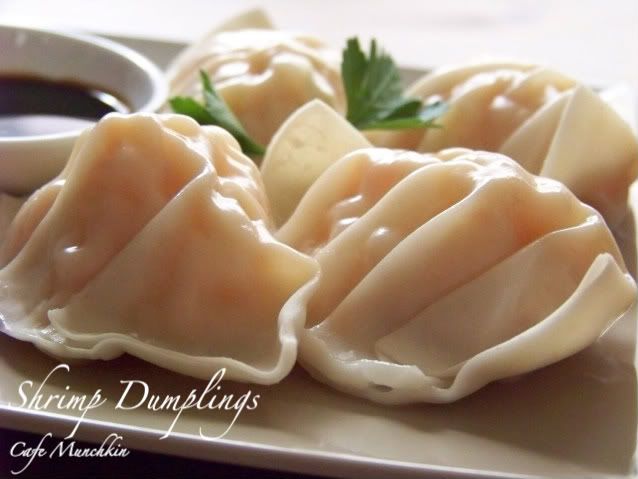 I can't complain about the filling, and neither can the biggest fans of my cooking, Hubby and Little Munchkin. :D  It thrills me no end that I'm able to cook food that we love ordering from restaurants.  Yes, it can be tedious and a little messy sometimes (That's why we have sinks, right? And I don't mean farmhouse sinks! :D) , but the results are well worth it..  ;)
Have a great weekend, y'all!  Cheers!