Warning:  There's a big possibility that I will be gloating on this entry.  Will you indulge me, please?  Goody!  Thank you!
I have been waiting for the friendly UPS guy since last week.  When I heard three loud knocks on the door yesterday afternoon, I knew for sure that my "Amore" has arrived.  And by "my Amore" I don't mean the UPS guy, I mean my "Amore: 2009 Food Lover's Planner".  Yipee!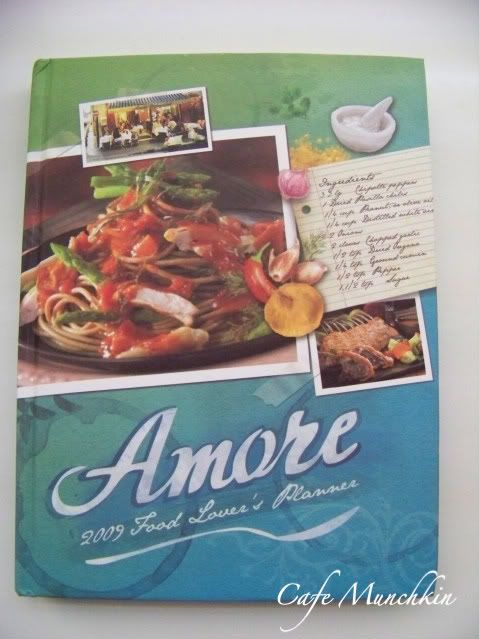 I'm well aware of the fact that we are now in the 2nd quarter of 2009 and I may be the only person in the known universe who still gets excited over a planner.  But this isn't just any ordinary planner!  Not to me, at least!  After I unwrapped the package, I  immediately started flipping through the pages in search for what I knew would be my favorite page…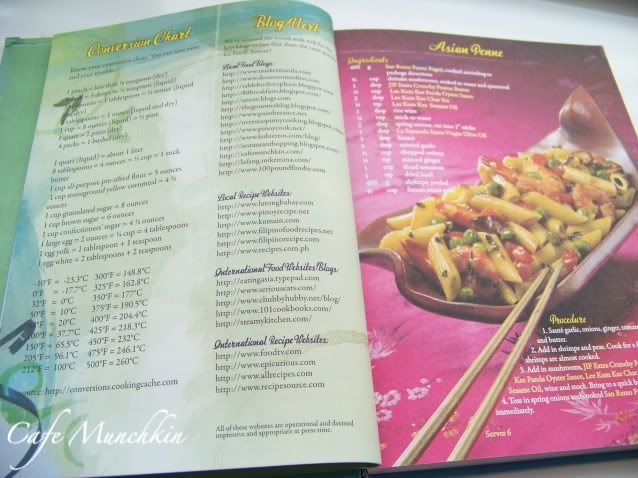 It's the green page!  Of particular interest to me is the upper right quarter portion of the page…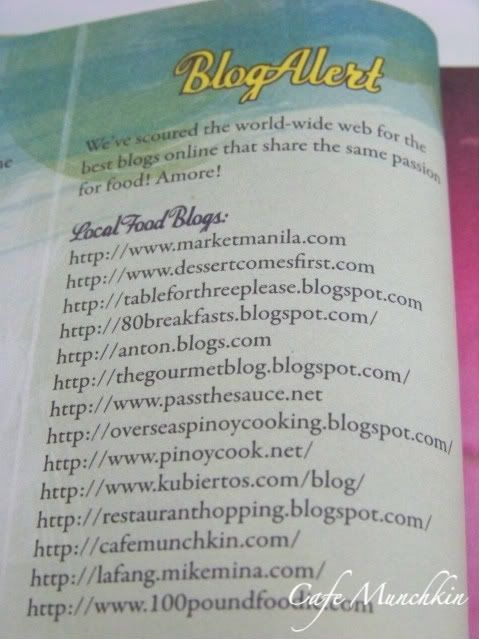 "We've scoured the world-wide web for the best blogs on line that share the same passion for food!  Amore!"
Ahee hee!  Now you understand? :D  How my li'l 'ol food blog made it to this list is beyond me.  If not for the heads up by one reader, my on-line namesake no less, MunchkinVCD, I wouldn't have known about it!  What I find even more thrilling is that Cafe Munchkin is on the same list as the blogosphere's most popular Pinoy food blogs…Market Manila, Pinoy Cook, 80 Breakfasts, etc.  You bet I'm giddy with delight!  Am I gloating?  I did warn you. :)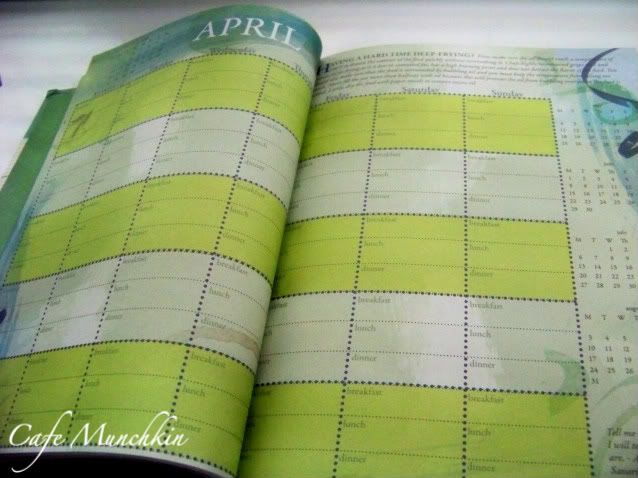 The Monthly Page
This planner is truly for food lovers.  There are articles on food, travel and ingredients and there are about 14 recipes.  On the weekly pages, foodies can post a favorite photo, perhaps of a memorable dish or maybe a get together with family or friends.  On the monthly notes page, one can write down recipes to try, ingredients to experiment with and restaurants to dine in.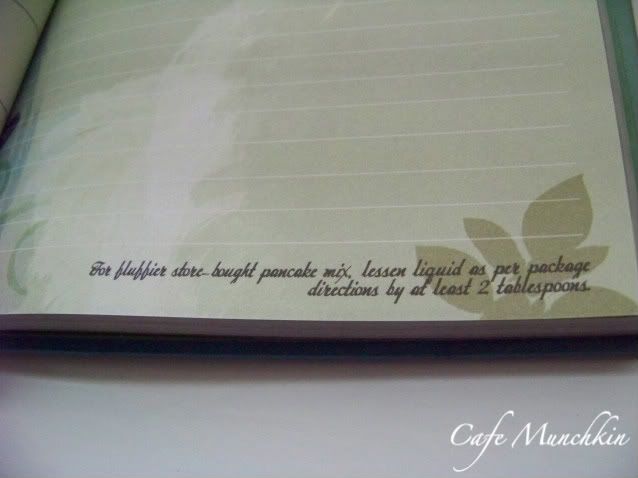 Special footnote at the bottom of the weekly page
I love the tips that can be found at the  lower right hand corner of the weekly photo/notes page. On the very last page are coupons to 4 popular restaurants, which, if I understood correctly, gave away these planners as part of their promotions.  I love everything about the planner.  Well, you can't really expect me to be objective.  But really, it's the perfect foodie companion!  Gone are the days when I have to write my food thoughts on a piece of napkin when dining out!
There, I'm just about done gloating. :D
Again, thank you, MunchkinVCD for letting me know about this planner.  And thank you, Ms. Jenny of SYSU for this copy. ;)
Now, back to regular blogging. :D
oOo
The Amore Food Lover's Planner was designed and conceptualized for SYSU International, Inc. by Belle de Jour Enterprises, the company behind the Bell de Jour Power Planners.  SYSU manufactures and distributes Clara Ole' Products.  They are also the exclusive distributor of Lee Kum Kee chinese Sauces, Kikkoman Soy Sauce and Teriyaki Marinade, San Remo Pasta, Crisco Oil and Shortening and McCormick Spices among others.