With my very limited kitchen experience, there's only less than a handful of dishes that I've cooked with coconut milk/cream: Kalabasa sa Gata (Squash in Coconut Milk), Chicken Curry, Pininyahang Manok (Pineapple Chicken) and Tapioca Pearls with Coconut Cream.  Now, I can add Hipon sa Gata (Shrimp in Coconut Milk) to my list.
Last week, our friend, Chris, cooked this dish for us (and our friends) during another one of our impromptu potluck Guitar Hero World Tour playdates.  Chris' signature dish, by the way, is Dinuguan (Pork Blood Stew).  He also cooked Sabaw ng Tahong (Mussels Soup). I loved both dishes…A LOT!   I'm glad I had the chance to hang around  the kitchen to observe (and annoy?) Chris while he cooked.  Yesterday, I replicated the dish…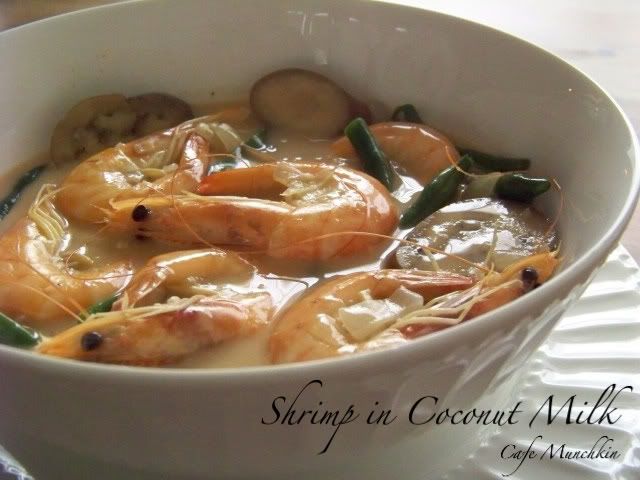 I'm well aware that it looks like Sinigang (Sour Broth), but I promise you that it isn't. Hee hee. :P  I would have loved a thicker coconut milk (definitely not buying the brand I used again!) and a spicier sauce (I really have to train my 4-year old to eat spicy food already!).  Nevertheless, this was a worthy "instant replay" of the dish Chris cooked last Saturday. ;)
INGREDIENTS
1 lb shrimps
1 eggplant cut diagonally into 1/2″ pieces
25 pcs. green beans (you can use stringbeans) cute into 2″ pieces
1 medium onion, diced
4 cloves garlic, minced
2 cans coconut milk
3 tablespoons patis (fish sauce)
salt (if still needed) and pepper to taste
optional: a pepper or two of your choice for a spicy kick
DIRECTIONS
1.  Saute the garlic and onion in a little oil until transluscent (about 2 minutes) then add the shrimps, vegetables and coconut milk.  Season with fish sauce (or salt) and ground pepper to taste.
2.  Bring to a boil then lower the heat and simmer until the shrimps and vegetables are cooked.  Serve with steamed rice.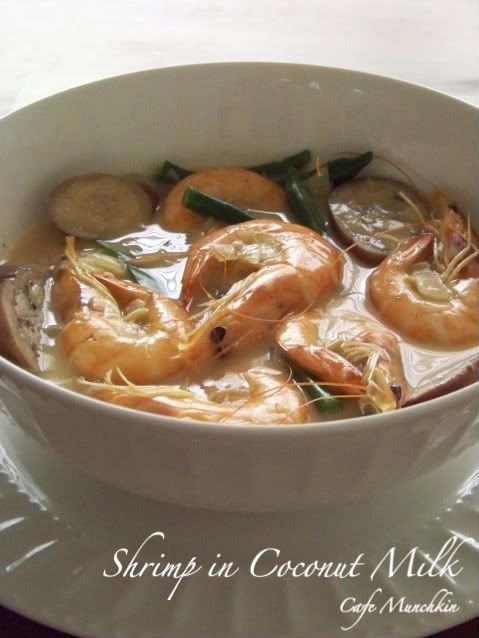 This, like sinigang, is a versatile dish.  You can add pork slices  or substitute the shrimps with pork all together.  There are also certain fish varieties that go very well with coconut milk.
I love saucy viands like this…sauces that even when stripped of the meat and veggies, you can enjoy with your rice.  Hubby and I sprinkled a bit of red pepper flakes on our rice which has been drizzled with the sauce.  That took care of the spicy kick we were looking for. ;)
Thank you, Chris!  Call me when you make dinuguan, ok? :D