When it comes to Chicken Barbecue, Aristocrat's is always first to pop in my head.  Back in the day, we used to eat quite often at the Quezon Avenue branch of Aristocrat Restaurant or Alex III in Greenhills.  And I always order the same thing, 3-piece Chicken Barbecue with Java Rice!  Yum!  I never grew fond of the peanut sauce though.  It was always atchara for me.  ;)
For an Easter Sunday lunch get-together, I marinated chicken drumsticks in BBQ sauce that was very much like that of Aristocrat's.  I found the recipe for the marinade  here.  The thing is, the chicken pieces have to be marinated in the fridge for two days.  But I tell you, it's worth the wait!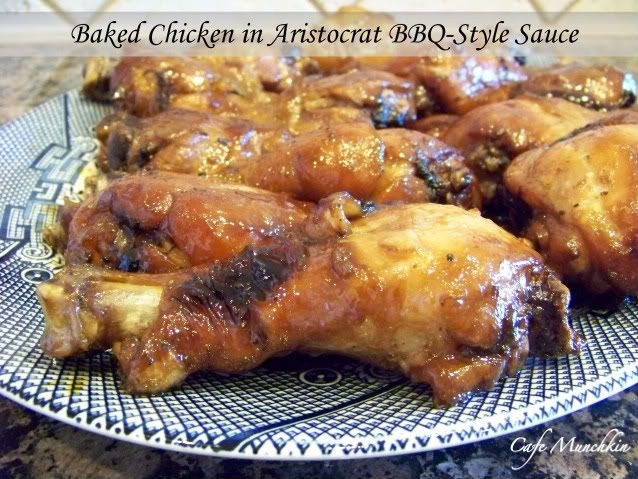 I brought the chicken to my friend's house ready for grilling, but instead of grilling, we decided to bake the chicken pieces instead.
Here's the recipe for the marinade…
INGREDIENTS:
1/2 cup + 2 tablespoons dark soy sauce
2 tablespoons light soy sauce
2 tablespoons lime juice, or kalamansi juice
1/2 cup sugar
2 cloves garlic, crushed and minced
1/4 teaspoon black pepper
1 (3 1/2 to 4 lbs.) chicken or 3 1/2 to 4 lbs of your favorite chicken pieces
DIRECTIONS:
1. Stir together soy sauces, lime juice, sugar, garlic and pepper.
2. If using whole chicken, cut chicken into serving pieces. Cut breast in half lengthwise. Leave drumsticks attached to thighs.
3. Put the chicken pieces in a resealable freezer bag.  Add the marinade; let air out of the bag then seal.  Gently shake or turn the bag to make sure the chicken pieces are well coated with the marinade.  Lay the freezer bag on a tray or plate and leave in the fridge to marinate for 2 days. Be sure to turn the bag over every few hours or so.
Alternatively, you can place the chicken pieces in a 13 x 9 inch baking dish, add the marinade and cover with plastic wrap.
3.  If baking: Lay the chicken pieces on a baking dish and bake at 400F for 20 minutes.  Then turn the pieces over, brush with the marinade and bake for another 15 minutes.  The chicken is ready if  juices run clear when the meat is pierced.
If grilling: Bring the chicken to room temperature and drain. Place skin-side down on grill over hot coals; cook, turning and basting with marinade every 10 minutes, 30 to 40 minutes, depending upon size of pieces, or until juices run clear when meat is pierced. Chicken will brown quickly because of the sugar in the marinade; do not burn.
You can also broil the chicken. ;)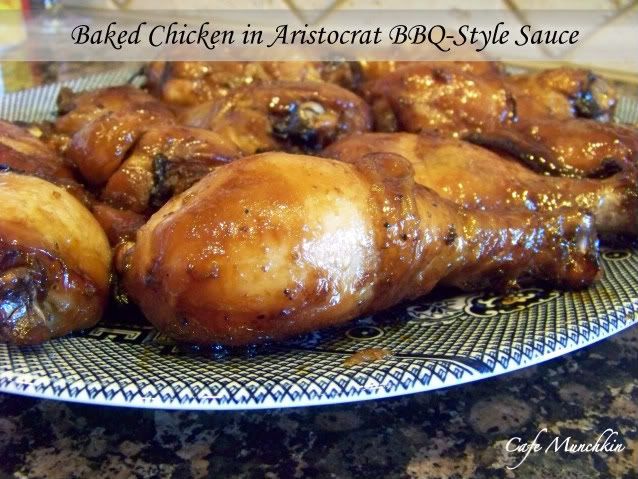 I loved the chicken!  And the sauce…oooh-la-la!  It looks like I'll be doing this a lot.  And next time, I'll make sure I have java rice to accompany my very Aristocrat-like chicken!  I hope to find myself some atchara as well.
I left out the light soy sauce, by the way,  because I only had one type of soy sauce in my pantry…Silver Swan.  Haha!