*This is entry #44 for theme "Easter EGG Hunt" of Lasang Pinoy, Sundays (La.Pi.S.), a weekly food photography meme.*
When I saw two or three weeks ago that we're having an egg theme for La.Pi.S., I decided right there and then that I was going to make deviled eggs. As I was shopping for treats at Walmart a few days before Easter, I was thrilled to find  blue and green egg-shaped deviled eggs platters that were selling for only a dollar each.  I love you, Walmart!…but you know that already.  Hee hee!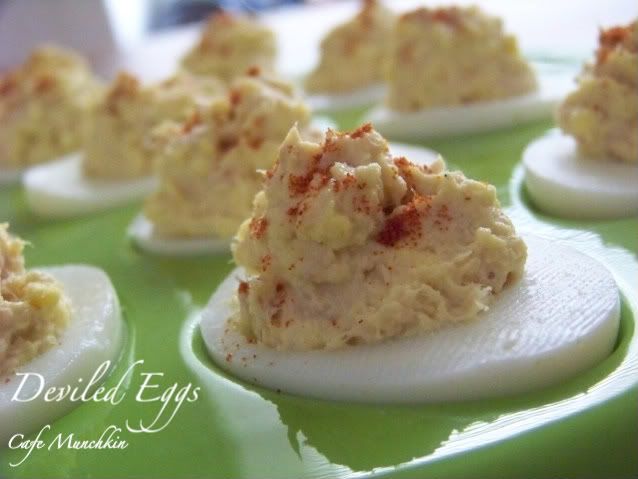 Deviled eggs bring fond childhood memories.  Before my mom became an entrepreneur (pre-laptop years!), she worked as an accountant for the nicest couple ever (who have since become treasured dear friends of our family!) who were in the food/catering business.  During catered family events, deviled eggs were almost always in the menu.  In fact, for our wedding, we had deviled eggs made fancy by a topping of caviar. ;)
Here's the recipe…
INGREDIENTS: (for a 12-cavity deviled eggs platter)
6 eggs
1/4 cup tuna flakes (take this out and you have a basic deviled eggs recipe)
1 teaspoon dijon mustard
2 tablespoons mayonnaise
1/8 teaspoon salt
1/8 teaspoon pepper
paprika
DIRECTIONS:
1.  (Hard) Boil the eggs.  (Click here for tips on how to make hard boiled eggs.)  Gently lay the eggs in a large saucepan that has been filled with water.  Make sure that the eggs are covered with about an inch of water.  Add a pinch of salt and a teaspoon of vinegar to the water (which help prevent egg whites from leaking out should the shells crack while boiling).  Bring the water to a boil, then remove from heat.  Let sit covered for 12-15 minutes.  Drain hot water from the pan and run cool water over the eggs.  Let the eggs sit in cool water for a few minutes.  Change the water every now and then if necessary.
2.  Peel the eggs.  With a sharp knife, slice each egg in half, lengthwise.  Gently remove the yolks and place in a mixing bowl.
3.  Arrange the egg white halves on a serving platter.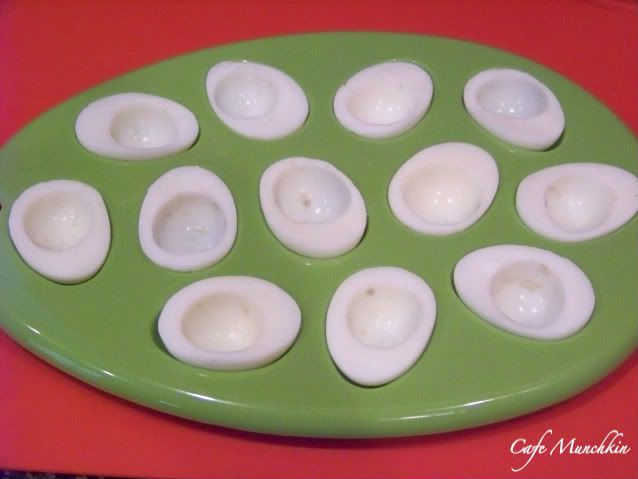 4.  Mash the yolks with a fork then add the tuna, dijon mustard, mayonnaise, salt and pepper.  Spoon the mixture into the egg white halves then finish with a sprinkling of paprika.
I love how it's very easy to make and requires only a handful of ingredients, which you most likely already have in your pantry.  Yet, the finished product looks so fancy and chic.  ;)  There's so many ways you can get creative with the recipe!  Add cheese, take out the tuna, substitute with another ingredient you fancy, add your favorite spices, etc!  Go crazy with it.  It's not called "deviled" for nothing!  Haha!
The verdict?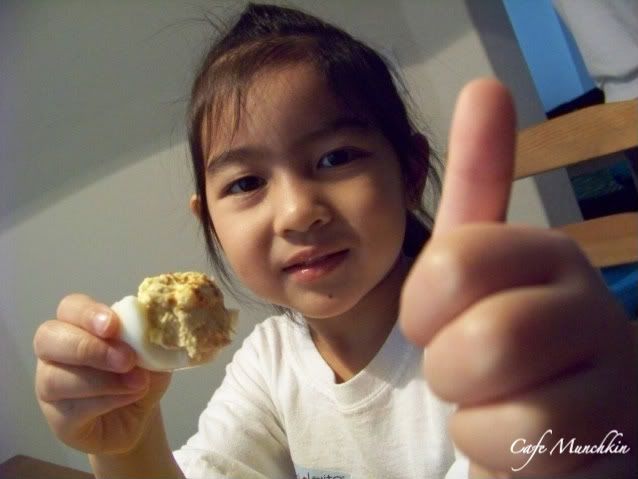 Need I say more? ;)
Have a great weekend, y'all!