This is entry #45 for Lasang Pinoy, Sundays (La.Pi.S.) and also doubles as my entry for Iska's Blogoversary Blowout.
I'm hitting two birds with one stone with this post.  First, it's my contribution to Lasang Pinoy, Sundays' "Swirls and Twirls" theme.  Second, it's also my entry for Iska's Blogoversary Blowout, where participants have to talk/say something about their favorite comfort food.
Chocolate is THE ULTIMATE comfort food for me.  Blame it on my mother!  (I love you , Mommy!) Hee hee!  Chocolate bars, ice cream, cakes, drinks, practically chocolate in all shapes, sizes and forms.  Growing up, my favorite chocolate cake was Cafe Elysee's (remember this coffee shop found at SM branches all over?) chocolate mousse.  If you look at my pantry, I have a stash of chocolate products…candy bars for snacking, chocolate chips and cocoa powder for baking. ;)
Last Tuesday, a very dear friend of mine, who is a chocoholic herself, celebrated her birthday.  So I baked and decorated a birthday cake for her.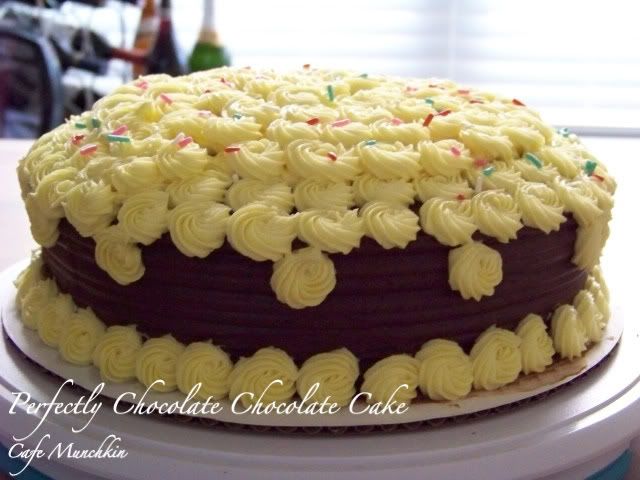 This is Hershey's "Perfectly Chocolate" Chocolate Cake…although, I didn't use a Hershey's brand of cocoa powder.  The bottom line is, it's a recipe by Hershey's straight out of my Hershey's Classic Recipes book. ;)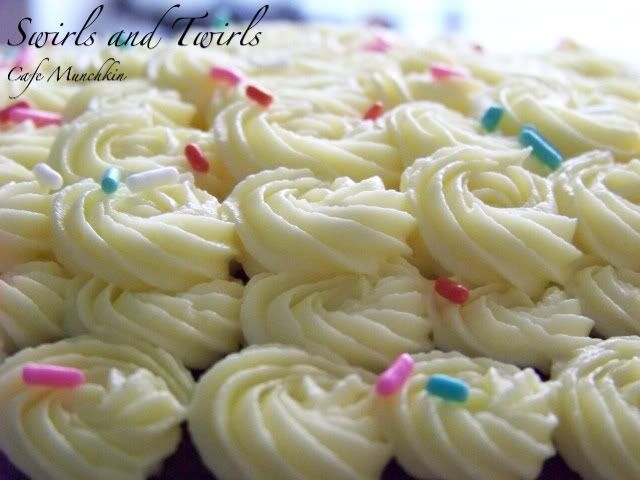 Yellow is my friend's favorite color, which explains the color of the Tip 21 rosettes that adorn the cake.  Piping rosettes this many is no joke!  The word "carpal tunnel" kept flashing in my head as I was doing my piping work. :D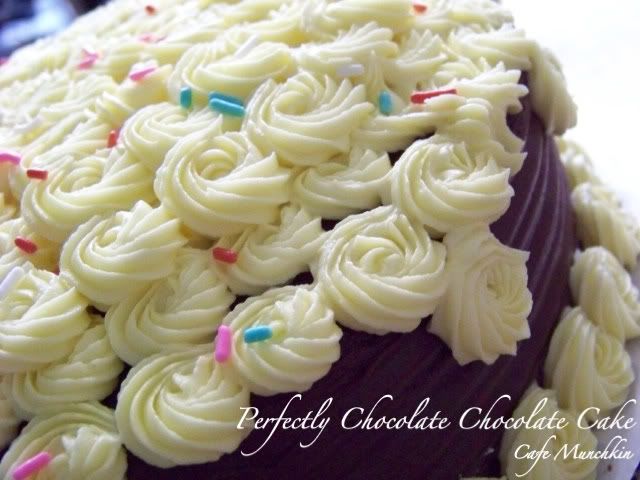 I was happy with the finished product, although I admit that I could have done better.  For instance, there should have been no gaps between the rosettes on top of the cake.  You can see the chocolate frosting between the gaps.  The rosettes on the side of the cake should have been a tad closer to each other.  And third, just as I neared the end of my piping work, I accidentally swiped one part of the cake with the tip of my piping bag.  I think I was able to hide it. :D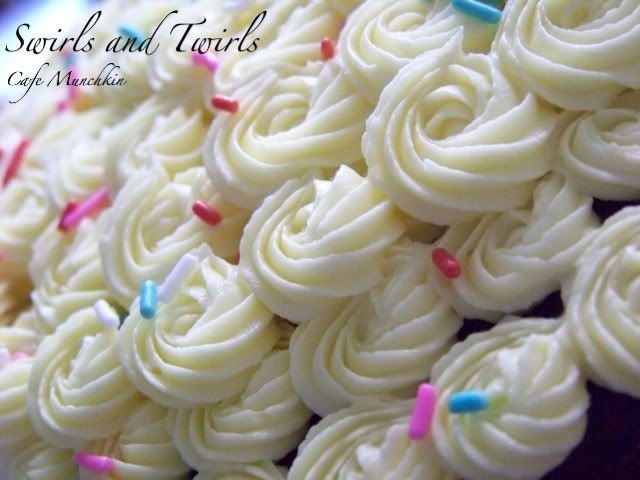 I used the Perfectly Chocolate Chocolate Frosting that went with the recipe to  frost the cake, the very same recipe I used to frost my Luscious Chocolate Cake.  And to decorate, I used Wilton's buttercream icing recipe.
Here are the recipes:
INGREDIENTS: (Chocolate Cake)
2 cups sugar
1-3/4 cups all-purpose flour
3/4 cup HERSHEY'S Cocoa (Note:  Feel free to use your favorite brand! :D)
1-1/2 teaspoons baking powder
1-1/2 teaspoons baking soda
1 teaspoon salt
2 eggs
1 cup milk
1/2 cup vegetable oil (I substituted this with 1/2 cup of butter. ;))
2 teaspoons vanilla extract
1 cup boiling water
"PERFECTLY CHOCOLATE" CHOCOLATE FROSTING (recipe follows)
DIRECTIONS:
1. Heat oven to 350°F. Grease and flour two 9-inch round baking pans.
2. Stir together sugar, flour, cocoa, baking powder, baking soda and salt in large bowl. Add eggs, milk, oil and vanilla; beat on medium speed of mixer 2 minutes. Stir in boiling water (batter will be thin). Pour batter into prepared pans.
3. Bake 30 to 35 minutes or until wooden pick inserted in center comes out clean. Cool 10 minutes; remove from pans to wire racks. Cool completely. Frost with "PERFECTLY CHOCOLATE" CHOCOLATE FROSTING. 10 to 12 servings.
"PERFECTLY CHOCOLATE" CHOCOLATE FROSTING
1/2 cup (1 stick) butter or margarine
2/3 cup HERSHEY'S Cocoa (Note:  Again, feel free to use your favorite brand! :D)
3 cups powdered sugar
1/3 cup milk
1 teaspoon vanilla extract
DIRECTIONS:
1.  Melt butter. Stir in cocoa. Alternately add powdered sugar and milk, beating to spreading consistency.
2.  Add small amount additional milk, if needed. Stir in vanilla. About 2 cups frosting.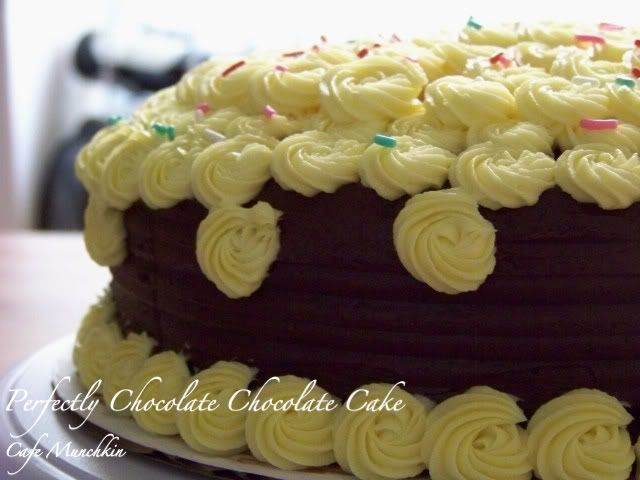 This is the first time I used this recipe and I'm very happy with it!  I've had  this recipe book for the longest time, yet, I managed to ignore what turned out to be a nice and moist chocolate cake recipe!
I was not able to take a decent photo of a cake slice, except for this one…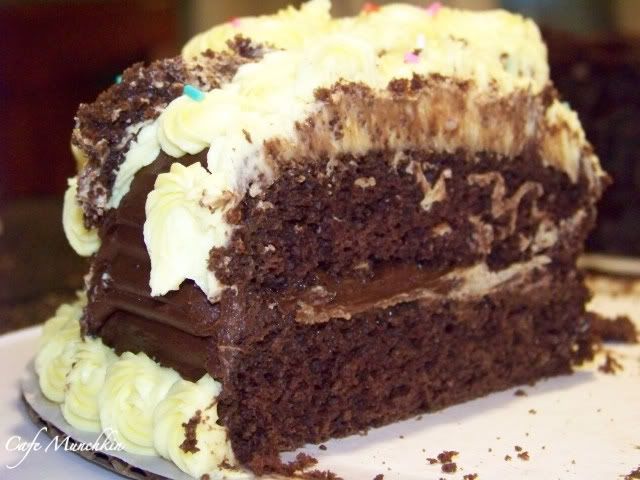 Chocolatey.  Sinful.  Comforting. ;)  Indulge your chocolate craving every now and then.  Doing so should not interfere even the best acne treatment…if you're worried about that at all. Hee hee. ;)
Have a wonderful weekend, y'all!  Cheers!