Crab Rangoon is one of our favorite appetizers, my daughter's specially.  It's food that is sure to keep my daughter on her seat and she could devour several pieces very quickly.  At the noodle house we frequent, these are called Crab Puffs.  It may also sometimes be referred to as Crab and Cream Cheese Fried Won Tons.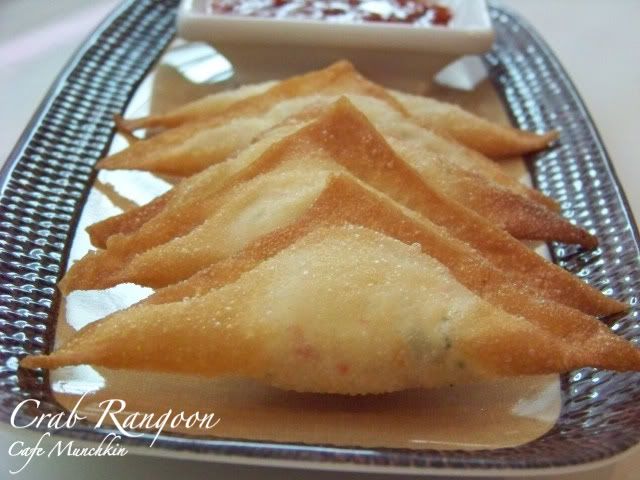 I cheated a little and used imitation crab to make these.  You may also substitute the crab with cooked shrimps. ;)  I got the recipe from my favorite dim sum recipe book.
INGREDIENTS:
1 8 oz. pkg. cream cheese (softened)
1/2 cup chopped water chestnuts
1 cup chopped crab meat (or chopped cooked shrimp meat)
1/8 cup chopped parsley
1/2 teaspoon salt
1 egg, beaten
won ton wrappers
oil for frying
DIRECTIONS:
1. Place cream cheese in a bowl and allow to soften for an hour.  Then add remaining filling ingredients.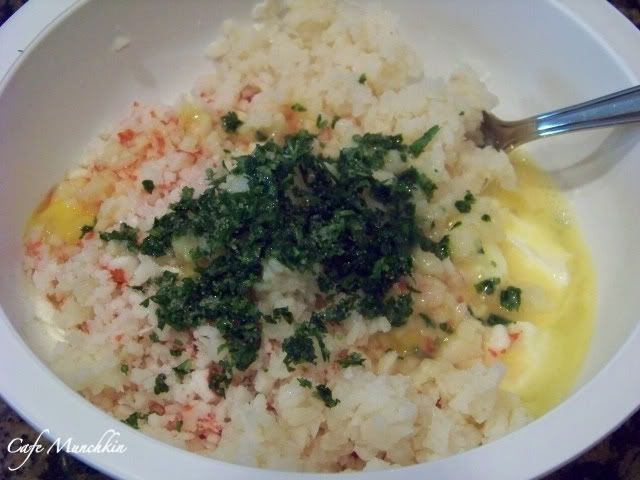 2.  Combine filling ingredients thoroughly.
3.  Place 1 tablespoon of filling in the center of wrapper.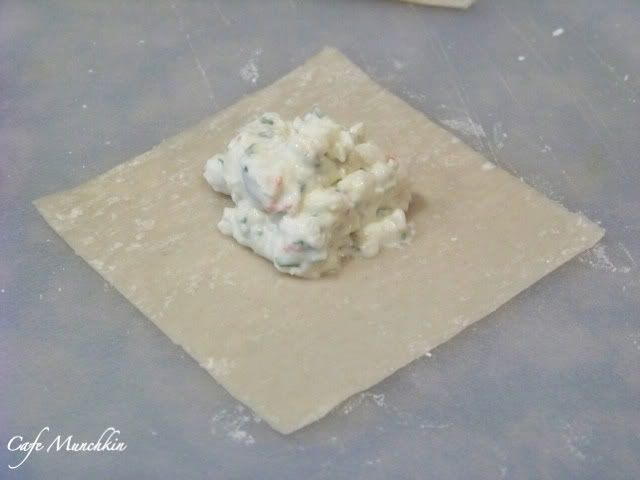 4.  Moisten the edges of the wrapper and fold in the shape of a triangle (or crescent of using round won ton wrappers), pressing to seal.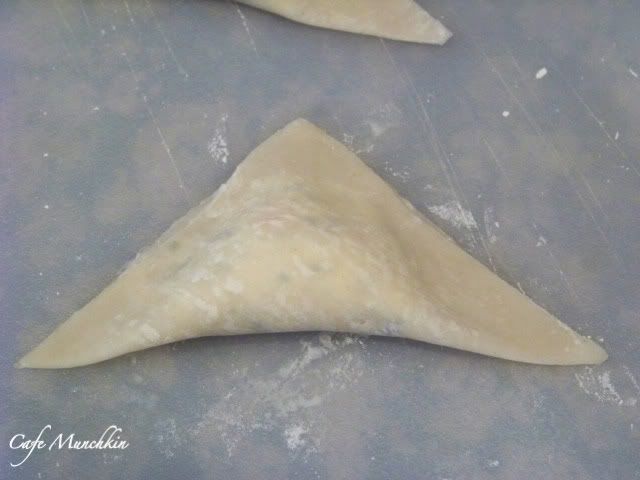 Alternatively, you can wrap them this way:  Pick two opposite corners of the wrapper and seal like so….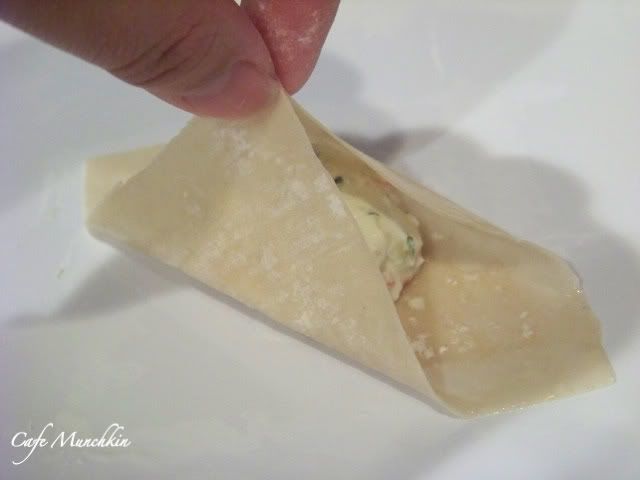 Then pick up the two other corners and seal them to look like this…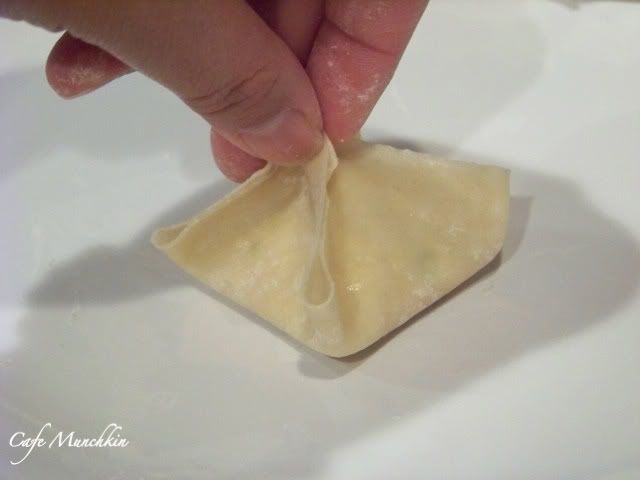 5.  Deep fry won tons until golden brown.  Drain on paper towels and serve with your favorite Sweet and Sour or Sweet Chili sauce.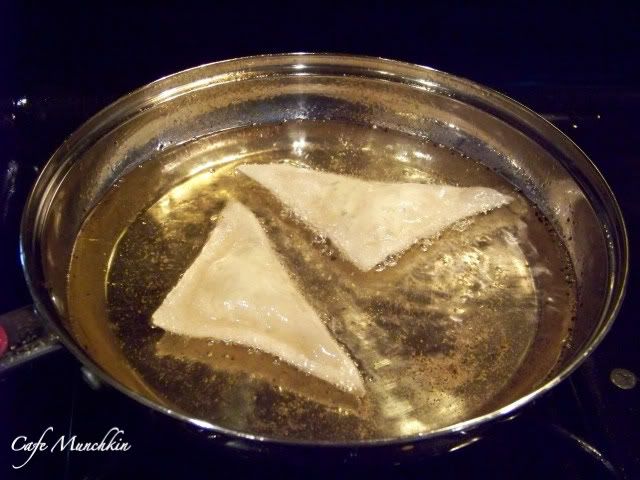 One word of caution though, the won tons will balloon when you put them in the pan of hot oil,  so press them down with your tongs for a few seconds before putting another piece in the pan.  Do the same when you flip them over.  Keep them down for a few seconds before proceeding to flip the other pieces.
This is the finished product…
And this is how the pouches looked…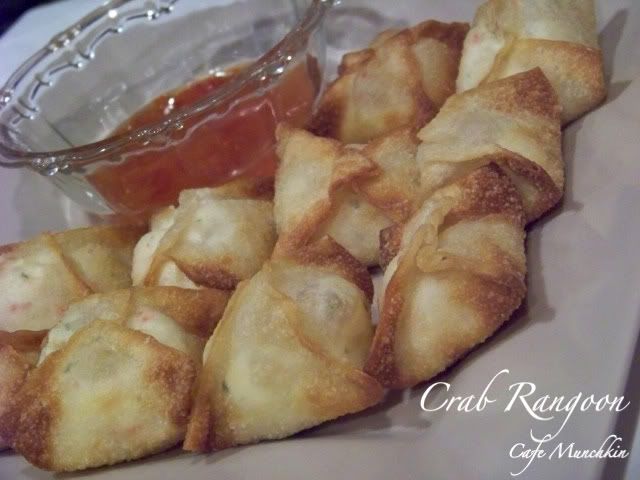 Noticed how some parts of the won tons ballooned?  We didn't really care though.  Hee hee. :D
Crab Rangoon is now perennially on request here at home.  It's always fun to be able to enjoy food we order from restaurants in our very own home…at a much reasonable price. ;)