*This is entry #46 for Lasang Pinoy, Sundays (La.Pi.S.)*
This week's theme for Lasang Pinoy, Sundays is "Shades of Spring  and Summer".  So what are the shades of spring and summer?  Personally, I think it's quite colorful actually, with red, green, purple, yellow, white and brown all accounted for. ;) And all these colors come together in one of the Philippines' most popular thirst quenchers, Sago't Gulaman (Tapioca Pearls and Jelly or Agar Agar).
I just love this drink, specially when paired with a native Philippine snack or kakanin…bibingka, sapin-sapin, puto, palitaw.  Oooh, I just might make one of these kakanins before the day is over.  Funny how I can make my very own self crave for food.  I am really my own worst enemy, when it comes to food, specially!
Here's the recipe for this drink…
INGREDIENTS
2 cups of dark brown sugar plus 2.5 cups of water for the arnibal (simple syrup of water and brown sugar)
tapioca pearls
1 bar of gulaman (agar-gar or jelly)
water
shaved ice
DIRECTIONS:
1.  Cook the bar of gulaman: Tear the bar of gulaman into several pieces then add to a pot of 2.5 cups of boiling water.  Stir until the gulaman melts.  Then transfer to molds (I used a 9-inch diameter baking pan.)  Don't forget to strain the pot of melted gulaman!  Refrigerate then allow the gulaman to set.  Once set, slice into small pieces.  Set aside.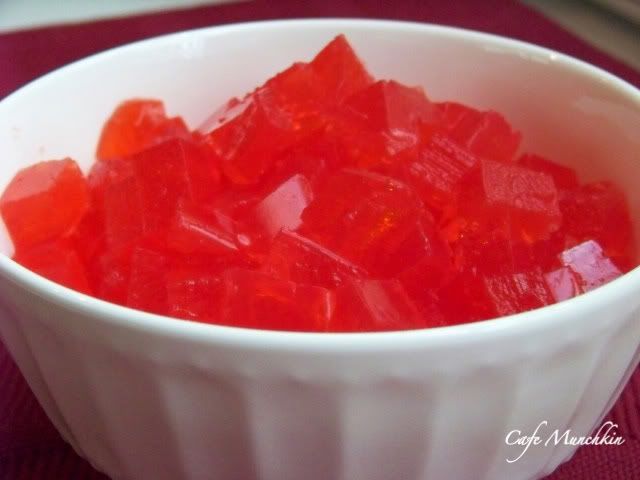 2.  Make the arnibal:  Boil 2.5 cups of water.  When it comes to a boil, add the brown sugar and stir until all the sugar is melted and the syrup thicken.  Set aside.
3.  Cook the tapioca according to package instructions.  Set aside. The tapioca I bought cooks in just five minutes (although I think 7-8 minutes would have been better!).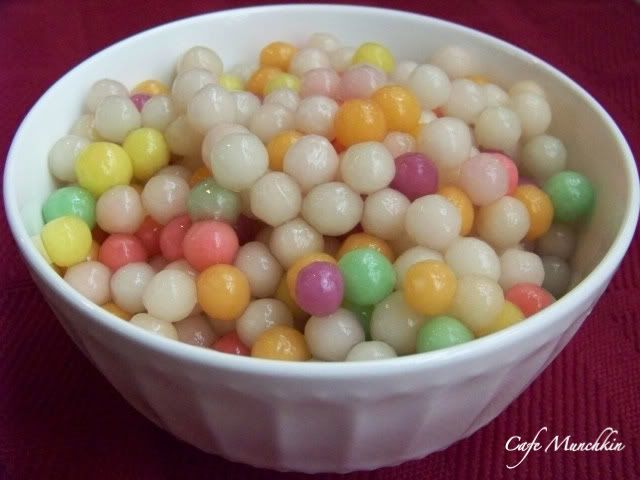 4.  Prepare the shaved ice.
Now, you're ready to put them all together!
6.  In a pitcher of water, add some arnibal according to your desired sweetness.  Set aside.
7.  Layer the gulaman and tapioca pearls in a tall glass then add some of the arnibal-sweetened water.  Then add some shaved ice.
8.  Finally, fill the glass with some more of the sweetened water.  After admiring your handy work, stir and drink. ;)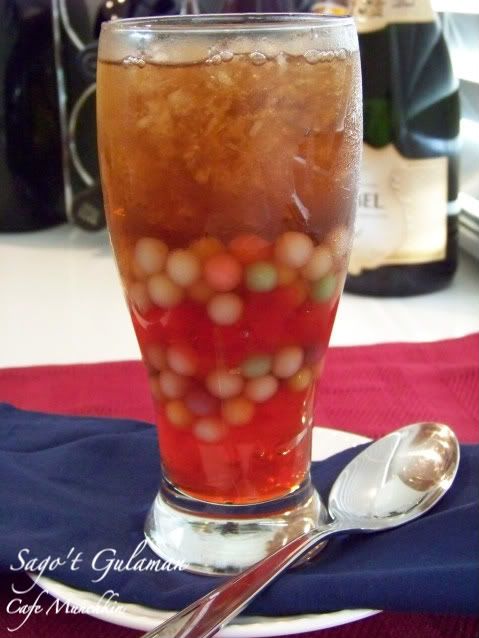 This is almost a snack itself.
Colorful. Filling.  Refreshing. :)
Have a wonderful weekend, y'all!  Cheers!