I could name at least 5 families, not including my own, who had Paksiw na Lechon today or will have it in a day or two.  They are the very same families who watched the Pacquiao-Hatton fight with us yesterday.  Hee hee.  We had a potluck get-together yesterday night and one family brought lechon (roast pig) all the way from Houston.  In spite of the 3-hour drive, the lechon was still moist and oh-so-good and some of the skin were still crispy.  Almost everyone had a freezer bag of lechon to take home and everyone who did planned on doing one thing with it, turn it into paksiw.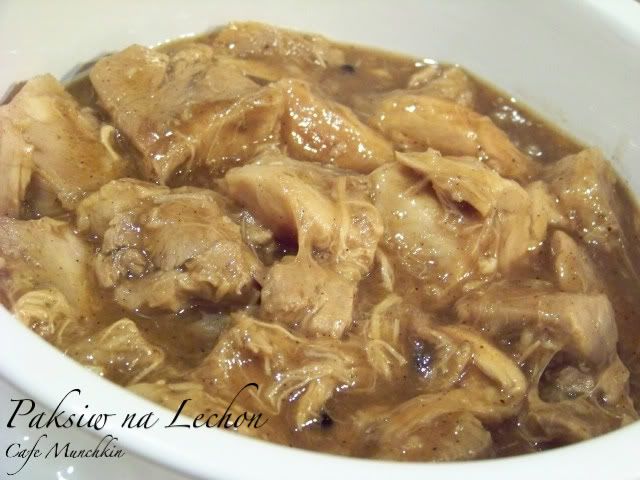 The last time I had Paksiw na Lechon was after Christmas in 2006.  I remember it well because that Christmas, a very dear friend of mine and hubby's gifted us with a whole roast pig!  I can still remember the look I had on my face when we came home from mass and saw the lechon on the kitchen counter.  It's a cross between utter surprise and panic.  Haha!
For dinner tonight, we finally had Paksiw na Lechon.  I didn't realize how much we've missed it.  Two years is a long wait indeed. :)
INGREDIENTS

1 lb roast pork (approximate weight) – cut into one-inch cubes
1 1/2 cups lechon liver sauce (I used an entire bottle of the Mang Tomas brand of lechon sauce.)
1/4 cup vinegar
3 tablespoons soy sauce
2 tablespoons brown sugar
2 teaspoons garlic, minced
1/2 teaspoon peppercorns
2 bay leaves
1/2 cup water
DIRECTIONS
1.  Combine all ingredients in a saucepan and mix thoroughly.
2.  Bring to a boil then turn the heat down to low and simmer for 20-30 minutes.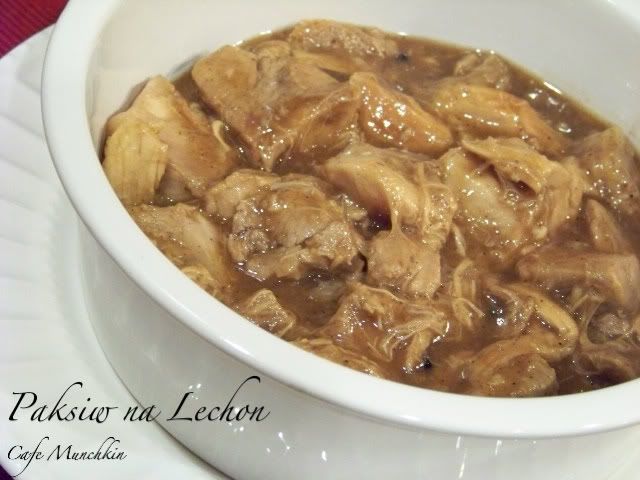 If you noticed, Paksiw na Lechon and Adobo share almost exactly the same recipe.  Hubby is not a big fan of vinegar, which is why I only used 1/4 cup.  I could have actually used less.  But paksiw is not paksiw without vinegar! I made sure I had Hubby taste the paksiw first before I turned off the heat and considered the dish done. Being the darling and smart husband that he is, he was all praises. Not bad for a first try! ;)
You have plenty of room for tweaking here.  Some of you will want more lechon sauce, some less, more vinegar, less sugar, etc.  So have fun adding to and taking away from the measurements.
Have a great week ahead, y'all!  Cheers!