It's not Wednesday yet on my part of the world but in WifeSpeaks, we follow Philippine time in posting entries, so as far as this entry is concerned, it's already Wednesday.  Hee hee!
WifeSpeak's daily blog carnival officially started last Monday with MemoirMonday.  It was ChikaTuesday yesterday.  And today, it's FoodieWednesday!  This week, COMMITMENT is the theme common to all five days of the blog carnival, yet each day has a distinct flavor.
For today, foodies are supposed to post a photo or share a recipe of a food from one of the many instances that hubby and wifey celebrated their commitment with one another.   These are my picks…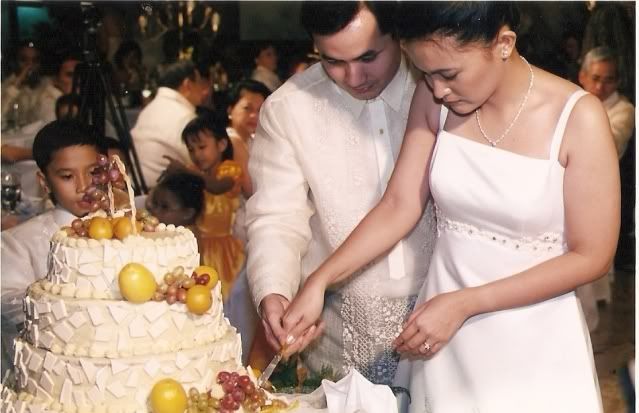 Symbolically, the cutting of the cake is the first task that a newly married couple undertake as husband and wife.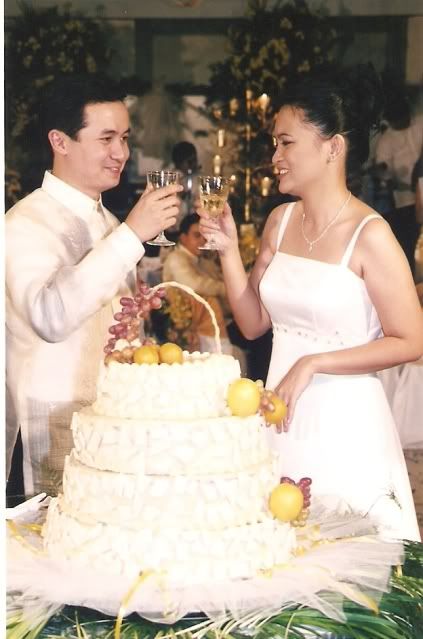 A toast "to life, to health to love". :)
I would have posted photos of our buffet spread but I was surprised to find out we had none!  Let me see if I can recall our wedding day menu…we had pumpkin soup, deviled eggs topped with caviar, salad  nicoise, roast beef, turkey, lasagna verde and pastries among others. :)
Come join us at and check out the other entries for FoodieWednesday HERE.
PS. These photos are proof that there was a moment in time when I wasn't overly healthy.  Losing weight came so easily then. Natural colon cleanse wasn't even an option.  Hahaha.  Oh well. *sigh*