*This is entry #47 for Lasang Pinoy, Sundays (La.Pi.S.)*
This week's theme for Lasang Pinoy, Sundays is "Over the Top" and I have to say, this was one of the rare instances when I almost misinterpreted the theme.  My first instinct was to come up with rice toppings.  Then again, I thought, what if I'm supposed to come up with an over the top, meaning extraordinary, dish?  As it turns out, it's rice toppings after all.  Whew!  Saved me a lot of time. :D
That said, all I had to do was just serve today's lunch in a bowl.  So I give you, Arroz a la Cubana in a Bowl. ;)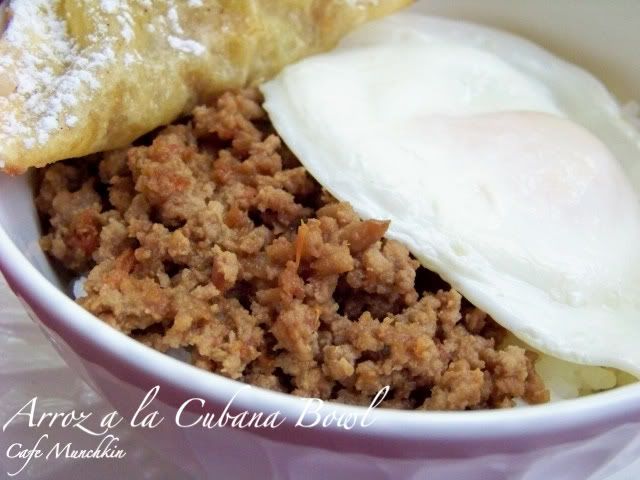 Arroz a la Cubana was one of my first entries on this blog (November 2007).  I just had to smile when I dug into my archives and found it.  Click HERE and you will see why.  Aren't the photos horrible?  Not that the new ones are not, but they are a tad better.  Hee hee.
Here's the recipe…
INGREDIENTS
1 lb ground turkey (or ground lean beef or pork or a combination of both)
2 pcs. tomatoes, chopped
1 small onion, chopped
2-3 cloves garlic, minced
3 tablespoons soy sauce (approx.)
1 – 1 1/2  tablespoons worcestershire sauce (approx.)
salt and pepper to taste
green peas (optional)
raisins (optional)
DIRECTIONS
1.  Saute the garlic and chopped onions in oil for a minute or two.
2.  Throw in the chopped tomatoes (or just add tomato paste).  Then add the ground lean beef and ground pork and cook until the liquid evaporates.
3.   Add several tablespoons of Kikkoman soy sauce and 1/2 or 1/3 the amount of Worcestershire sauce.
4. Season with salt and pepper if you like. I usually just add pepper and hold off on the salt.
5. Serve with fried bananas and fried egg on the side (or top!)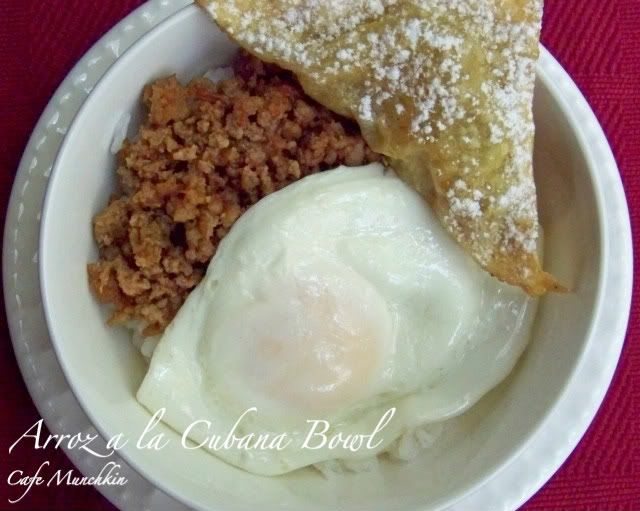 We don't have saba bananas here but we had left over banana fritters from breakfast so that's what I put on the side instead.  You may add green peas, but we didn't want any.   Hubby isn't a big fan of raisins so no raisins for us, too.
Not too long ago, I posted an entry on Sweet and Sour Chicken Balls which I served to Hubby and my littler girl as rice toppings.  But I didn't want to do a recycled entry, so.  Anyway, I just thought I'd include the photos here just the same.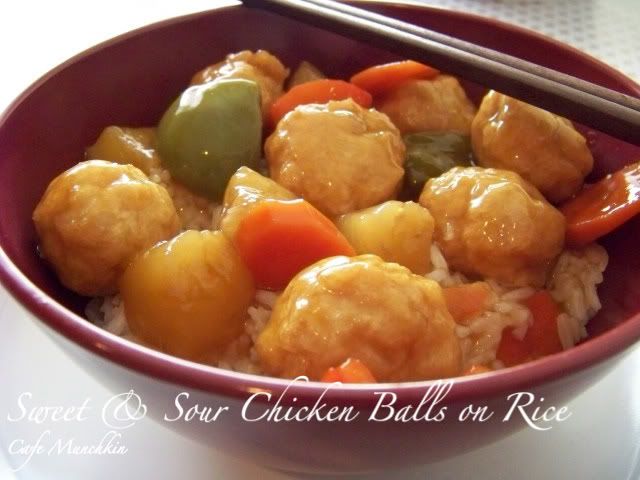 Munchkin Daddy Bowl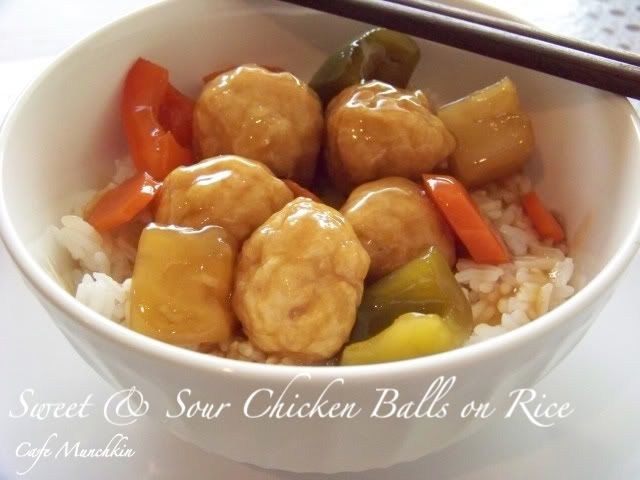 Little Munchkin Bowl
Happy Mother's Day to all my fellow mommies out there!  Have a blast, ok?
Cheers and mabuhay!