It was Teacher Appreciation Week at my daughter's school last week.  And I thought it would be nice to give the Little Munchkin's two teachers a cake each (among other things) plus a third cake for the school's teachers and staff to share among themselves.
So I slaved away in the kitchen late Thursday night until about 3am (Friday).  This wasn't the time to experiment or do something new so I chose cakes which I've had prior experience baking.   For my daughter's two teachers, I chose to bake a Chocolate Chip Coffee Cake.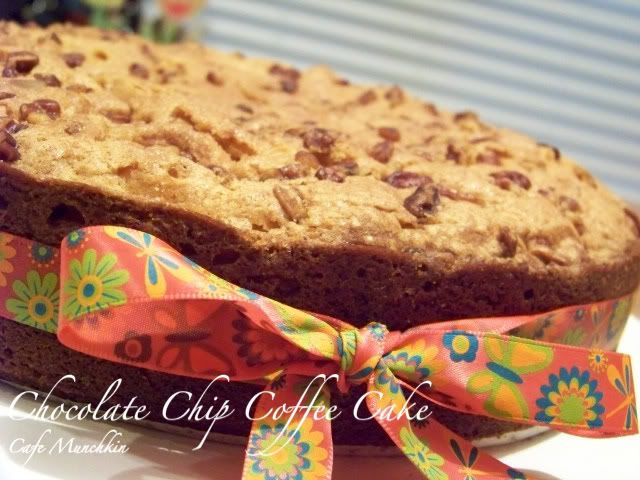 The first time I made this Chocolate Chip (and Cream Cheese!) Coffee Cake, they were in cupcake form.  This time around, I used a 10″ springform pan.  Then, I tied a dainty bow around the cakes before finally boxing 'em up.
This morning, the Little Munchkin's teachers were raving about the coffee cake. Hee hee.  You can find the recipe HERE.
As for the other cake, I turned to the tried and tested Hershey's Perfectly Chocolate Chocolate Cake.  This time around, I made sure to use Hershey's cocoa.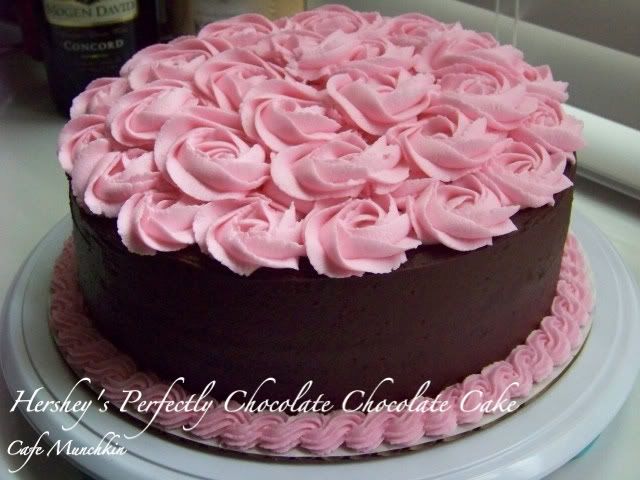 I know, it looks like a debutant's cake of sorts.  Hahaha! :P  As always, I used  Hershey's Perfectly Chocolate Frosting and frosted just a thin layer on the side and top of the cake.  I'm quite satisfied with how I frosted the side of the cake this time.  It didn't turn out looking very "bumpy". :D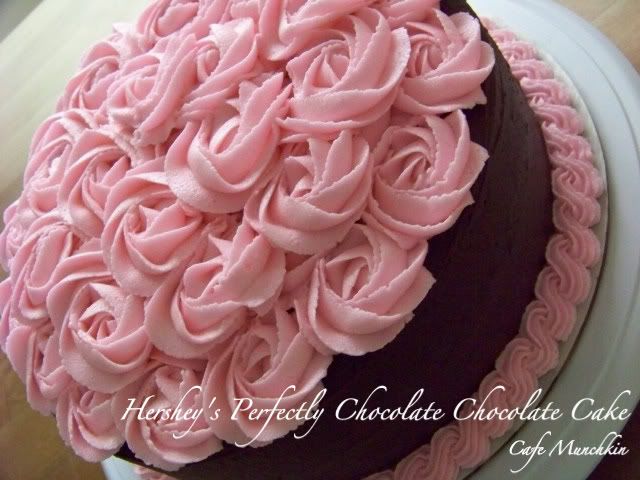 The last time I made this cake, it was for a friend's birthday and I decorated the top and base with yellow buttercream florettes.  I still decorated the top with florettes but to save me a lot of time, I used a bigger tip this time, 2D, I believe.  I decorated the base with a Tip 21 rope border.  The rope border is my favorite border…for now. :D
You can find the Hershey's Perfectly Chocolate Chocolate Cake (and the frosting as well!) HERE.  The buttercream recipe can be found HERE.
Oh and good news for all ye chocolate lovers!  If you're worried that chocolate will wreak havoc on your skin care regimen, fear not!  According to this Newsweek article, chocolate isn't likely to cause you zits, and that's according to studies.  Yey me! :)  Hee hee.
Have a great week ahead, y'all! Cheers!