This week at WifeSpeaks, we're talking "Ideal Marriages".  For Memoir Mondays, most blog carnival participants posted photos of couples whose marriages they found inspiring.  ChikaTuesday, on the other hand, was all about inspiring showbiz marriages.  In translating that to food, we're having ideal recipes/meals/dishes for FoodieWednesday.
An ideal everyday dish for me is one that doesn't require such a big production to cook, yet elicits the ideal reaction from hubby and 4-year old daughter, that is, asking for seconds and plates practically wiped clean of all signs of food.  Take for instance yesterday's dinner, Beef Salpicao.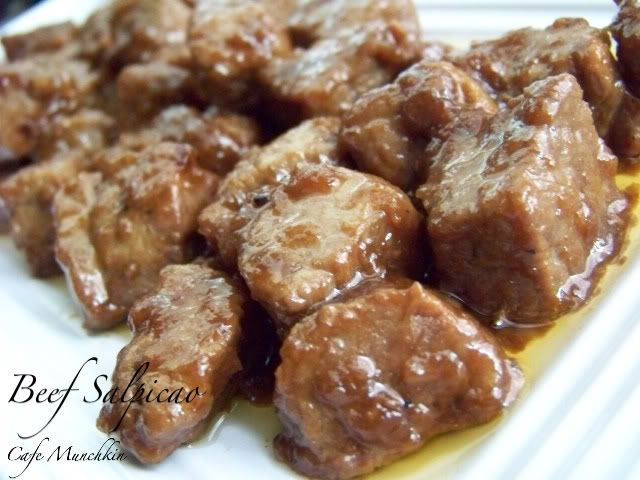 If hubby can eat beef everyday, he will.  His idea of an ideal dish definitely has beef in it.  It was in October when I first (and last) cooked Beef Salpicao.  I don't know why I never got around to cooking it again but yesterday evening I did and I vowed it won't take me another 6 or so months to cook it again.
I love that this dish takes only 10 minutes to cook, 12 minutes tops, and requires only a few ingredients: beef, paprika, olive oil, butter, garlic, oyster sauce, seasoning and salt & pepper.  To get the best flavor however, it is best to marinate the beef in the fridge for several hours.  I marinated the beef in the morning and didn't cook it until around 6:30pm.
This is a better Beef Salpicao than the first one I made because I reduced the amount of seasoning and oyster sauce in half, which translated to a dish that was just perfectly seasoned…an ideal marriage of flavors, so to speak. :D
The Little Munchkin wiped her plate clean, and so did hubby.  ;)
INGREDIENTS:
1 lb beef tenderloin or sirloin or other tender beef cuts,  cut into 1/2 inch chunks
2 tablespoons olive oil
1/2 cup minced garlic
salt and fresh ground black pepper, to taste
1/4 tsp paprika
1 1/2 to 2 tablespoons oyster sauce (add more according to taste)
1/8 cup liquid seasoning (add more according to taste.)
3 tablespoons butter or margarine
DIRECTIONS:
1.  In a bowl, marinate the beef chunks in oil, garlic, salt, pepper and paprika for a couple of hours in the fridge.
2.  Saute the beef cubes with the marinade in very hot oil.
3.  continuously saute the beef cubes in high heat until they are browned evenly.
4.  Add the oyster sauce and liquid seasoning.
5.  Saute for a few more seconds and then add the butter.
6.  Turn off the heat and serve immediately with hot rice.  You may top it with garlic slivers and garnish with chopped parsley.
7.  It shouldn't take more than 10 minutes for to cook this dish.  Otherwise, the beef will lose its tenderness.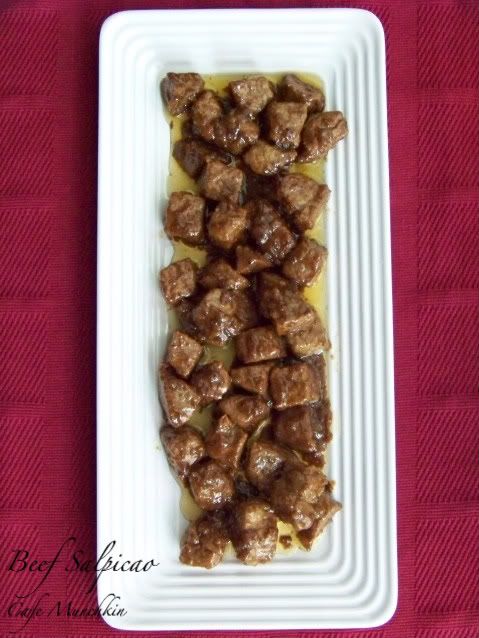 A pound of beef proved to be too much for us, specially since we've been watching our food intake. :D  So we're having this for lunch again today.  Yeehaa! :P  Do eat this in moderation though, even if you've already bought yourself insurance online. Hee hee. Life is good, you know!
Check out the ideal food other wifeys cooked up HERE.