*This is entry# 48 for Lasang Pinoy, Sundays (La.Pi.S.).*
This week's theme for Lasang Pinoy, Sundays is "Slice 'em Up".  To tell you honestly, the theme didn't require too much pondering on my part.  And if you consider yourself a regular visitor of this blog (because we're related or good friends, perhaps? hee hee!) then you  probably already have a good idea, as to what I came up with without even looking at the entry title. :)
It was my brother's birthday two days ago.  The fact that we're oceans apart didn't stop me from making a birthday cake for him.  I thought, why not?  I've made cakes for friends and my daughter's teachers!  It is just right that I make one for my brother as well!  Never mind if he won't be able to taste it.  Hee hee.  However, instead of the usual cakes I've been accustomed to baking and decorating, I made something totally different…an ICE CREAM CAKE!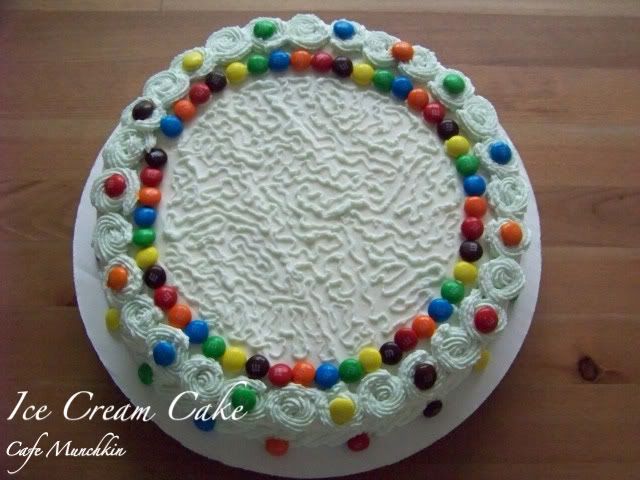 It was just my luck that Dreyer's ice cream was on sale at the local supermarket.  A few flavors were priced at 2 for $5.00 for the 1.5 quart and the rest of the other flavors were 2 for $6.00.  I picked three flavors:  Real Strawberry (little daughter's request), Cookies and Cream and French Silk (a chocolate flavor with chocolate bits).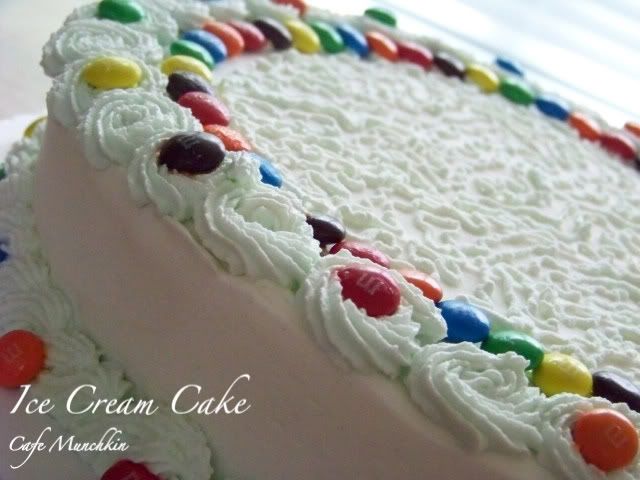 Ice cream cake is easy to make but can be a little tricky because you have to work quickly.  I attempted to take photos of each step of the ice cream cake making process, but had to stop because it was way too warm in the kitchen and the ice cream was softening way faster than I wanted it to.  I promise that next time, I'll do a photo-tutorial.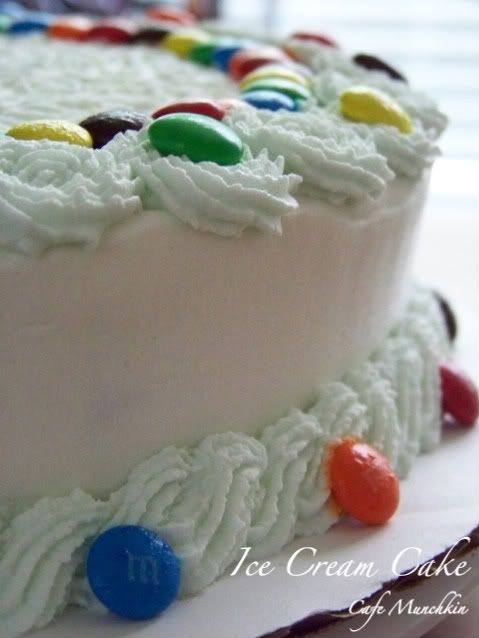 I used whipped cream to finish the top and sides of the cake.  For the top and base borders, I tinted the whipped cream with a bit of blue coloring (I used the Wilton gel colors).  For an added splash of color, I used M&Ms.  See? The cake's almost as colorful as Vegas vacations.  Hahaha!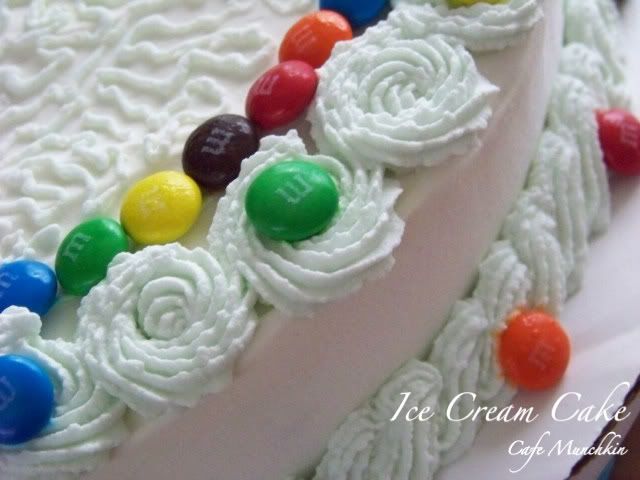 Instead of writing "Happy Birthday" on top of the cake, I decided to just decorate it with cornelli lace.  I didn't want to risk ruining the cake with shaky penmanship.  :D
Now, it's time to slice it up!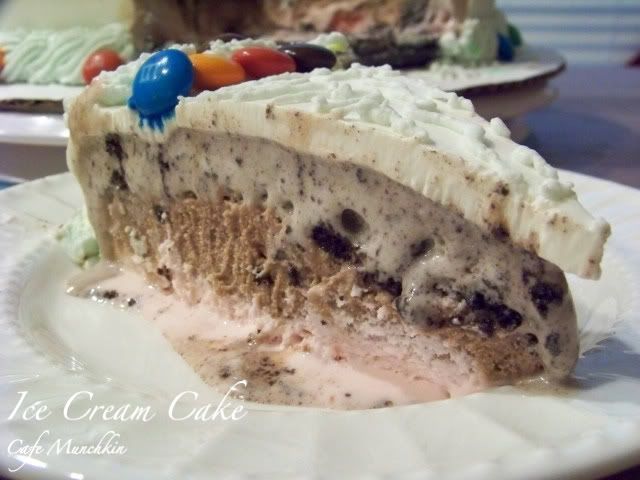 The oreo crust was virtually useless, sad to say.  It was too hard that I can't slice through it.  I think I'll do away with the oreo crust next time.  If I waited for it to soften, my cake would have melted!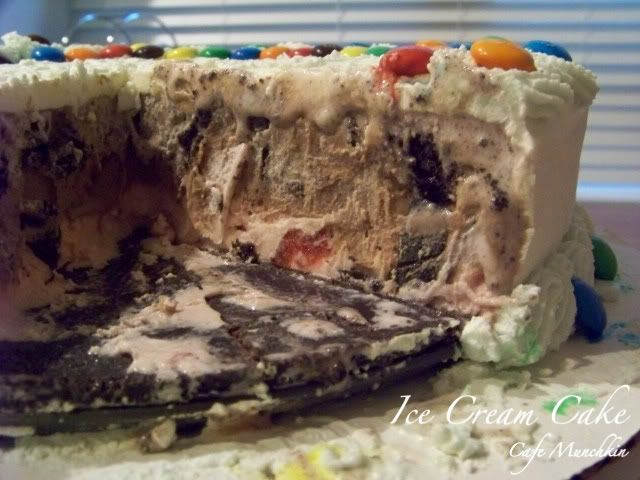 The bottom layer is Real Strawberry.  The middle layer is French Silk.  And the top layer of ice cream is Cookies and Cream.  You can see that the crusts of the sliced pieces are still on the pan.
Here's what you'll need to make this:
For the crust:
crushed oreo cookies
1 stick butter (1/2 cup)
Directions:

1.  Mix the melted butter and crushed oreo cookies.  Press on the bottom of a springform pan (I used a 10-inch springform pan) or a cake pan nicely lined with plastic wrap.  There should be enough plastic wrap for you to be able to grab and pull out the cake after it's been frozen.
2.  Put the pan in the freezer for about 20 minutes before filling it up with ice cream.
For the ice cream cake:
2-3 1.5 quart containers of your favorite ice cream flavors
Directions:
1.  Allow the ice cream to soften in the fridge or on your kitchen counter.  This should take about 15 to 20 minutes.  You don't want soupy or melted ice cream.  You just want it to be soft and pliable that you can spread it on the pan.
2.  Layer the ice cream and spread evenly per flavor on the spring form pan.  If you're using a 10″ spring form pan, you'll use up all of the 1.5 quarts of ice cream per flavor.
3.  Freeze for at least four hours.
4.  Take the ice cream cake out of the pan and spread whipped cream (recipe follows) on the top and sides of the cake.  Pipe a border on the top and base of the cake.
5.  Decorate the top with Oreo cookies or your candy of choice.
6.  Be sure to work quickly!  Freeze the cake for at least another 4 hours before serving.  Before serving, the the cake sit in the fridge for 10 minutes before slicing.
For the whipped cream:
2-3 cups heavy whipping cream
6 tablespoons sugar
Directions:
1.  Whip the cream at high speed for about a minute until soft peaks form.
2.  Add the sugar and whip for another minute until stiff peaks form.
3. DO NOT OVERWHIP!  Overwhipping will cause your whipped cream to collapse and turn buttery.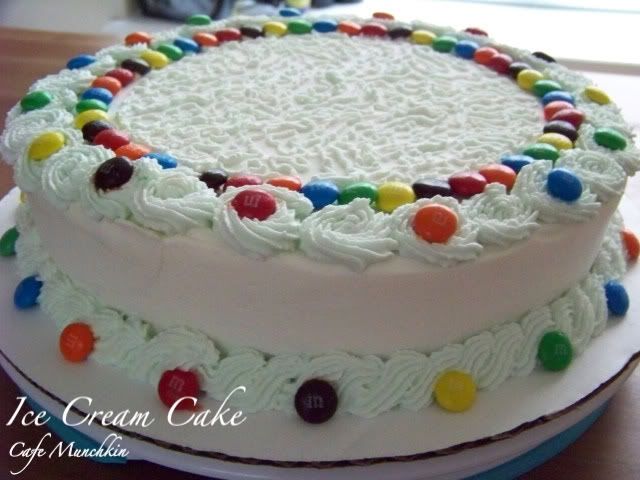 This is the kind of cake my Mom will like.  While she likes sweets and chocolate, she doesn't like cakes very much.  But ice cream, she loves a whole lot! :)
Have a great weekend y'all!  Cheers!