Whoa!  It's been four days since my last entry!  I've got a couple of dishes lined up, waiting to be blogged about.  I've been wanting to update, but last Monday, making halayang ube left me dead tired from hours of continuous stirring.  And yesterday, I was sore (still am!) from all the kneading and rolling I did.  I shall tell you what I rolled and kneaded in another entry. ;)
Now, let's talk Puto (Steamed Rice Cake).  I was finally able to make some!  I love puto!  I've been looking for a recipe for the longest time.  There's a puto mix being sold at the Asian grocery but for some reason, I couldn't bring myself to buy a box…much as I miss this native Philipine snack.  :D
I tested two recipes.  The first batch I made over a month ago and the 2nd batch, I made just last week.  These two recipes are so different from each other, the first having far more ingredients than the second.   In the absence of puto molds, I used individual silicone muffin molds instead.  I think they are worthy puto molds substitute.
Puto #1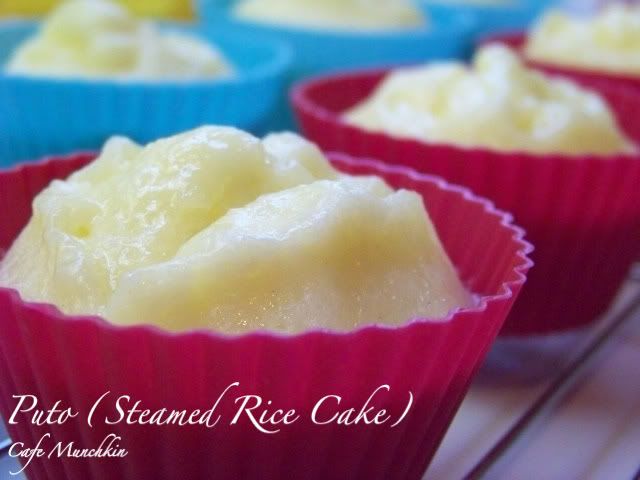 INGREDIENTS:
2 cups rice flour
2 eggs, lightly beaten
1 teaspoon salt
1 cup sugar
1 1/2 cups fresh milk
1/2 teaspoon baking powder
2 tablespoons melted margarine
DIRECTIONS:
1. In a bowl, mix all the ingredients thoroughly until smooth.
2. Brush the bottom and sides of puto molds with butter and fill  2/3 full with the puto batter.
3.  Steam for 20 minutes or until a toothpick inserted in the center comes out clean.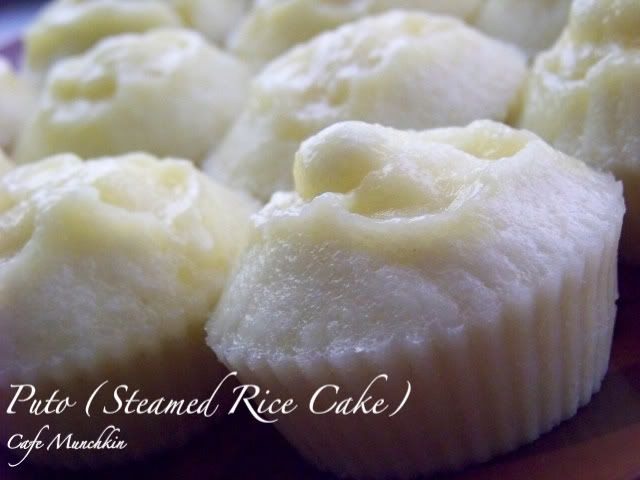 I topped the puto with cheese bits.  Unfortuantely, they sank to the bottom. :D Tsk tsk.  The puto came out all right.  They were ok, to say the least.  But my taste buds were looking for a certain texture that's somewhat cakey, which brings us to Puto #2.
Puto #2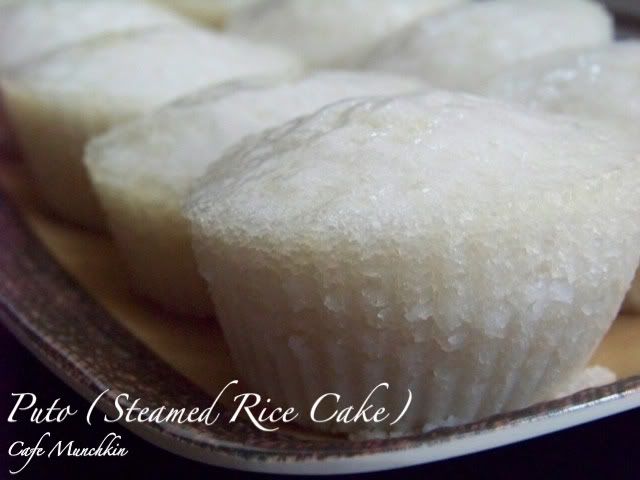 INGREDIENTS:

2 cups rice flour
3 teaspoons baking powder
1 cup white sugar
1/2 teaspoon salt
1 400ml can (approximately 2  cups) coconut milk
DIRECTIONS:
1.  Sift all the dry ingredients in a mixing bowl.  Then add the coconut milk and blend well until smooth.
2.  Fill greased puto/muffin molds 2/3 full.
3.  Steam for 30 minutes and test for doneness by inserting a toothpick in the center of the puto.  The putos are done when the toothpick comes out clean.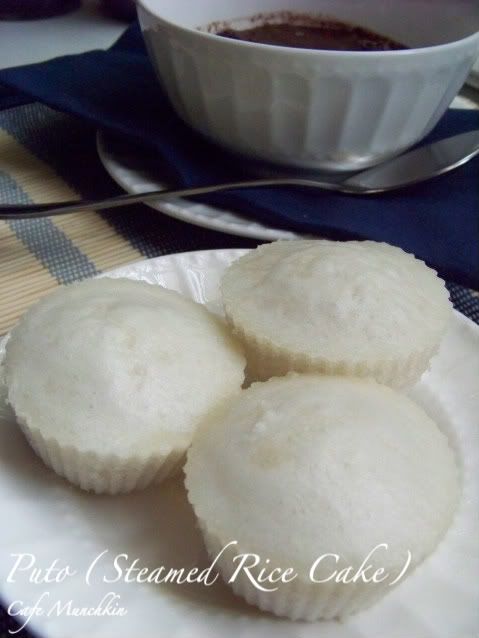 I liked the texture of this second batch of puto.  They came out soft and the coconut milk gave the puto a more native taste. :D  I prefer this second batch over the first.  Hubby and my little girl prefer this batch too.
My late maternal grandmother made very good puto and instead of puto molds she used round cake pans.  She topped her puto with salted duck eggs.  I didn't top the second batch with anything for fear that they'll end up at the bottom.  Maybe the next batch of puto that I make, Puto #3 and so on, I'll have the courage to try topping them with cheese or salted duck eggs.
There are so many different kinds of puto and they come in different sizes.  My quest for the best puto recipe will continue…until I find THE ONE. :D