I realize that I have been slacking a little  as far as updating this site is concerned.  To make up for the days I've been quiet, I'll try to post two consecutive entries, "try" being the operative word.  Is that a fair enough deal?  Great!  In two parts, I'll tell you about my foray into fondant. ;)
oOo

Wednesday last week, I gave decorating a cake with fondant a try…my first!  And it was not love at first try!  It was the most frustrating cake decorating experience I've had thus far.  To think that I was so looking forward to the adventure!  I actually had second thoughts about doing an entry about it because I am too embarrassed.  Had things gone my way, I would have loved to be raving about how it was all great with matching photos of a beautifully decorated cake.  But that was not to be.  Oh well.
The hardest part was the amount of  kneading and rolling involved. I didn't want a boring white cake so color had to be kneaded into the fondant.  It also didn't help that fondant dries up fast and Texas isn't exactly the best state to be doing fondants unless the temperature in one's working environment is almost winter like.  I may be exaggerating a little.  Hee hee. :D  By bed time, I was sore all over, my back and arms, specially.  And that is not an exaggeration! :)
To cut a long story short, the fondant that covered my 8″ x 3″ cake ended up cracking everywhere.  In an attempt to salvage the situation, the bow that was supposed to be only 1.5″ wide had to be doubled in size.  Hee hee.  It's like I had a huge bow with a cake, not the other way around.  Hahaha!
Here are the photos (I'm actually feeling nervous posting these! Silly!):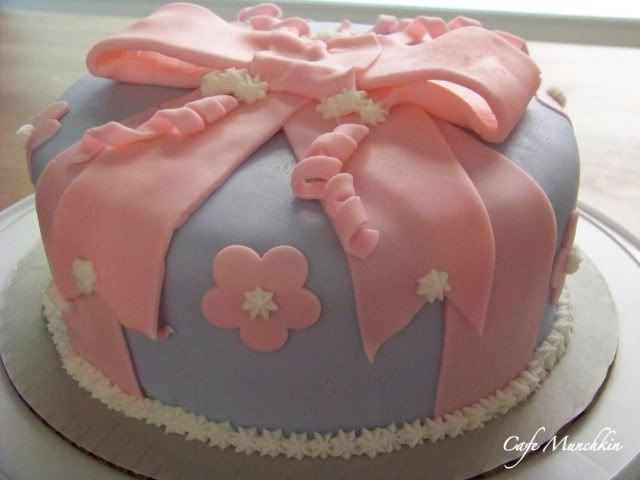 The cake is best viewed at this angle where you can only see a few of the horribly hideous mistakes I made…save for the bow that is so tiny it is almost invisible! :P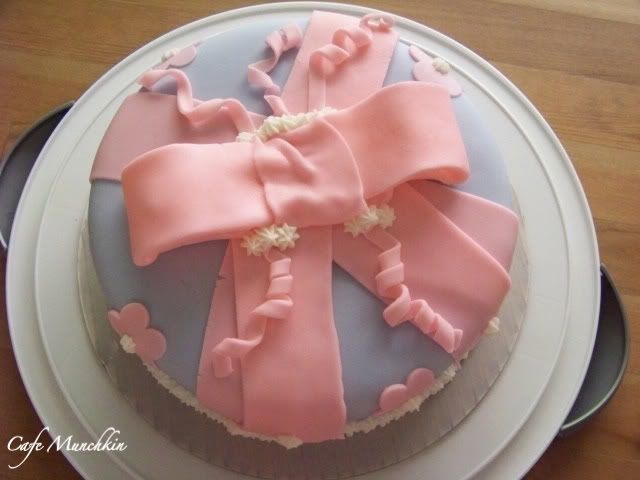 A view from the top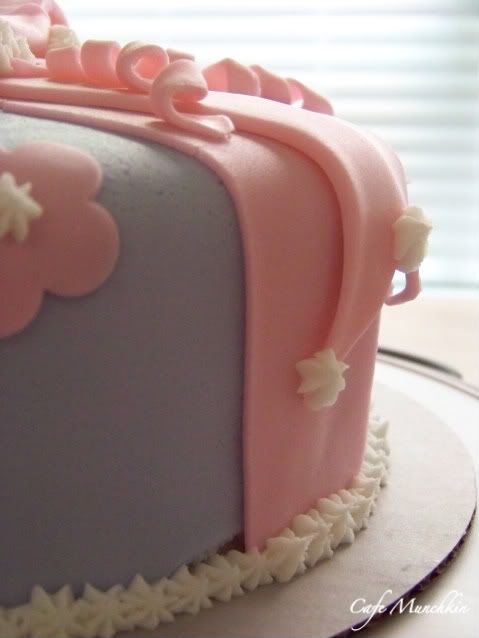 I should have used a bigger tip for the bottom border to better hide THAT. :)

This is the most unsightly portion of the cake, for obvious reasons.  Made me want to drown my sorrow in music from 'em Mp3 players.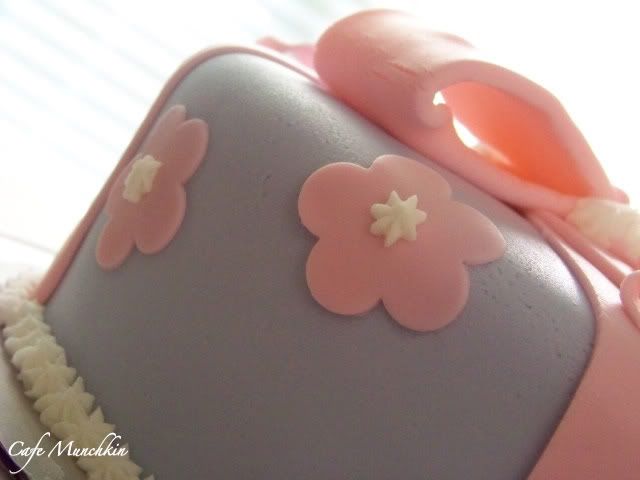 I should have probably just shown you this pic and the first one and left you to believe that I did a not so bad job after all.  But nah! :D
And there you have it.  My far from successful first foray into fondant.  I used a yellow cake for this project with buttercream filling.  The cake was also thinly iced with buttercream before it was covered in fondant.  I wasn't very pleased with how the recipe turned out because the cake was too crumbly!  But I did give the recipe a try again for fondant cake #2.  Let me check first if it turned out ok before I share the recipe. :D
Later today, I'll post Part 2…a more ambitious fondant undertaking that still left me frustrated for the most part. :D