As promised, here's part 2 of my first 2 forays into fondant.  Part 1 is just an entry down. To continue…
Yesterday, exactly a week after my first fondant cake, I kneaded and rolled fondant away with renewed vigor.  I was not about to give up!  My second foray into fondant was a little ambitious.  It's a 2-tier cake.  This time, however, I decided to stick to white fondant to cover the two cakes and used colored fondant only for the decorations.
My heart sank when I encountered the very same problem that I had last week.  I don't know if it's the indoor temperature or if I didn't knead the fondant enough or if I didn't roll it thin enough, but it was "Hello, cracks!" again. Ugh!  I imagined Kerry Vincent shaking her head at me.  Tsk!
That said, I was in a bad mood…very bad!… for most of the afternoon yesterday.  You can ask my poor husband and 4 year old daughter.  So sorry, Munchkins. *mwah*  The upside? I didn't ache as much anymore, thanks to frequent visits to the tennis court. ;)
Ready?  Here's the cake…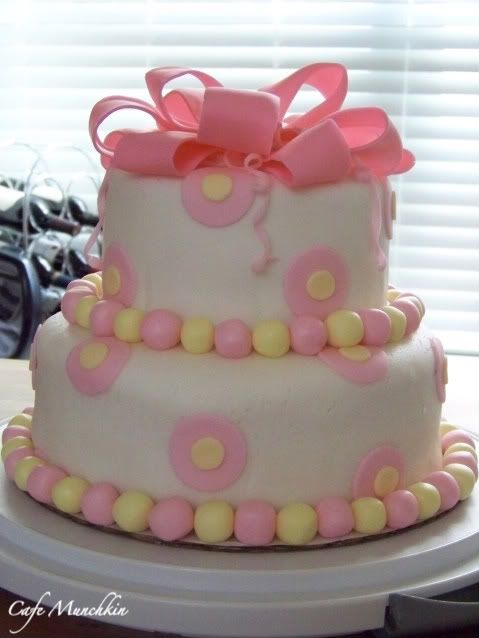 The cakes had less big cracks but the surfaces, in general, looked like they're going to tear anytime…but didn't, thank goodness!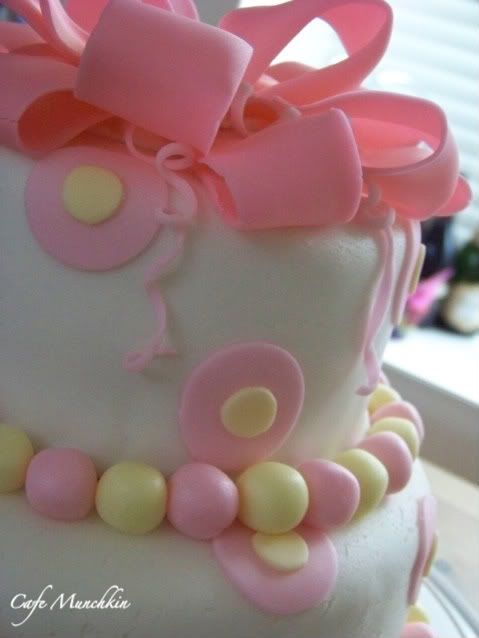 I felt a whole lot better when I started making the decorations, the bows specially.  What is it with me and bows?  Oh, I don't know!  I just wanted to give it another go after last week's, uhm, "unsuccess".  Hee hee.  The components for the bows and the curly cues were rolled to 1/16″ thickness.  And they were perfectly smooth!  If only I could get the fondant to cover the cake to be like that then I'll be a whole lot happier!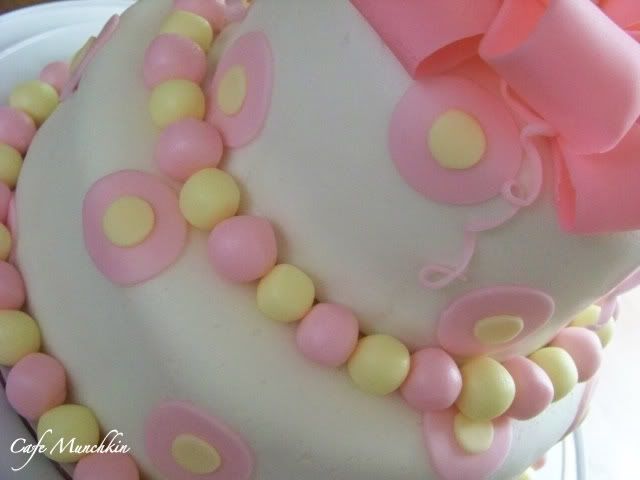 I also didn't have any problems with the circle cut-outs and the balls. :)  By the time I was done decorating the cake, I actually felt happy.
The 6″ x 3″ inch top tier cake is a White Cake, while the bottom 9″ x 3″ cake is a Yellow Cake, both baked from scratch with recipes lifted from my Kitchen Aid Companion recipe book.  Both cakes were filled and iced thinly with buttercream.  The cakes were less crumbly than last time and tasted ok…better than a boxed mix, at least.  I'll post the recipes soon. :)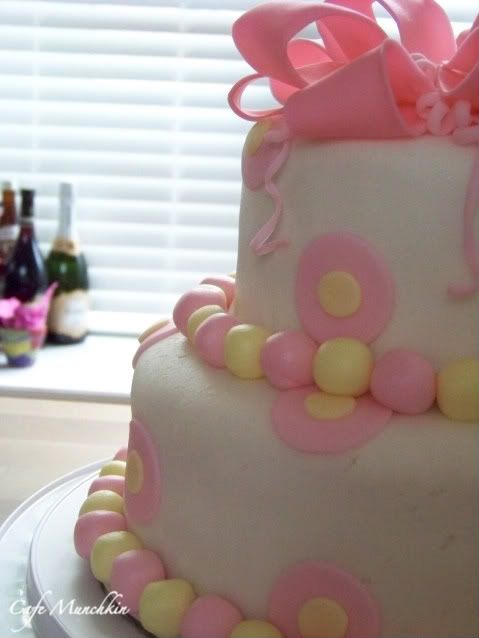 The third time will be a charm…I hope! *cross fingers*  I have to get it right in time for my daughter's August birthday…and I will.  It'll take some time before these cakes make their way to Vegas hotels, you know…for weddings. Wishful thinking! Hahaha! :P
Now, what to do with the cake? :)  It's an ordinary Thursday in May and we have a two-tier cake.  Hahaha!  Happy Day to you then?  Happy Day! :D