It's all about "The In-Laws Factor" this week over at WifeSpeaks.   For FoodieWednesday, participants are requested to answer food-related questions about their in-laws.  I'm skipping the question and answer. Instead, I'm going to tell you how the in-law factor changed the way I cook adobo. :D
Ask several people from the Philippines (who does some cooking) how they cook adobo and I'm pretty sure you won't get two answer that are exactly the same.  The recipes may be similar to some extent, but they will never be exactly the same.
My Nanay's (maternal grandma) adobo, for one, is bordering on the dry side, meaning it only has but a hint of soy sauce when it hits the dining table, but it has lots of oil.  Some  adobo,  have the pork or chicken practically swimming in sauce, almost soup-like.  In the southern part of the Philippines, I hear, they put coconut milk in their adobo.
So what kind of adobo do I serve hubby and little daughter?  One that is not soupy but definitely saucy. :D  I'm also very careful with the amount of vinegar I use because what garlics are to vampires, vinegar is to my husband. Hee hee.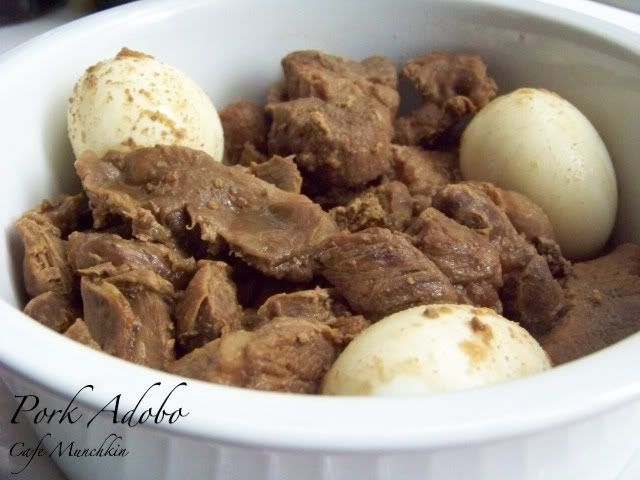 Since some time last year, my Mom has been telling me to add an extra step in the way I cook adobo.  That is, to fry the meat after stewing them in soy sauce and vinegar, before dumping all of them back again in the sauce.  She swears by this additional step, which came as a bit of  a surprise because we never cooked our adobo that way.  So I made a mental note to give it a try but whenever I found myself cooking adobo, I get too lazy to fish out the meat and have them fried.  I just want to dig in right away already!
Early this year, I finally got around to doing it.  Hubby was surprised to find me frying the pork and added that that's how his mom cooked adobo.  Hubby looked very pleased, to say the least.  Awww.  Since then, I've been cooking adobo a tad longer than I used to.  Haha!
Some people add hard boiled chicken and/or quail eggs to their adobo, as a garnish of sorts.  And because we have a ton of eggs anyway, I decided to throw in some hard boiled eggs as well. :)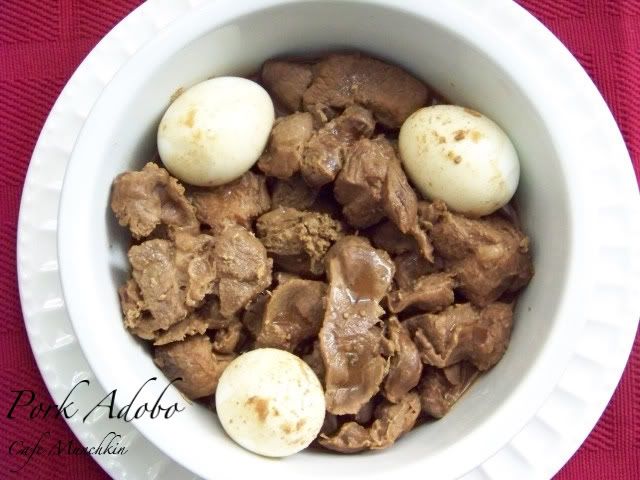 As a rule of thumb, I use 1/4 cup of vinegar and 1/3 cup of soy sauce per pound or so of meat and just adjust the measurements accordingly depending on how much I'm cooking.  For the adobo in the photo, I doubled the amount of vinegar and soy sauce. In addition to the pork or chickem meat, I also add some chicken liver (which makes the sauce thicker!) and chicken gizzards to my list of ingredients.
Here's the rest of my adobo recipe…
INGREDIENTS
1 pound of pork cubes (or chicken pieces)
chicken liver
chicken gizzards
lots of garlic (We want a garlicky adobo. :D)
1-2 bay leaves
1/4 cup vinegar
1/3 cup soy sauce
1/2 to 1 teaspoon whole peppercorns
oil for frying (if you want the additional step…and trouble. :D)
hardboiled chicken or quail eggs for garnish (optional)
DIRECTIONS:
1.  Put all the ingredients in a pot and cook in medium to high heat until the sauce starts to boil.  Turn the heat to low and continue to cook until the meat becomes tender.
2.  When the meat is of your desired tenderness already, take them out of the pot and fry until brown.
3.  Depending on how much sauce you want in your adobo,  you may throw the fried meat pieces back into the pot of sauce or just drizzle some sauce over them before serving.  Don't forget the steamed rice! :D
So, have you altered the way you cooked a dish for dear hubby…because that's how his momma does it? :D