I made Cookies and Cream Cupcakes exactly a week ago.  This is the third recipe I have tried, thus far, from my KitchenAid Baking Companion recipe book.  The first two were just basic cake recipes, which I have yet to post an entry about, perhaps because I'm not exactly satisfied with them.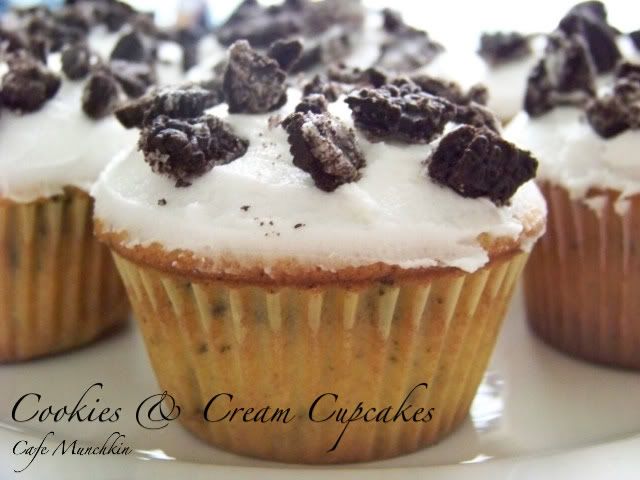 The cupcakes turned out nicely, to my surprise.  I initially thought the recipe would be a failure because as per the recipe book, the minimum bake time is 20 minutes.  I usually follow the minimum bake time when checking cakes and cupcakes for doneness.  I was so glad I took a peek at the cupcakes at the 16-minute mark because at that point, the edges of the tops of the cupcakes were already starting to brown (which meant brown bottoms, too!)!  I immediately checked for doneness and lo and behold, the toothpick came out clean.  Whew!  I was almost too late!  I would have ended up with toasted if not burnt cupcakes.  Tsk tsk!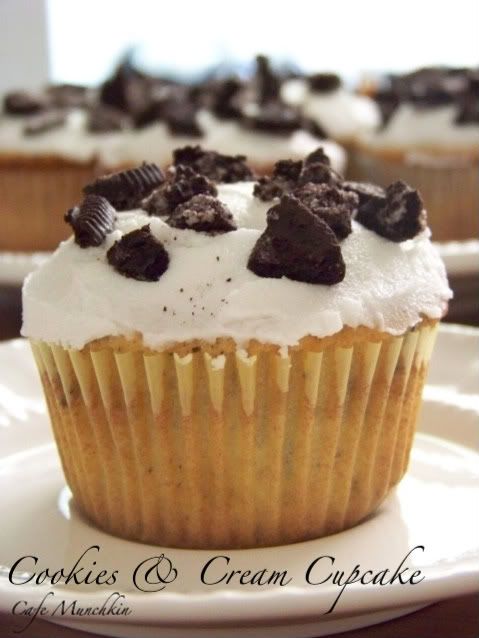 The cupcakes were surprisingly moist but a little crumbly.  They could very well be enjoyed sans frosting .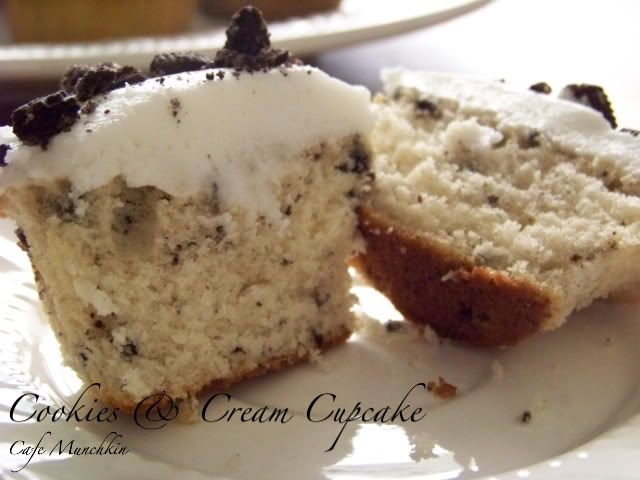 The suggested frosting for these cupcakes, by the way, is the Fluffy Frosting from the same recipe book.  However, I still had some  buttercream forsting left over from the birthday cake I made the day before, so that's what I used instead.
Here's the recipe:
INGREDIENTS:
2 1/4 cups all-purpose flour
1 tablespoon baking powder
1/2 teaspoon salt
1 2/3 cups sugar
1 cup milk
1/2 cup (1 stick) butter, softened
2 teaspoons vanilla
3 egg whites
1 cup crushed chocolate sandwich cookies (about 10 cookies), plus additional for garnish
Frosting
DIRECTIONS:
1. Preheat oven to 350F. Lightly grease 24 standard muffin cups or line with paper baking cups.
2. Sift flour, baking powder and salt together in a bowl (of electric stand mixer). Stir in sugar. Add milk, butter and vanilla; mix at low speed for 30 secons. Stop and scrape bowl. Beat at medium speed for 2 minutes. Add egg whites; beat 2 minutes more. Stir in 1 cup crushed cookies. Spoon batter into prepared muffin cups, filling two-thirds full.
3. Bake 15-20 minutes (as per my experience, but 20-25 minutes as per the recipe book) or until toothpick inserted into centers come out clean. Cool in pans on wire racks 10 minutes. Remove cupcakes to racks; cool completely.
4. Frost cupcakes with frosting; garnish with additional crushed cookies.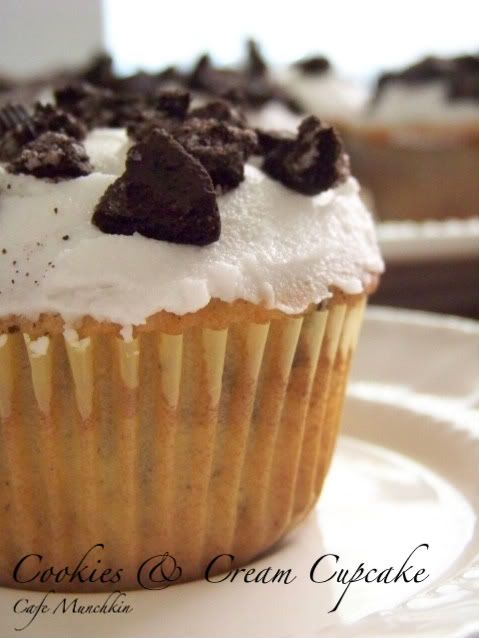 This might be a good kitchen project to try with kids, specially since kids in our part of the world are on school break.  You can enlist their help in crushing the chocolate cookie sandwiches, frosting and garnishing.  Ask them to help clean up, too!  Hee hee. :)
One more thing, it's going to be awfully hard to resist grabbing a second cupcake after finishing one off.  But when you do find yourself having seconds, it's ok. :D No need to entertain thoughts of taking nuphedra. ;)
Have a great weekend, y'all!  Cheers!