It's all about "The Compatibility Factor" this week at WifeSpeaks.  And I have just the perfect food entry…Neapolitan Ice Cream Cake!
It's an ice cream cake consisting of three different flavors – strawberry, chocolate and vanilla – yet so compatible with each other.  This is my second do-it-yourself ice cream cake which I started layering yesterday and finished decorating this morning. I made my first my first ice cream cake, last month in celebration of my brother's birthday.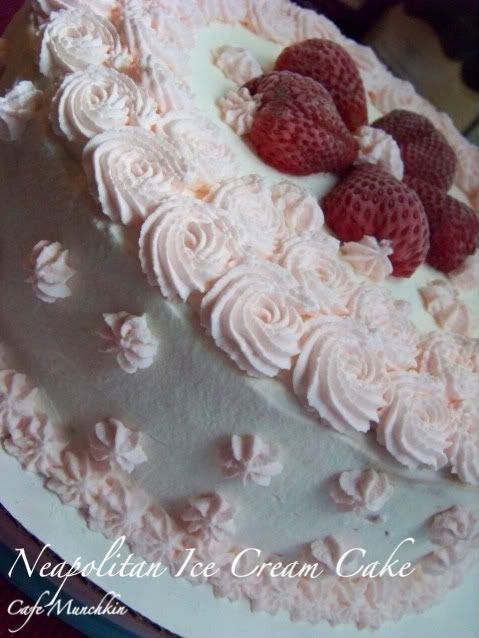 I made this for a special guest who is overly fond of ice cream, so instead of regular cake, I made her this instead.  Now that's a compromise!   She got to eat her ice cream and I still got to practice cake decorating. ;)
I was initially fearful that this wouldn't turn out nicely because I was working against the summer heat.  The ice cream was melting so much faster than I would have wanted.  I felt better only after I piped the pink decorations and after I saw that the layers were still distinguishable from each other and looked quite decent. :)  The layers actually looked better than my first ice cream cake.
Chocolate. Vanilla. Strawberry. Whipped Cream. Strawberries. Perfect combination!