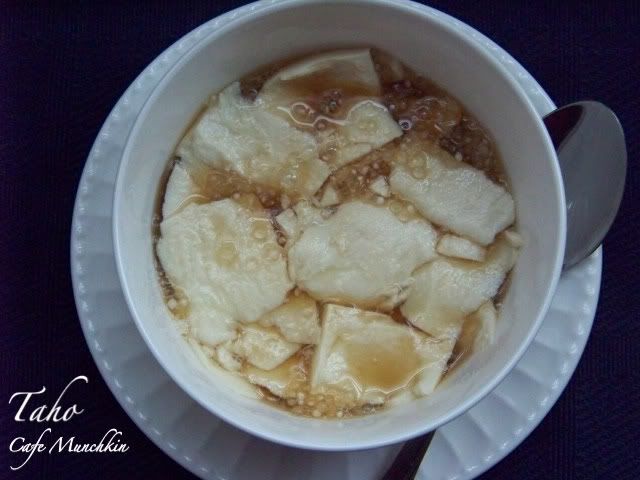 Anyone who grew up in the Philippines, I'm quite sure, will have a story to share about having taho for breakfast or as a snack and buying it straight from the friendly neighborhood taho vendor.  What is taho anyway?  Wikipedia defines it as…
"a Philippine snack food made of fresh soft/silken tofu, arnibal (brown sugar and vanilla syrup), and pearl sago (similar to pearl tapioca)".
Taho traces its origin in China, which is why we usually have it for dessert whenever we eat at a Chinese restaurant.
At the Asian supermarket several weeks ago, I found myself at the section where different kinds of tofu were displayed.  I suddenly remembered a blog post on taho by one of my blogger friends, The Chef's Wife, which also reminded me that I haven't had taho for some time already.  Since the taho vendor isn't coming to our neighborhood ever anytime soon, I thought it was about time I made some taho!  So I grabbed two packs of silken tofu. ;)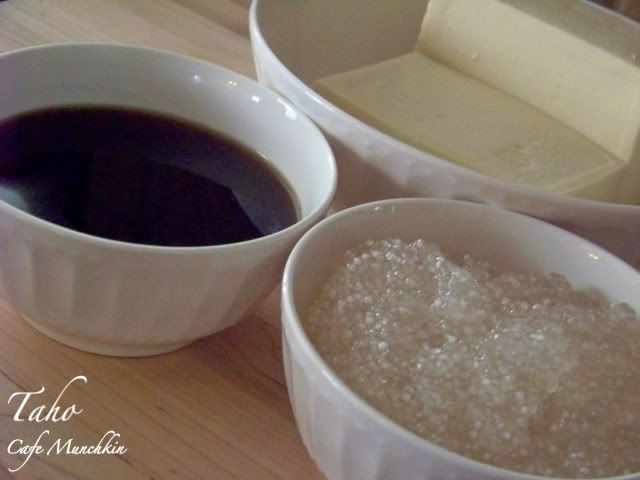 This is so easy to make it will blow you away!  The three components of taho are silken/soft tofu, caramelized brown sugar and tapioca pearls (sago).  All you have to do is cook the tapioca pearls as per package instructions.  I had two kinds of tapioca pearls in my pantry – the tiny ones and a the regular sized one.  I chose to use the tiny pearls because my regular-sized tapioca pearls were of different colors.  Hee hee.    After it's cooked, set it aside.
For the syrup, I simply caramelized about 1 1/2 cups of brown sugar in 1 1/2 cups of water over medium fire.  And then, the two packs of silken tofu, I transferred to a bowl and heated them up in the microwave for about two minutes at increments of one minute.  That's it!  Now you're ready to put everything together. ;)
You may serve taho in a bowl or in a glass/cup.  I did both. ;)  Remember to scoop thin amounts of the tofu!  Here's taho in a bowl…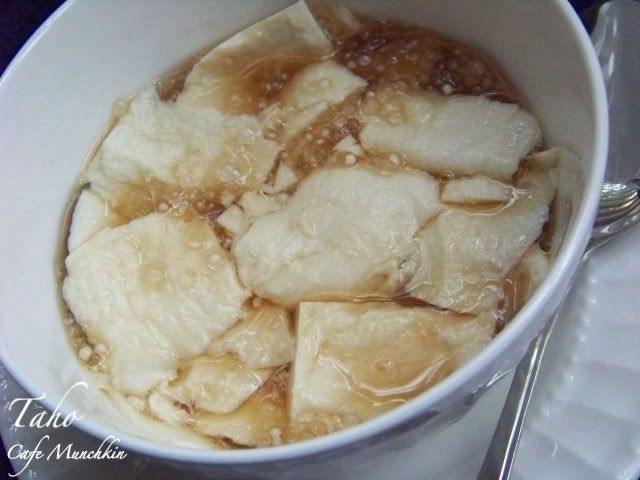 And here's one in a glass…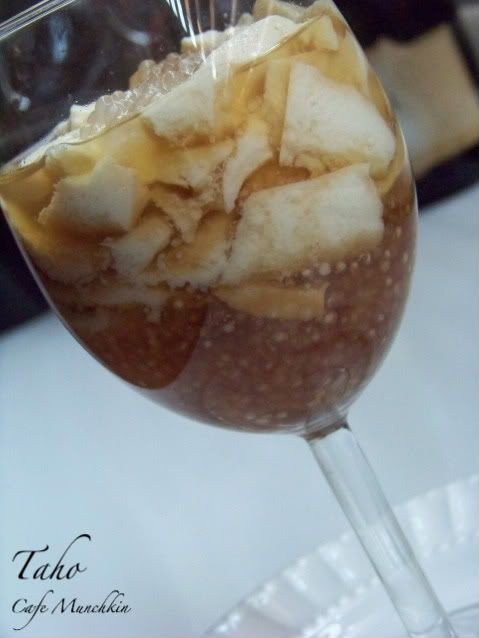 I was going to use a regular drinking glass, believe me, but all our drinking glasses were in the dishwasher when I made taho so I grabbed a wine glass instead.  ;)  It did give the taho a nice fancy touch, I think!…very different from the plastic cups they are usually served in.  Hee hee!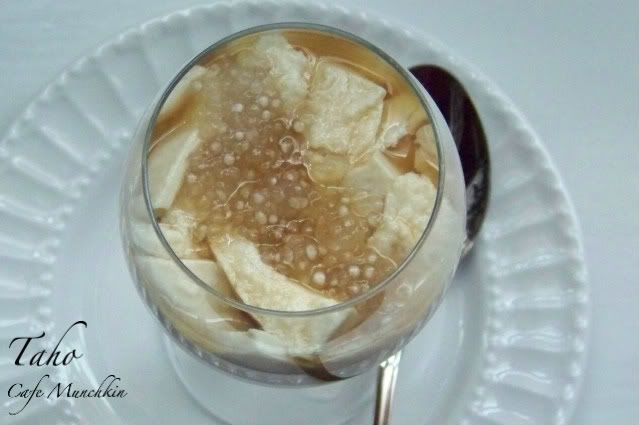 I know some prefer chilled taho but this kind of quick and easy fix is better served warm.  Otherwise, the tofu will be too firm and won't be as close to the one you enjoyed back home. :D
We each had two servings of taho.  And for sure, we're going to have this again and again and again. ;)