A little over a week ago, I undertook a culinary (wow!) project to add to the list of dim sum treats I've done so far…Homemade Barbecued Pork Siopao (Steamed Barbecued Pork Buns).  I remember a Germany-based family friend of ours who told me one time that she used to make siopao for her family.  But the fact that it takes her 3 hours to make the siopao and just a few minutes for her family to devour everything discourages her from making any more siopao.  I thought it was all an exaggeration.  And boy, was I wrong! :)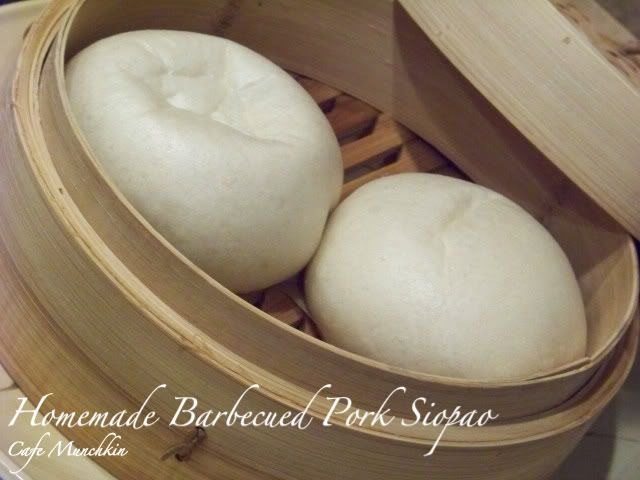 It took me a long time to finally give this little project a go because kneading doesn't quite appeal to me.  Then again, I've given kneading fondant a few tries so I no longer have an excuse to avoid the task.  And besides, I have an aid in the kitchen who is just too willing to knead for me. ;)
The result wasn't too bad for a first try, that much I can tell you!  The filling is exactly how I imagined and wanted it to be – Chinese-style siopao, as opposed to the more Filipino asado-style.
Are you ready to get to work? Now's the time to change into something comfy, so hang up your fancy dresses and tuxedo shirts and let's get down to siopao making business.  Here's the recipe and step by step photo tutorial.
INGREDIENTS: (Yields 16 Buns)
Filling
1/2 tablespoon oil
1/4 cup diced onions
1 tablespoon hoisin sauce
1 tablespoon catsup
3/4 tablespoon sugar
1/2 tablespoon oyster sauce
1/8 teaspoon garlic powder
1/4 teaspoon salt
1/4 cup water
1/2 tablespoon cornstarch dissolved in 1 tablespoon water
3/4 cup diced cooked barbecued pork
Dough
1/2 cup warm water
1 tablespoon sugar
2 tablespoons dry yeast
3/4 cup warm milk
1/2 cup sugar
3-3/12 cups all purpose flour
1/2 teaspoon salt
16 pieces wax paper (3″ x 3″ / 8cm x 8cm)
To make the filling: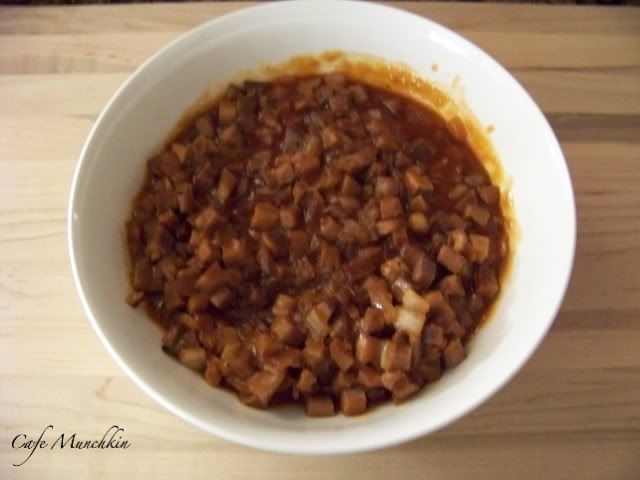 Cooked barbecued pork filling
1.  In a wok or pan, cook onions in hot oil on high heat for about half a minute.
2.  Add all other ingredients, except the cornstarch and barbecued pork.  Allow to cook for a minute or so.
3.  To thicken, add the cornstarch dissolved in water.  Then mix in diced pork.  allow to cool and set aside.
Note:  You may do the filling ahead of time and freeze the unused portion.
To make the bun dough…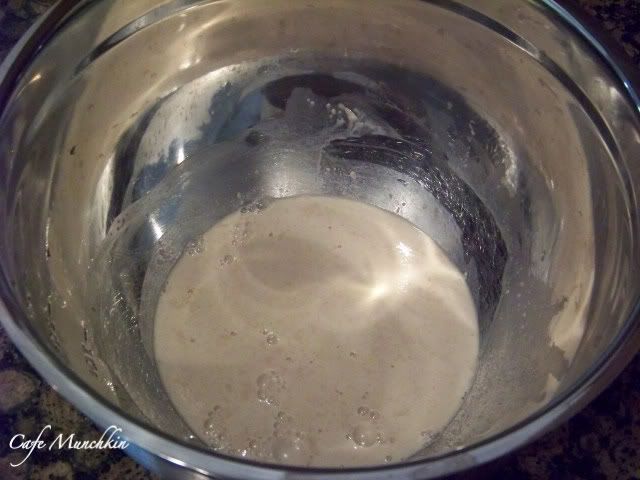 Dry yeast and sugar dissolved in warm water.
1. In a large bowl, dissolve 1 tablespoon sugar and yeast in warm water.  Allow mixture to sit 5 minutes.
2.  Combine warm milk with 1/2 cup sugar, stir to dissolve sugar.  Add to yeast mixture.
3.  Combine 3 cups flour with salt.  stir into liquid yeast mixture.  Stri until a firm dought is formed.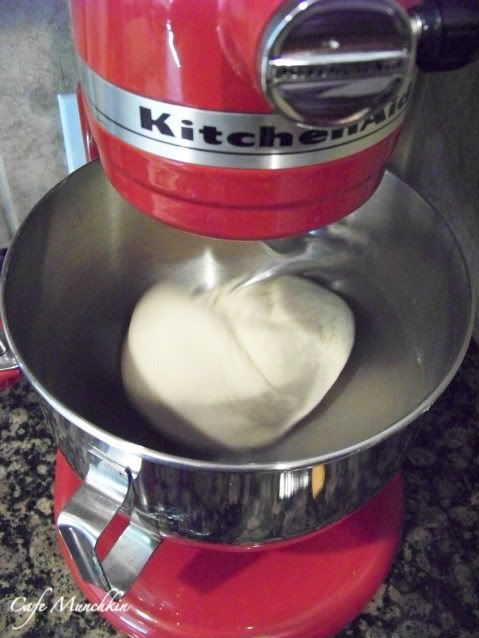 My assistant kneaded the dough for 10 minutes and didn't complain one bit.
4.  Turn out on floured surface and knead until smooth, adding extra flour if necessary (about 10 minutes).  Alternatively, you can use a stand mixer with the dough hook attachment for the kneading.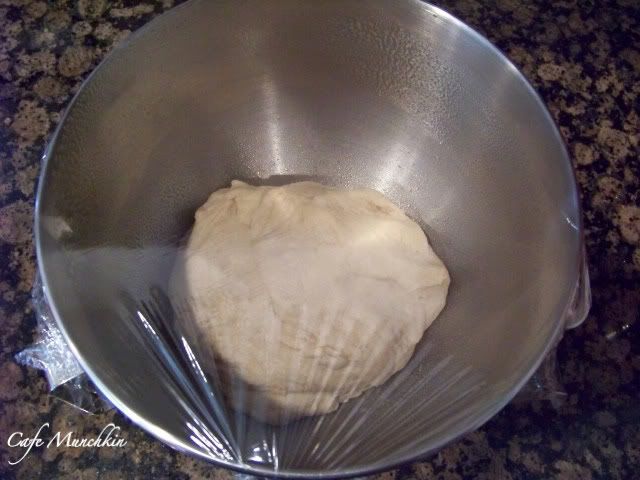 5.  Place the dough in a greased bowl, turn dough over and cover with a towel or plastic wrap.  Allow to rise until doubled in bulk.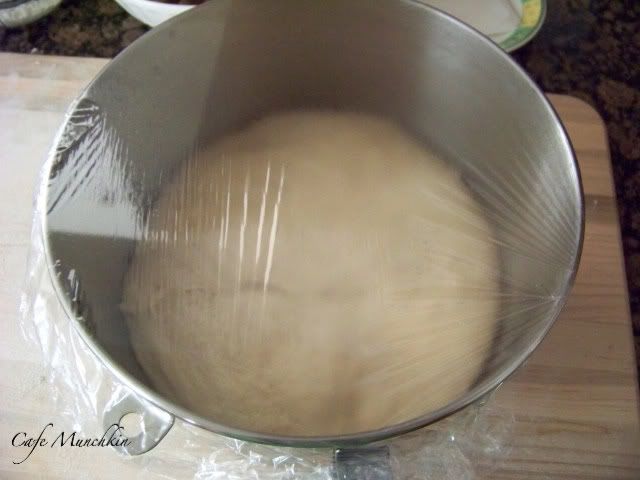 Dough has doubled in volume.
6. When the dough has doubled in volume, remove the plastic wrap/ towel and punch the dough down.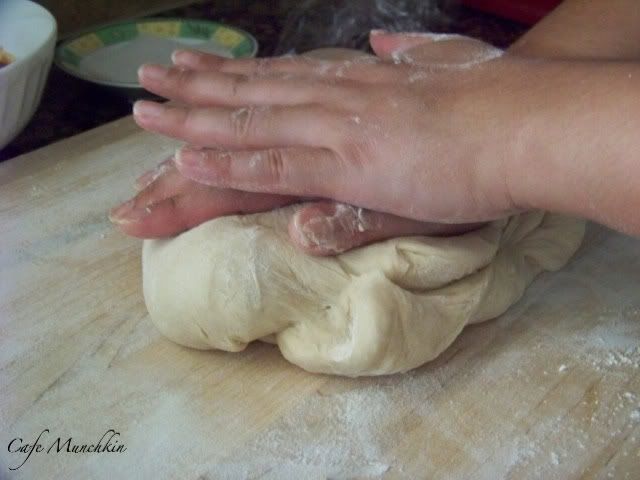 7.  Knead for 2 minutes on a floured surface and allow to rest for another 2 minutes.  Cut the dough into 16 equal pieces.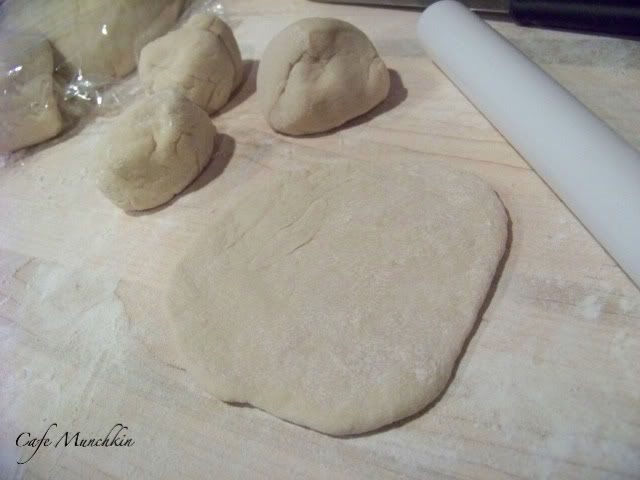 8.  Roll each piece into a ball, then roll into a 4′" (1o cm) circle, dusting with flour if necessary.  Allow dough to rest 2 minutes.  Roll out other pieces while waiting.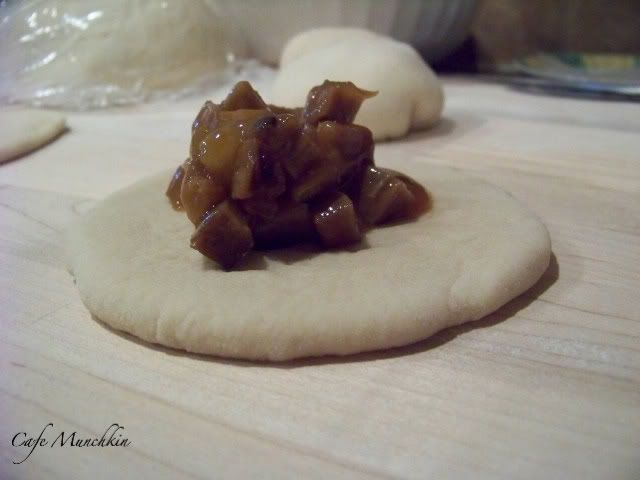 9.  Place 1 tablespoon filling in center.  Pull dough over the filling and close top by pleating, pinching and twisting the edges together.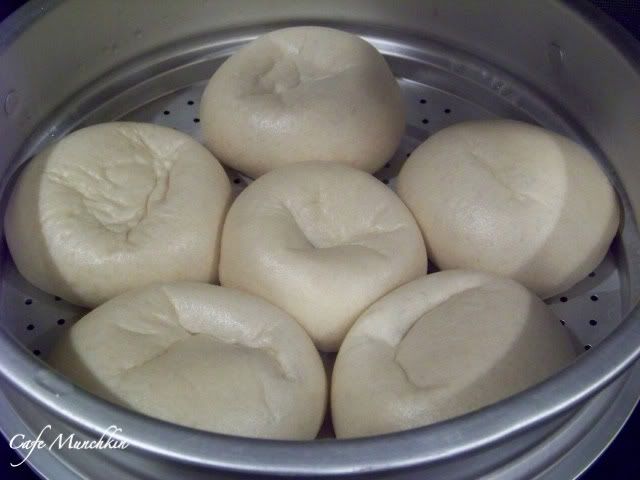 10.  Place on a piece of waxed paper, pleated edge down.  space 2″ (5 cm) apart on a steamer.  Allow to rise 45 minutes in a warm oven (95F, 35C).
Note:  I skipped this part because my oven doesn't go down up to 95F.  But then, that's about our present outdoor temperature!  So just cover the buns and warm them up outdoors..somewhere safe from bugs, dust and insects, of course! :)
11.  Steam for 15 minutes at full steam.  Remove the steamer cover carefully to avoid water from dopping on the buns.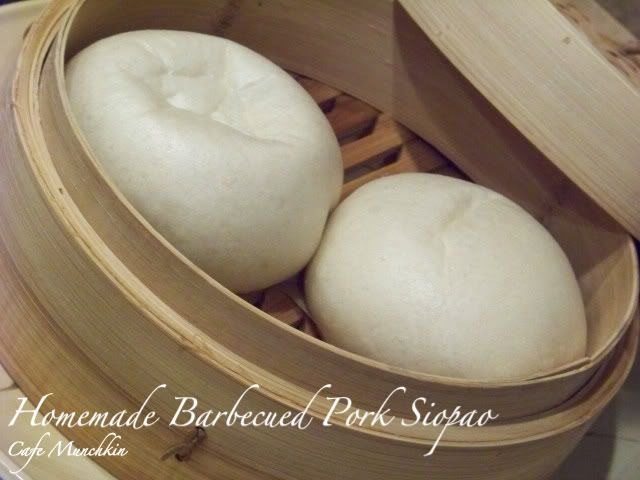 As I said, not bad for a first try.  The buns turned out nice and soft, good enough to eat sans the filling.  This was my first time to work with dough and I didn't quite know what to expect.  I had no clue how it should feel like or if the dough is too soft.  The two problems I encountered are, one, some of the buns had sunken tops and two, I pulled the dough too much on some buns that after the buns have been steamed, a bit of the filling looked like it's ready to break out of the buns!  Not a good sight at all!
I would suggest that you do the filling ahead of time, that way, the amount of work that needs to be done doesn't overwhelm you too much.  It is also not a good idea to make this the same time  you're craving siopao.  The length of time you will have to work and wait to finally enjoy the fruits of your labor will just drive you to insanity.
Out of 16 siopao, only 5 were left for freezing at the end of the day.  What prevented us from gulping down everything in one day and in one sitting is the fact that it took me a long time to make them.  So it was just proper to enjoy the rest some other time. :D
It was quite a learning experience for me  and I'm just about ready to remove siopao from my Asian market to buy list, as I've done with siomai and dumplings. :)