*This is an entry for Lasang Pinoy, Sundays (La.Pi.S.).  This week's theme is "Succulent".*
After two months, I finally get to post where we had lunch of the most succulent barbecued meats on Mother's Day. :D  I've been meaning to do this but I'm up to my neck with food posts that are still begging to see the light of day.  That's summer induced laziness for you.  Hee hee.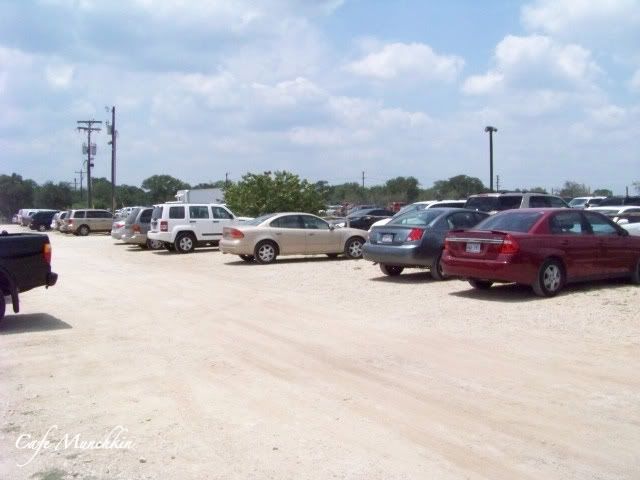 No, this isn't the Outer Banks.  This is the parking lot of The Salt Lick BBQ in Driftwood Texas, a good 38.7 miles away from where we live…a 52 minute drive according to Google Maps.  Yes, we drove that far for my Mother's Day lunch.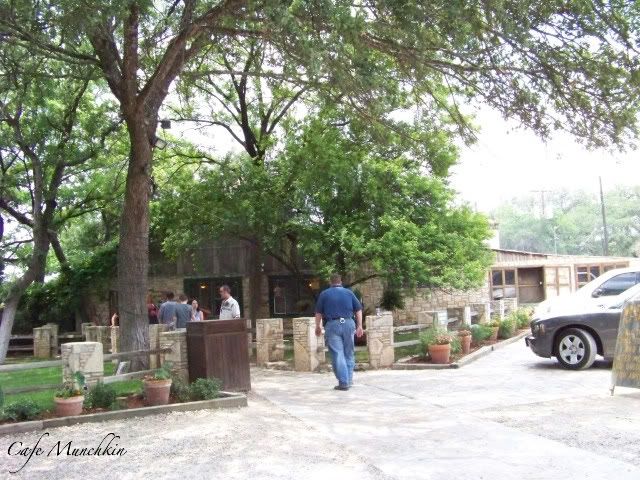 The Salt Lick's main dining room
For the longest time, Countyline BBQ has been hubby's and my favorite as far as beef ribs is concerned and Rudy's for moist beef brisket.  But friends have been raving about The Salt Lick being the best of 'em all that we just had to give it a try.  Actually, there's one that's closer to our home (The Salt Lick at Round Rock), but I hear they don't have a "barbecue pit", which is a much raved about feature at the Driftwood branch and which you shall see in a while. ;)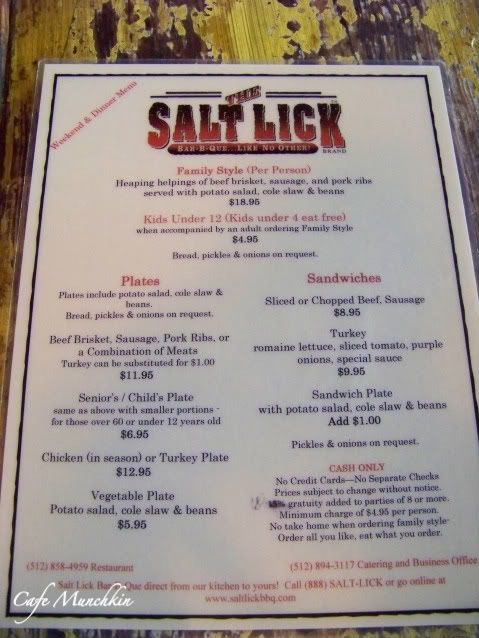 This is The Salt Lick menu.  Take note, "CASH ONLY".  No credit cards.  No separate checks. Minimum charge of 4.95 per person.  So you better be ready when you visit!  They do have an ATM so you won't have to panic when you're told they only accept cash. ;)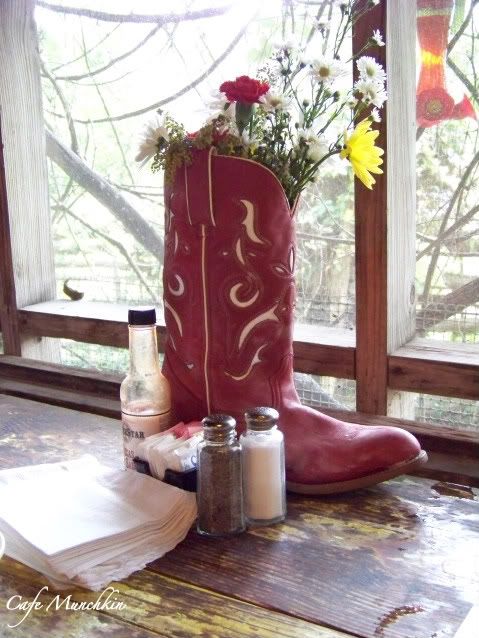 If you're finicky about restaurant interiors and furniture, then you may have to think twice before you head over to The Salt Lick.  You'll be sitting on wooden benches and eating on wooden tables, which have a very DIY (do-it-yourself) appeal about them.  I actually think the ambiance is quite charming.  Although honestly, I was afraid my daughter might not agree to sit on the bench.  Ha! :D
For starters, we had the customary bread slices.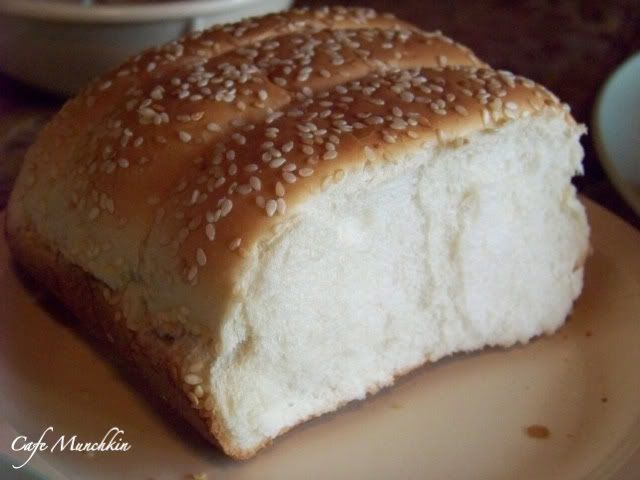 The bread was all right, but I've definitely tasted better.  This isn't their specialty after all.  Haha!
We wanted to sample as many of the meat choices as possible so we ordered a plate of Beef Ribs (the reason why we're here!) only, and a combination plate of  (moist) Beef Brisket and  Pork Ribs.  When our first plate got to our table, there were sausage slices together with the beef brisket and no pork ribs in sight.  Oops!  When we called our server's attention, he quickly brought us a plate of pork ribs.  So we had bonus meat for our carnivorous bunch!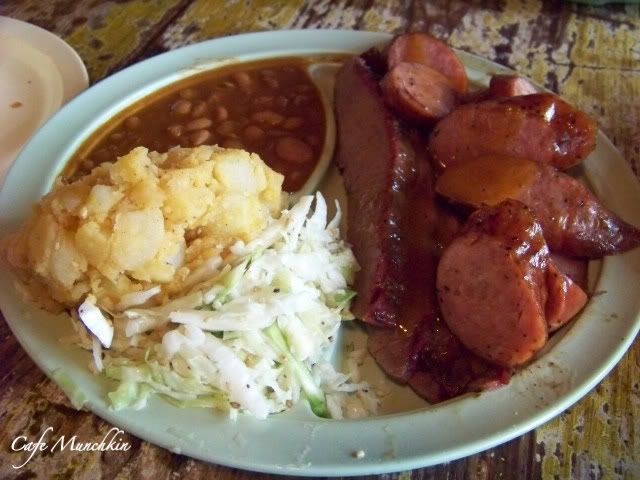 The beef brisket is indeed moist, tender and juicy…a few notches better than Rudy's.  I'm not a huge fan of sausages because they're too peppery for my taste but I found the Salt Lick's sausage to be good as well.  Each plate comes with cole slaw, potato salad and beans.  The potato salad was a winner!  My little girl liked it a lot.
And here's the star of our lunch table, the Beef Ribs…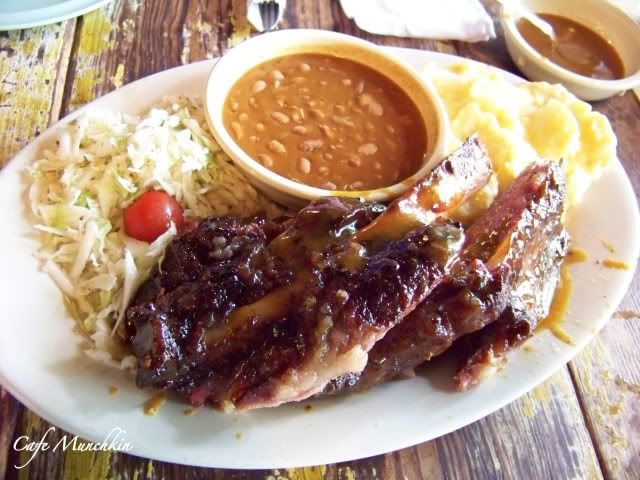 At first glance, hubby and I were just too giddy with excitement.  The beef ribs were huge.  But upon closer inspection, we saw that there was too much fat on the ribs.
Here, see for yourself…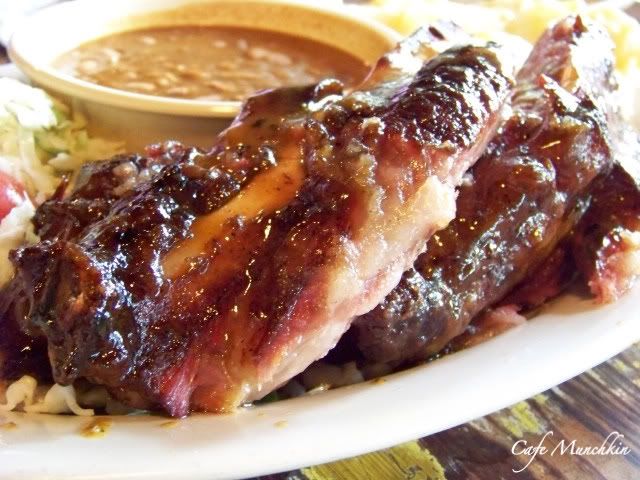 Shiny shiny fat!  It's heart attack on a platter!  When we told our friends about this later, they said we could have requested our server to replace the ribs with leaner ones…you know, ones that won't kill us on the spot.  Oh well.
The beef ribs were succulent, yes, but they were hard to enjoy because with every bite, fat juices ooze out much quicker than the barbecue flavor.  Huhu. :(
I easily forgot about my beef ribs disappointment when I was invited to take close up photos of the barbecue pit when we were in line to pay for our lunch.  Woot woot! ;)
Go ahead, identify the different meats!  Here's my favorite bbq pit pic….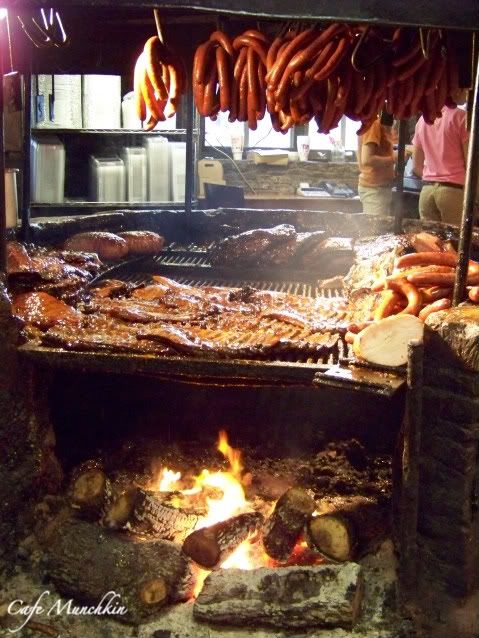 This, I say, was the highlight of our Salt Lick rendezvous.  Overall, it was a pleasant dining experience for us.  But I doubt if we'll make that far a drive again for barbecue any time soon.  Now that I've seen the famous bbq pit, I'd be very happy to just drive a third of the distance for some moist brisket.  I'll give the beef ribs another chance, promise.
Have a great week, y'all!  Cheers!