Beef Steak Tagalog, otherwise known as Bistek in the Philippines, is another one of my family's  favorite dishes.  Personally, I like it because it's a very simple dish that needs just 4 ingredients at the barest minimum: beef, soy sauce, lemon and onions.  Oh we like it with lots of onions, even my little girl!  However, we like our onions cooked until they're all limp.    I know some people simply top their Bistek with fresh onion rings.  Not us! :D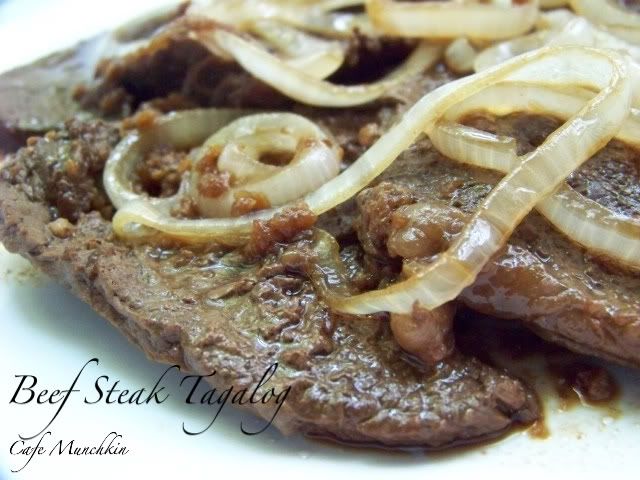 INGREDIENTS
1 lb beef sirloin
1/3 cup soy sauce
juice from 1 lemon
1 onion sliced into rings
DIRECTIONS:
1.  Marinate the  beef in soy sauce  and lemon juice and let sit in the fridge  for  30 minutes or so.
2.  In a pan, saute the onion rings in a tablespoon or two of olive oil.  Once the onions have reached your prefered level of doneness, take them out of the pan and set aside.
3.  In the same pan, cook the beef in low fire  together with the marinade until tender.  Top with the onion rings and serve with hot rice.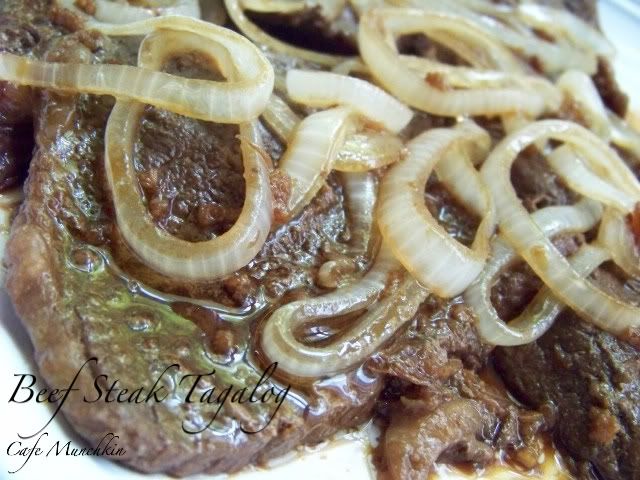 I usually don't let the marinated beef sit in the fridge anymore.  I just go ahead and throw the beef, soy sauce and lemon in the pan after frying the onions.  I just don't want to risk having an overly salty beef.  But that's just me. :)
I hope y'all had a great weekend as did I.  Have a fantabulous new weeks ahead!  Cheers!